A German Cartoon Character starts a successful Career in the US
German journalist Petra Springer has always been passionate about fashion and film. Here, she explains how, with this passion, she created her first film "Holy Sh*t, it fits", and later, the Cartoon-Lady Holly:
I love films, but I never ever thought, producing my own.  After attending a workshop for visual communications, in which I was introduced to filming software such as Premiere and After Effects, I started "Holy Sh*t it fits" as my graduation piece. I was fascinated! Now, I was able to combine my illustrations with moving pictures.
Heart and Passion
Already at the age of 12, I copied the fashion sketches from magazines and catalogs. Later, I attended the "Meisterschule für Mode" in Munich and the "FIT Fashion Institute" in New York. In the following years, I worked as Fashion Director for various Fashion Magazines. Nevertheless, I have always remained true to my passion for fashion illustrations. In 2017, I submitted my graduation movie to the La Jolla International Fashion Film Festival in San Diego. I have been a big fan of this festival for a long time, as it was one of the first to offer a platform for Fashion Film makers. Fashion movie, the culmination for me as a cineast. Fashion, my lifeblood, and film, my passion – all represented at a festival.
Nominated at the Festival of Fashion Film makers
Fred Sweet, the Festival Manager, has a feel for new trends. He recognized the importance of fashion films as an independent genre in the future. When he started his festival in 2009 everything was still in its infancy. Photographers started to create small videos during fashion shoots. All this was made possible by the new technology of digital photography. The Fashion Festival has established itself in the past 10 years and, according to forbes.com, is now, not only one of the five best film festivals in the world but also considered the "Cannes of the Fashion Film World".  A few days after I submitted my film, I received the exciting news from the US, that it was nominated in three categories: Best Creative Concept, Best Narration, Best Art Direction. Wow! This was amazing, a sensation for me! I was over the moon, being nominated. Four weeks later I found myself on the Red Carpet with my first film "Holy Sh*t, it fits" as it was shown in front of a selected expert audience. Among others, there was Kean Etro from the Italian designer brand Etro in the audience. Commercials of big fashion brands were presented, and successful, well known film directors of the whole world attended the festival screenings. They liked my film; I received a lot of applause and positive feedback. Manager Fred Sweet encouraged me: "Keep sending me your films, I like them!"
Fashion Girl Holly was born
Back in Germany and after giving it some thought, I named my main character "Holly". I started the "Holy Sh*t it fits"-series with short video films and a message: Holly is a Fashion Girl, she loves traveling, is crazy about fashion and dreams about Glitz and Glamour. Nevertheless, she is also interested in all new food trends, loves eating sweets and gets mad not having the perfect model body, as a tiny lady. So, she repeatedly falls for her "perfect model body delusion" and gets into her own personal fashion disaster. The basic idea behind this story is: this film should be seen as empowerment for all women worldwide and show us, fashion is fun, even if we do not have the "perfect size".
Holly goes on
Since every animated film comes to life with its voices, I have been thinking about for a long time, who's voice "Holly" should be. My choice was Katharina Schürf. We knew each other from the fashion business. Everybody appealed to her unique, exceptional voice; her funny laugh is her trademark. She didn't hesitate and is now the voice-over of all my "Holly" Films. I could not make a more perfect choice. Katharina brought "Holly" to life with her brilliant voice, gave her soul and made "Holly" so unique.In 2018, my second film "Super-Holly" won an Award at the LJIFFF, and in 2019 we were not only nominated in three categories, Best Creative Concept, Best Narration, Best Art Direction, but also chosen to hold a speech on stage. Festival manager Fred Sweet said it best: "Holly goes on".
The newest Cartoon Film
"Holly in Bavaria" is playing at the Munich Oktoberfest. This year, the film was shown in the US at the La Jolla International Fashion Film Festival in front of a big audience. It runs in the category Animation and is from the award-winning series "Holy Sh*t it fits". The music for the film was provided by the famous Bavarian-Rap-Band "Dicht & Ergreifend". The commercial film "The Dream Dress", my first work for Lorelei Shellist, was based on the "Holly" screenings. Lorelei is a Fashion Designer, an Ex-Couture-Model and host of the LJIFFF. She is an avowed lover and collector of fashion illustrations and was personally drawn during her couture career by Karl Lagerfeld and the American fashion illustrator Antonio Lopez.
Cartoon Film, Dicht&Ergreifend, Fashion-Cartoon, La Jolla Fashion Film Festival, Petra Springer Cartoon Holly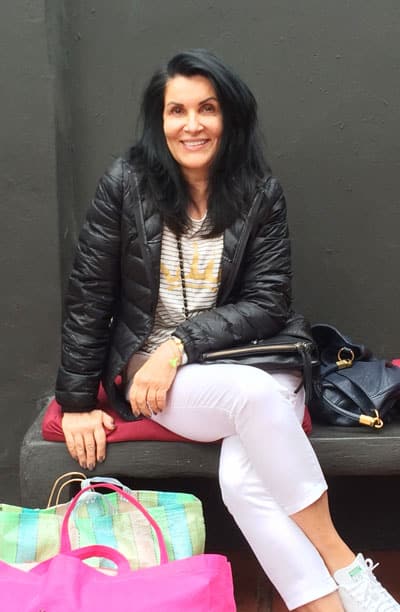 CultureAndCream Author from Munich
To travel during my profession as a beauty journalist was never enough for my. Also my six month on a world trip didn't do it. It always attracts me to other cities, foreign countries, on roadtrips and places I don't know yet. But I am not only interested in "culture" and "cream", I am also fascinated by people who have stories to tell .  Such unique experiences I want to share with you.