Tested for you: Coral Look "Bronzing Collection" from Artdeco
The new bronzing collection celebrates beauty. And that is also exactly what we want. Because makeup products should not only be good and effective, but also look good in the bathroom or in the beauty bag. And that's exactly what the "Dive into the ocean of beauty" line does when the bright red-orange of coral meets intense turquoise on the high-quality packaging of the "All Seasons Bronzing Powder," the "Bronzing Blush" and the "Glow Bronzer." They are as aesthetically beautiful as fine jewelry boxes.
Bronzing collection for each and every season
I've tried all three, and each has its specific purpose and function, which it serves perfectly. The limited edition "All Seasons Bronzing Powder" is a multicolored color stone with a three-dimensional relief that allows me to conjure up a natural, sun-kissed look on my face in an instant.
The tanning powder is composed of three different shades that work individually or together. Due to the delicate pearl pigments that reflect the incident light, the complexion immediately gets a subtle glow. What's also great about the bronzing powder is its velvety, long-lasting texture. It can be applied very easily and very evenly and then blended with a large brush. There is no darkening as so often with such products. This is prevented by special pigments.
Bronzing blush "ocean of beauty"
This powder is also limited and vegan and like the other two products mineral oil, paraben, fragrance, silicone and talc free. The blusher consists of two soft colors with a slight shimmer. I use the terracotta-colored and the bronzy-earthy phase together. To do this, I use a short, thick Kabuki brush to spread the Bronzing Blush from the cheeks to the temples in circular motions. And I do this until a classy finish highlights my cheekbones. And with its orange-red coral pattern on the turquoise square blush tin, I always have an attractive piece of jewelry in my handbag.
Glow Bronzer as a 2 in 1
And then there is also the "Glow Bronzer" – also in packaging with coral pattern and three-dimensional relief. It is a bronzing powder and highlighter in one. Its delicate, slightly creamy consistency is long-lasting and blends perfectly with the skin. Not only can it be used to achieve a delicately tanned, radiant complexion. It can also be applied, without anything smudging, over normal powder to set highlights on the face. I prefer to dab it on with my fingers and blend it without any additional tools.
Bronzing collection by Artdeco, from 23,95 Euro
bronzing collection, coral design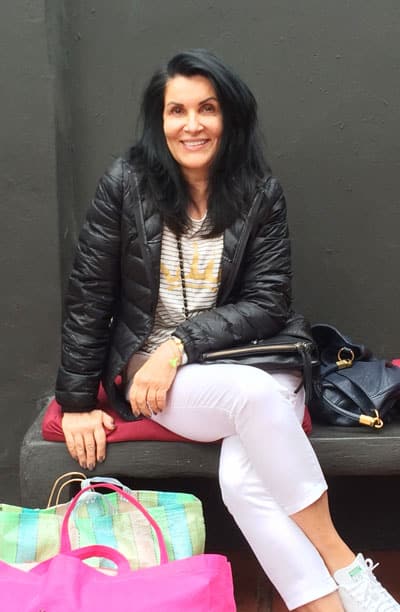 CultureAndCream Author from Munich
To travel during my profession as a beauty journalist was never enough for my. Also my six month on a world trip didn't do it. It always attracts me to other cities, foreign countries, on roadtrips and places I don't know yet. But I am not only interested in "culture" and "cream", I am also fascinated by people who have stories to tell .  Such unique experiences I want to share with you.