Tested for you: Dry Shampoo "Root Refresh Stick" by Leon Miguel
A dry shampoo not for spraying, but for pouring with an integrated powder pad – that's something new. Leon Miguel founder Marc Barthel invented it. The German actor from Berlin, also known as singer Jesse D'Lane, works on innovative hair problem solutions with his company. From him also comes the bulk hair Fiber in different hair colors. It has an instant filling effect for receding hairline, hair loss and thinning hair.
Born out of self-interest
Why is hair particularly close to Marc Barthel's heart? He himself suffered from the visual consequences of hereditary hair loss in his early twenties, which didn't exactly help his self-confidence or his career as an actor. Barthel scoured the hair products market for high-quality solutions, but was unable to find what he was looking for. From this situation, the Leon Miguel brand was born under the motto: There's always better.
In the meantime, however, the Hair Fiber inventor has undergone a hair transplant – as the more permanent solution. But that is only in passing. Back to the "Root Refresh Stick".
Dry shampoo in pocket size
The Leon Miguel "Root Refresh Stick" consists of a handy, round can at the end of which sits a white powder pad. By pressing it on the hair roots or parting, greasy roots are quickly matted and the hair is to get fresh volume for 24 hours. Apply, massage, brush out and style as usual – says the company's advertisement.
Easy or not?
If only your roots are greasy, you can refresh them well with the stick. But volume for the rest of the hair? The powder can not keep up with the usual dry shampoos in spray form. With the cushion, the powder simply can not be distributed so generously, it acts rather selectively. And the application also takes longer than a spray puff. However, the fine powder particles of the "Root Refresh Stick" can be combed out without residue and do not stick to the hair.
Conclusion: Well suited if you only want to loosen greasy roots and thus delay a hair wash. Those who want to achieve more volume throughout the hair will not be happy with the product. Positive about the dry shampoo is its handy pocket format – practical even when traveling. And like all Leon Miguel articles, this product is vegan and cruelty-free.
"Root Refresh Stick" from Leon Miguel, 0.3 oz, 14,95 Euro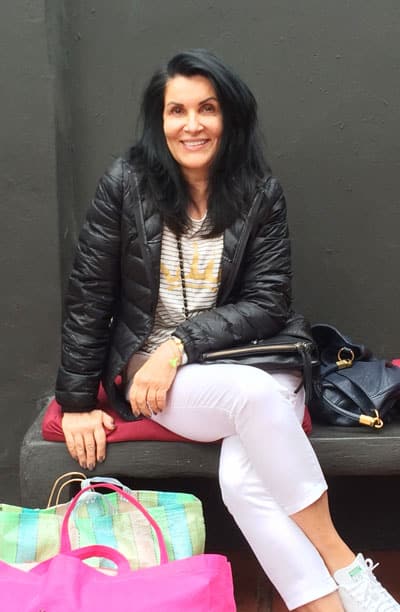 CultureAndCream Author from Munich
To travel during my profession as a beauty journalist was never enough for my. Also my six month on a world trip didn't do it. It always attracts me to other cities, foreign countries, on roadtrips and places I don't know yet. But I am not only interested in "culture" and "cream", I am also fascinated by people who have stories to tell .  Such unique experiences I want to share with you.