Tested for you: Room fragrances from Ousia Essence
I love room fragrances because they refresh the environment in an instant and invigorate your senses. Not only since the Corona pandemic, I always have some variants on hand. However, I am quite picky about it – the room scent must not be too penetrating and must not have a heavy "head fog" note. Synthetic fragrances do not come into my apartment, because they often contain chemical additives and solvents, which can cause me as an allergy sufferer very quickly breathing problems.
Room fragrances made in Germany
All room fragrances of Ousia Essence are 100% natural and vegan is already a plus on my list. By the way, the name Ousia is located in Greek, which is not exactly indicative of the Made-in-Germany brand. Ousía (Greek οὐσία) is – as it can be read at AnthroWiki – a term of metaphysics and ontology. It is most accurately translated as true being, entity, essence, substance.
Anyway, the cool, young lifestyle brand has launched three wellness sprays that have everything that makes a high-quality room fragrance. They are free of synthetic fragrances, dyes and preservatives, contain natural essential oils and denatured organic alcohol. The sprays, as well as their sustainable outer packaging, are produced near the Ousia Essence headquarters in Stuttgart.
A mood booster for moment of life
Depending on your mood and needs, you can choose one of the three scents. "Lemongrass Mint Coriander dancing" has an invigorating effect with exotic coriander, sparkling mint and tart lemongrass. "Thyme Lavender Orange dreaming" is a more harmonizing mood booster. It smells of lavender, orange and aromatic thyme. "Salvia Bergamot Pine relaxing" has a balancing effect.
I opted for the latter. I like the woody scent of a rare Swiss stone pine of South Tyrol that grows on the slopes of South Tyrol, combined with notes of sage and fresh bergamot. I enjoy its balancing effect and like to spray it in between times in the home office or in the living room in the evening, when I feel like it or the day was particularly stressful. The 50ml room spray also fits nicely in a purse or computer bag. Before use, shake the bottle well and distribute 3-4 sprays generously in the room.
Better with fresh air
"The basis for the application of essential oils should always be fresh air," says Maria Kettenring. The German aroma expert has written several books on the use and healing powers of essential oils. She is convinced that certain room scents such as lemon, lemongrass, myrtle and thimian can purify the air in a room and thus create a better atmosphere.
Room Fragrances of Ousia Essence, 50 ml, je 24 Euro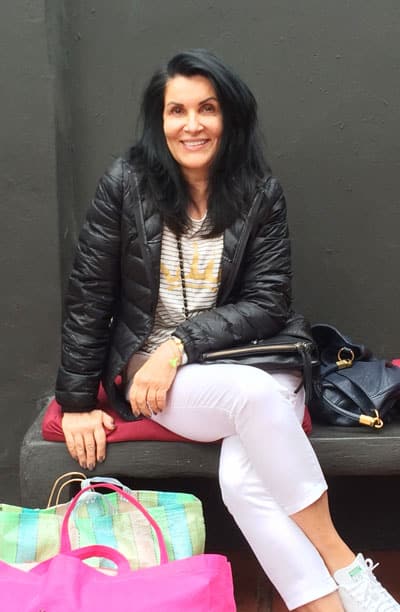 CultureAndCream Author from Munich
To travel during my profession as a beauty journalist was never enough for my. Also my six month on a world trip didn't do it. It always attracts me to other cities, foreign countries, on roadtrips and places I don't know yet. But I am not only interested in "culture" and "cream", I am also fascinated by people who have stories to tell .  Such unique experiences I want to share with you.