Porcelain Painter: The Man with the Magic Hands
The profession has become rare, but those who practice it are true artists. Ulf Trittel is a trained porcelain painter at the famous Meissen Manufactory and one of them. He creates unique objects. Petra Springer took porcelain painting lessons and looked over Ulf Trittel's shoulder while he was creating a truly special piece of art.
Ulf is a big man with strong hands. When I watch him paint with a filigree brush, I always think how these firm hands manage to produce the finest and most delicate porcelain art. He often paints elaborate ornaments, flowers, animals or just anything that springs from his imagination on the smallest of surfaces. Or on whatever the client wishes. Ulf has numerous private customers, all of them are porcelain lovers for who he decorates complete tea and coffee sets. Many of his works go to Japan. He travels there twice a year to teach in private homes of wealthy families. "Japanese are very enthusiastic about everything that is handcrafted. "Handicrafts are very important for Japanese people", says Ulf. Colored porcelain paintings existed in Japan as early as the 14th century. It wasn't until the end of the 18th century that they came to us in Europe. The admiration for his art is much greater in Japan than it is here. Japanese place the porcelain pieces Ulf had painted on black velvet, then put them in a frame and hang them on the wall like a painting. It used to be a custom in Europe too, but it's seldom done anymore.
Painting lessons with Ulf Trittel
Japanese students stand quietly in a circle around him when Ulf demonstrates, for example, how to paint a hummingbird. The artistry starts with the mixing of the colors. The pigments are blended with a few drops of precious oils using a spatula. The consistency of the resulting texture is important. The composing of colors is still a mystery to me, even after several explanations. Porcelain painting is an art in itself. The wealth of experience of each individual porcelain painter alone contains the knowledge of an artistically valuable and perfectly composed result. That was not how I had imagined it. I thought painting on porcelain would be easier, like creating a simple piece art. But when painting porcelain the interplay of colors play a role just as much as the burning and the luminosity of the colors after burning. Each piece is therefore a composition of an effect at first glance and the complete expertise after the burning process. And each piece of work is unique: a mistake happens and suddenly a strong red turns into a rather pale orange. Experience is an important treasure and a constant companion.
At the boarding school of the Meissen porcelain factoryn
Only after years it is evident what makes an excellent porcelain painter. Ulf is one of them. He was a student at the Meissen Manufactory. Born in Brandenburg an der Havel in 1961, he spent his childhood in the district town of Belzig (now Bad Belzig). "I've been drawing for as long as I can remember, nobody had to push me. The first thing I copied was a Van Gogh, "says Ulf. "I was seven, I didn't even know who he was and thought, I can do this. The colors he had used appealed to me." At the age of 17 Ulf went to what is probably the most famous porcelain manufacturer in the world in Meissen and attended the attached boarding school. The first year of his studies meant eight hours of drawing every day. Nature studies, flowers, still life, stuffed birds, portraits and landscapes. After four years he became a fully trained porcelain painter. From 1984 to 1985 Ulf underwent special training as a bird and animal painter in Meissen. In December 1989 he moved to the West Germany. From 1990 to 1993 he practiced artistic porcelain painting at the Munich porcelain factory in Nymphenburg. Today he mainly paints unique pieces and teaches porcelain painting. "People come to me with special requests. I paint to order: the favorite dog, the favorite flower and now and then a castle vase", says Ulf. "Everything that comes out of my studio is unique." His training in Meissen certainly laid the foundation for his skills. On top he has a good eye, a feeling for light in combination with vibrant colors and he manages to apply even the smallest motif in an artful and detailed fashion. The handling of the brush, the swing of each individual line, the selection and combination of colors – this is where this artist's individual mastery comes to light.
How to create a castle vase
Ulf just finished a castle vase. This is what these oversized vases with sweeping gold handles are called. It is a commissioned work. He spent 350 hours on the creation – and that is only counting the painting on the main body of the vase. The sketch and color samples are not included. I was allowed to accompany him from the first moment of pencil drawing followed by the delicate painting of the flower tendrils, the perfecting of the motifs up to the development of the full splendor of colors. Then the female figure emerges, an Art Nouveau motif, centered in the middle of the vase. The subtle color gradations of skin tones are particularly difficult to master – the soft nuances must be perfectly coordinated. It is a great challenge for the artist, because the colors change after burning – depending on the metal content of the pigments and the technology. The first burning is made. Then the process concentrates on the "depth" with even more details and a wide variety of layers of paint to create a more distant effect. This procedure is being followed by a second firing. The tension increases. Do the color combinations correspond with the image in Ulf's head? A strong color force unfolds, just as the artist and the customer had hoped for. And so it goes on. Layer after layer. Here a brushstroke, there another detail to clearly define the shapes. Before the fourth and last burning, the painting is coated with bright red masking varnish for protection and the vase body is sprayed with sky-blue paint. The vase is heavy, one meter high and weighs almost 40 kilograms. You can't just pick it up like that. The master himself takes it to the kiln. After months of work, the castle vase is finally completed. Its name is well deserved: a truly royal piece – a showcase. Placed on a pedestal, the vase ends up with a client as a unique piece, sold for the pretty high price of around 35,000 Euros. They still exist, the collectors and admirers of this specific kind of art.
photos: Petra Springer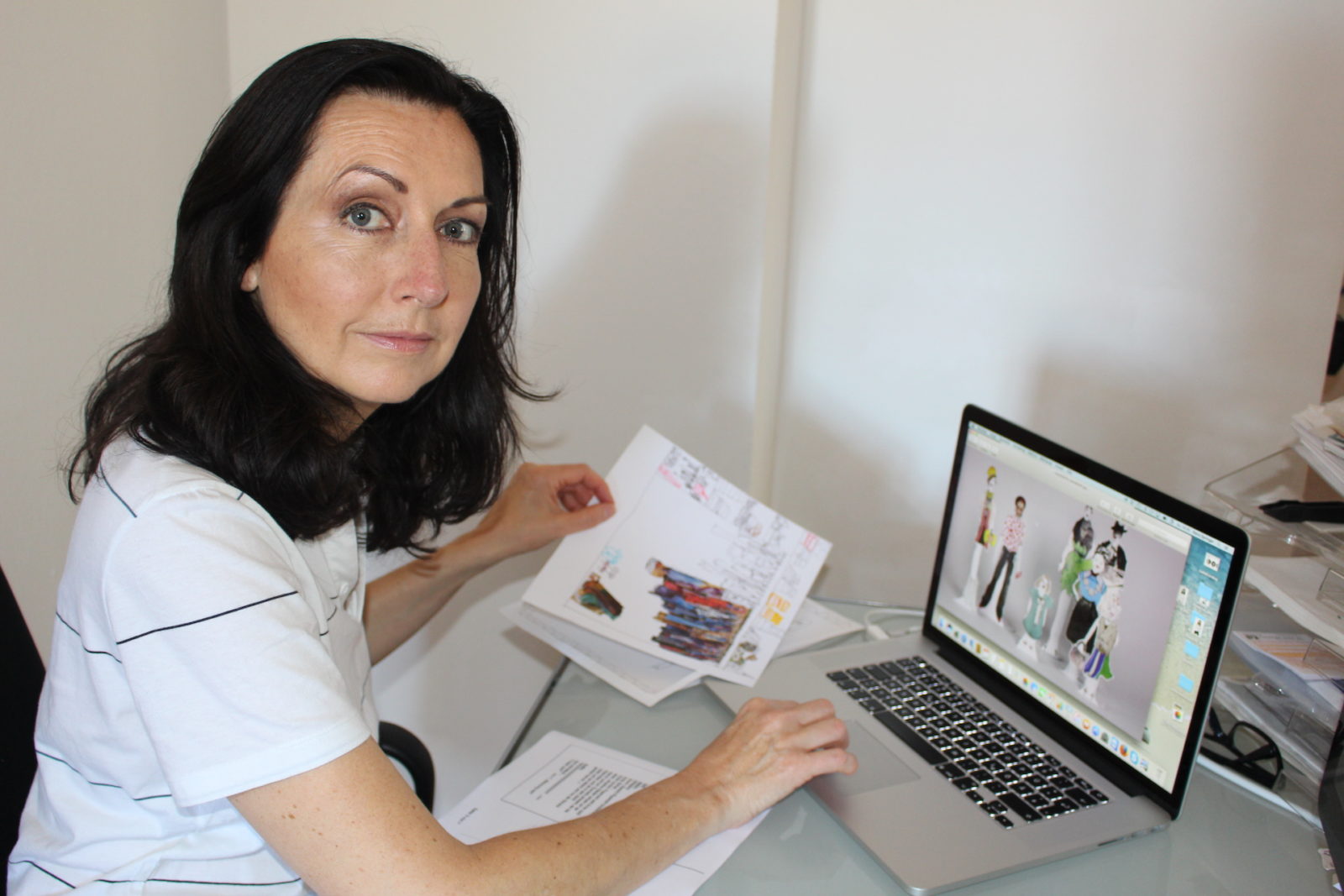 Culture&Cream Autorin Petra Springer
Aus dem Bereich Fashion-Illustration & Design Studies an der Meisterschule für Mode, München, kommend, war ich lange Jahre als Fashion-Director für verschiedene Magazine tätig. Seit zwei Jahren arbeite ich als Content-Editor für Online-Portale und entwickle gezeichnete Modekurzfilme. Weiterbildung: Illustration & Fashion Drawing, FIT, Fashion Institute of Technology, New York City. In München: Visual Communications, Wildner Akademie, Zeichnen & Malerei Studien, Akthof, Aktzeichen & Anatomisches Zeichnen, Akademie für Bildende Künste.