Tested for you: Kérastase "Blond Absolu"
I'm not blonde, but I have the same problems as blonde women. Our common enemy is called yellowish. The white bleached strands in my salt-and-pepper hair color tend to take on an unsightly yellowish color if I don't constantly take countermeasures with appropriate care. And that's how I got the idea to try out the new Blond Absolu hair range. It is an ultraviolet care product specially designed for bleached hair.
Color neutralization and care
Since then, three purple-colored products have been in my bathroom: "Bain Ultra-Violet" for washing. The shampoo comes out of the bottle in dark purple. It contains a mixture of blue and purple pigments, plus hyaluronic acid and edelweiss extract for antioxidant protection. The hair bath not only neutralizes the unwanted warm undertones in my blond or rather white strands, but also regenerates them with hyaluronic acid. Such heavily bleached areas in particular need moisture because they tend to become strawy and also break off, especially in the forehead area. Then I apply "Cicaflash". The conditioner is a lavender-colored milk gel, again with hyaluronic acid and wild edelweiss. It intensifies the care effect of the shampoo. Because the fact is that when you wash them out thoroughly, many of the goodies are rinsed out by the water, and the conditioner remains in the hair a little longer. With every second wash I go one step further: I always take a lot of time for the "Masque Ultra-Violet" because it has an even more intense neutralizing power. Before I put the purple cream on my washed, well-rinsed hair, I dry it carefully in a towel. I apply the mask generously, especially on the bleached strands. Then I put on one of those ugly, clear, disposable shower caps and wrap a towel over it to save me the sight. Not only! At the same time it creates an occlusion effect. I hold out like this for 20 minutes. Then it is washed out. The yellow tinge is out of the hair. Why don't I use the mask after every hair wash when it's that good? Because otherwise my white strands would take on too intense a purple shimmer.
"Blond Absolu" by Kérastase, products from 20 euros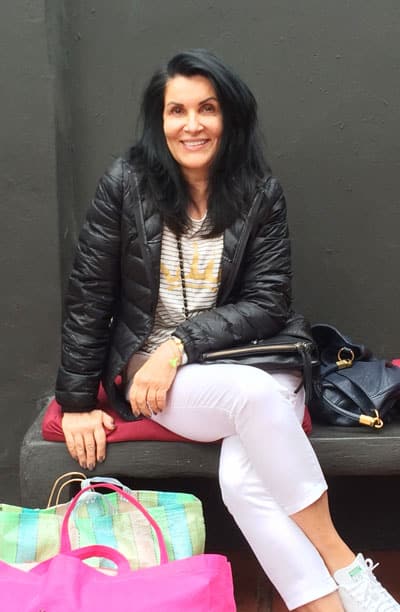 CultureAndCream Author from Munich
To travel during my profession as a beauty journalist was never enough for my. Also my six month on a world trip didn't do it. It always attracts me to other cities, foreign countries, on roadtrips and places I don't know yet. But I am not only interested in "culture" and "cream", I am also fascinated by people who have stories to tell .  Such unique experiences I want to share with you.