Tested for you: Anti-cellulite Care from Esensa Mediterana
Anti-cellulite care is a controversial issue. When it comes to products that are supposed to work against cellulite, I am usually very skeptical. Because by now everyone knows that you can not easily get rid of the dimples once they are visible. Preferably they show up on the thighs, buttocks, abdomen, hips and upper arms.
Now the problem is not yet so obvious in my case. The experts would call it stage 2. This means that isolated dents are visible. In places, the pinching of the tissue can also be painful. And all this despite the fact that I exercise a lot and drink enough water every day. So what I would like to see, the skin could be a little smoother and more even, the tissue firmer.
Anti-cellulite care from Croatia
For this reason, I tried two products from the Croatian beauty line Esensa Mediterana. It was founded in 2004 by Ivana Legovic. What many also do not know is that the SPA, wellness, cosmetics brand is represented in over 800 four and five star hotels and high quality cosmetic institutes in Croatia. It is produced in the company's own laboratories in Istria. What makes the brand special is a combination of phyto-, aroma- and thalasso therapy.
Highly active ingredients from nature
Esensa Mediterana has two intensive anti-cellulite treatments in its portfolio that are designed to stimulate microcirculation, promote the elimination of toxins and alleviate water retention through a highly concentrated combination of active ingredients including caffeine, mate, guarana and algae extracts: "Lipo Activ Slimmer" is a firming and skin-refining cream-gel serum with papaya extract. In synergy with the active ingredient-rich red algae Rhodysterol, Mate extract and caffeine, fat reduction is activated and the storage of new fat deposits is inhibited.
The second anti-cellulite product, the "Coffee Guarana Minceur" is an intensive smoothing, purifying and draining cream-gel. Through a novel combination of active ingredients such as green coffee, guarana and rosemary, it inhibits the formation of new fat cells, fights lymphatic congestion and water retention.
More effective as a duo?
I wanted to get maximum results. So I was not satisfied with trying out one product after the other, but decided on a combination of both: In the morning, I therefore applied the "Lipo Activ Slimmer" to the thighs, because the cream-gel serum is somewhat lighter in consistency, and massaged in circular motions. It smells pleasantly herbal and can be worked into the skin well and without residue.
In the evening, I then applied the "Coffee Guarana Minceur" in the same way. The cream gel is somewhat richer in consistency, which I like in a "night care". Rosemary gives the texture freshness
My result
After two month using the two anti-cellulite products the skin is clearly refined and more even. I would not say that all dents have completely disappeared. I had not expected that either, but my thighs look remodeled and smoother overall. I am satisfied with the result!
"Coffee Guarana Minceur" and "Lipo Activ Slimmer" from Esensa Mediterana, each 250 ml, 35 Euro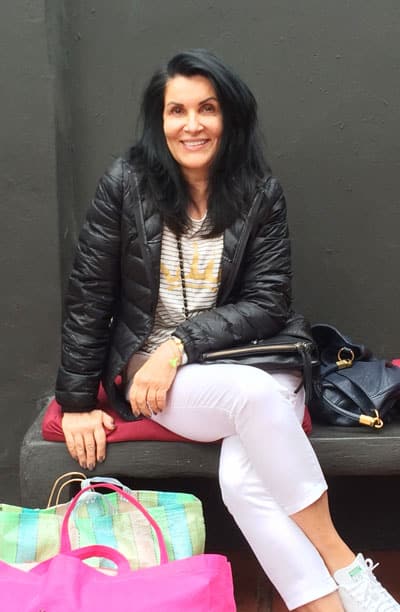 CultureAndCream Author from Munich
To travel during my profession as a beauty journalist was never enough for my. Also my six month on a world trip didn't do it. It always attracts me to other cities, foreign countries, on roadtrips and places I don't know yet. But I am not only interested in "culture" and "cream", I am also fascinated by people who have stories to tell .  Such unique experiences I want to share with you.