Tested for you: Concealer "Good Apple" from KVD Beauty
Finally the concealer is available. Actually, I pay rather less attention to products that are so highly praised on Instagram or TikTok. Too often they are paid promos, and there is certainly nothing bad said about it. But the hype of the KVD Vegan Beauty "Good Apple Foundation" that went viral made me curious about the new tattoo-inspired vegan makeup brand. The skin-refining foundation with apple extract is supposed to provide a perfect complexion that resembles a juicy apple, it says in countless videos. Above all, the coverage, the pleasantly light texture and the long durability are praised.
Concealer instead of make-up
As a longtime makeup refuser, I can not judge, so I waited until recently the "Good Apple Lightweight Full-Coverage Concealer" came on the market. It is also enriched with apple extract, has antioxidant properties and provides the sensitive eye skin with an extra dose of care and moisture. Wrinkles around the eyes are said to be plumped up as if from within and dark shadows are reduced. By the way, the brand's Global Director of Artistry is Nikki Wolff, who has celebrities like the Kardashians, Dua Lipa and Rosie Huntington-Whiteley under her brush.
Fingertip feeling
The application of the concealer with the applicator works perfectly. It is modeled on a fingertip and can therefore be applied precisely even in the corners. Personally, I still prefer a concealer brush because I can work better with the brush and its longer handle. The opacity is really sensational and very durable. The texture is light and nourishing, so that it does not dry out the skin throughout the day. To cover small blemishes on the face, I leave the concealer on for 30 seconds before blending it. This allows me to achieve full, spot coverage.
Tips & tricks
For me, I have chosen the color medium. It harmonizes perfectly with my complexion. But surely everyone finds his color at KVD; there are 32 colors with different undertones in yellow, pink and copper to choose from. It is not only your own skin tone that is important, but also what you want to achieve with the product: for highlighting, choose a shade that is 1-2 shades lighter than your own complexion, e.g. apply to cheekbones and bridge of nose.
To conceal veins, use a concealer color with a yellow or golden undertone. For pigmentation spots, a peach or copper undertone is optimal. There is also another good tip: "A darker concealer can be used perfectly as an eyeshadow base. This makes the contours, especially if a darker eyeshadow is used afterwards, not so hard anymore.hatten aufgetragen wird, nicht mehr so hart sind.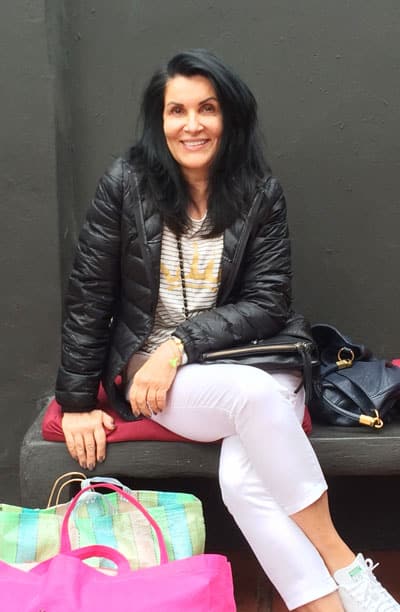 CultureAndCream Author from Munich
To travel during my profession as a beauty journalist was never enough for my. Also my six month on a world trip didn't do it. It always attracts me to other cities, foreign countries, on roadtrips and places I don't know yet. But I am not only interested in "culture" and "cream", I am also fascinated by people who have stories to tell .  Such unique experiences I want to share with you.