Tested for you: "Volumising Dry Shampoo" from La Biosthetique
I admit it, I am fond of dry shampoos. Especially the new generation, which is transparent and does not leave this despite brushing still visible, ugly gray haze on the hair. I have actually also already tried any amount of such products. With some, as I said, powder residue was visible, others showed hardly any effect and still others made the hair stringy. What do we expect from a dry shampoo? Definetly a refreshing of the hairstyle and a volume boost, with which we can postpone the next hair wash a little while.
Dry shampoo kills bad hair days
That's exactly what the "Volumising Dry Shampoo" from the new "Volume" series by La Biostethique promises. Although the hair care line, which is based on an extract on Tahitian microalgae, is especially designed for fine hair and mine is anything but fine, but I try it anyway. After all, stringy roots exist in other hair textures as well. You know those Bad Hair Days when your hairstyle flops.
In liquid dissolved powder particles
My test begins: At first glance, the spray bottle with the milky-cloudy liquid does not look like a dry shampoo. I shake the bottle as recommended and then spray in parts directly the roots of my hair with it. There, the extra-fine powder particles dissolved in the liquid care formula which should absorb the excess oil. Magnesium and an active complex of plant proteins and the algae extracts provide new stability and support the structure.
Refreshing volume booster
I like the pleasant fresh scent of the dry shampoo and that the liquid dries immediately in the hair. I massage it in lightly with my fingertips and then brush the hair thoroughly overhead. A look in the mirror: The hairstyle has again stand and fullness, especially at the roots, and my hair looks like freshly washed. The next wash can actually wait until tomorrow or the day after.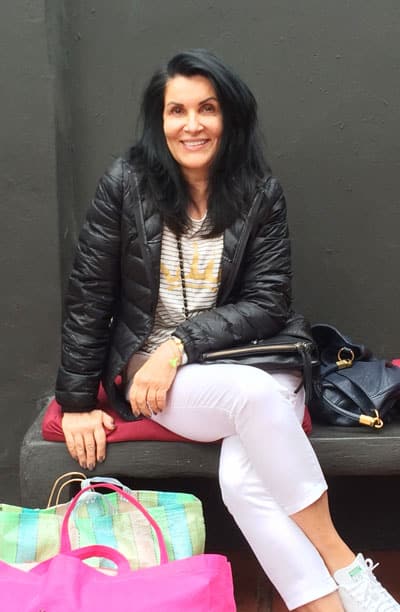 CultureAndCream Author from Munich
To travel during my profession as a beauty journalist was never enough for my. Also my six month on a world trip didn't do it. It always attracts me to other cities, foreign countries, on roadtrips and places I don't know yet. But I am not only interested in "culture" and "cream", I am also fascinated by people who have stories to tell .  Such unique experiences I want to share with you.