Testet for you: Fine Fragrance "27 in Macao" from Len Histoire Privée
Normally, I don't like to test fragrances because the sensations and associations that a perfume evokes are something very individual. That's why it's difficult to recommend a fragrance to someone. You have to experience fragrances, sniff them out. The fact that I make an exception in my product tests today is not only due to the fact that so many people – especially women – ask me about my fragrance when I wear "27 in Macao". First and foremost, it's because of the private story ("Histoire Privée") behind Len that fascinated me.
From Russia with love
It begins with a French officer and the lost war of 1812. François de La Lenes, before returning home, had to take a job in Russia. He became a French teacher for the children of the family of the Russian Count Artuchowski. As a token of his love, he gave the lady of the house two perfume recipes. But another 200 years passed before the formulas 2015 became fragrances.
Great-granddaughter Jelena von Olnhausen founded the Len Fragrance brand with the "Histoire Privée" fragrance line. The result is six perfumes, each of which tells a real or fictional love story. Each package features elements of the love stories and symbols of the city in which they are set. They are repeated on the back of the label when viewed through the bottle. By the way, the name "Len" goes back to the first perfumer "de la Lenes". In the meantime, a renowned perfume artist is responsible for the fragrances. The Frenchman Michel Almairac has already worked for all well-known brands – from Bottega Veneta to Chloé and Gucci to Zadig &Voltaire.
The fragrance of Macao
Why did the oriental-spicy aroma of "27 in Macao" do it to me? Because the island off Hongkong, just an hour away by boat, fascinated me in a repulsively attractive way during my first and only visit. Gambling everywhere you look. Well-heeled Chinese. Tragic losers. Monstrous casinos. In 2018, they generated an annual turnover of almost 35 billion euros.
Huge shopping malls line the Cotai Strip. Night screaming neon signs, the Eiffel Tower in Cotai shines in pink and from the landmark of the city, the 338 m high Macau Tower one experiences breathtaking views. The city rightly earns its nickname "Las Vegas of Asia". When I first got a whiff of "27 in Macau," I immediately thought, "Yeah, that's what Macao smells like." I was hooked.
The fragrance: Oriental fruity, accented with pepper and coffee, delicately spicy cardamom and exotic lychee fruit. Perfect harmony brings peony and spicy notes from freshly cut ginger. Smoky facets from vetiver, precious amber and juicy peaches form the warm base notembra und saftigen Pfirsichen bilden die warme Basisnote.
Lucky number 27
The love story that the fragrance wants to tell goes like this: The mysterious sleepless city of Macao, where Portugal and China are united forever. Here, the lights never go out. Mr. Ho's red Rolls-Royce luxury cars are parked in front of the Lisboa Casino. A single round of roulette can change your life forever…. A passion that is addictive….
"Suddenly she stood before me. Miss China: an angel with silky, dark hair and white porcelain skin, enveloped in an irresistible scent that would keep anyone hooked for eternity. It was her first time in the casino – and the first time every gambler is lucky. We were standing at the roulette table. Her favorite number was rouge 27. The bright red color perfectly matched her adorable dress. The 27 was also my lucky number, and we shared the winnings and the night in Macao."
"27 in Macao" from Len Histoire Privée, 100 ml Extrait de Parfum, 240 €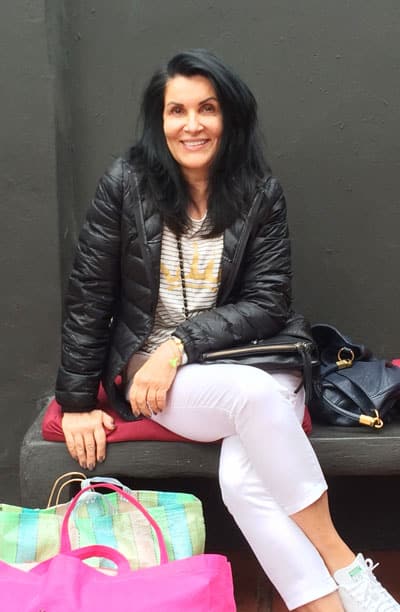 CultureAndCream Author from Munich
To travel during my profession as a beauty journalist was never enough for my. Also my six month on a world trip didn't do it. It always attracts me to other cities, foreign countries, on roadtrips and places I don't know yet. But I am not only interested in "culture" and "cream", I am also fascinated by people who have stories to tell .  Such unique experiences I want to share with you.