Tested for you: Amazing Eyelashes! "Magnetic Eyeliner & Lash Kit" by Kiss
Unfortunately, all Christmas parties and celebrations are canceled again this year due to Corona, on which I wanted to "jingle" with my new eyelashes. In everyday life, I would never wear fake lashes, but there are simply occasions when it may be something more. And they will certainly come back.
The idea of magnetic lashes I actually found quite great, because you can completely do without the glue, which often irritates the eyes. But with the click system, where you have to press a lash from above and below on your own lashes, which then connect magnetically, I just could not cope. It always made me blink so much that they never ended up sitting where they were supposed to. Also, the double layer of lashes looked quite unnatural. I promptly disposed of them after the third hapless attempt. That's what I call a classic bad purchase!
Liner and lashes deliver what they promise
In contrast, the Kiss set of magnetic eyeliner and lashes is something special. It works right away and perfectly optimizes your own lashes. The black eyeliner with nourishing biotin is smudge-proof and lasts all day without smudging. You can wear it alone or in combination with the artificial eyelashes, which stick to it without glue. The secret is five double-strength magnets on each lash line. The Fake Lashes – comes in different designs, look like glued on, but are not.
Applying the fake lashes is also easy going: first I try out whether the length of the lash band fits my eyes. Not quite. I have to shorten them a tiny bit at the ends. After this trial run, I apply the eyeliner twice close to the edge of the upper eyelid and carefully make sure that the line is continuous from the inner corner of the eye to the outer corner. This is the only way to achieve the maximum adhesive strength for the "Kiss" lashes, which are now on their turn. I carefully pull them off their packaging. While I now look in the mirror with half-closed eyes, I fix each lash band from the inside to the outside on the eyeliner, which has dried well in the meantime. Fits! It's a really simple concept: eyeliner, lashes, done!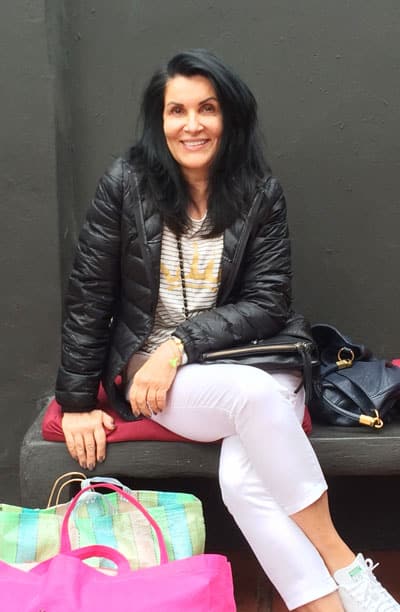 CultureAndCream Author from Munich
To travel during my profession as a beauty journalist was never enough for my. Also my six month on a world trip didn't do it. It always attracts me to other cities, foreign countries, on roadtrips and places I don't know yet. But I am not only interested in "culture" and "cream", I am also fascinated by people who have stories to tell .  Such unique experiences I want to share with you.