No More Plastic in the Bathroom
Between 4 and 13 million tons of plastic packaging waste end up in the oceans every year, writes the WWF on its blog. It can no longer be fished out and the material is particularly durable. Plastic takes several hundred years to decompose…
But we don't have that much time. The oceans are already among the dirtiest places in the world. Real plastic rubbish tsunamis made of bags, bottles, straws and toothbrushes flood the beaches. In every square kilometer of oceans there are already 46,000 pieces of plastic waste. Not all comes from cruise ships and container ships that illegally dump their rubbish into the sea. Or beach goers who leave their plastic waste lying around or throw it straight into the water. Much begins at home in our own four walls. Who thinks that environmental pollution starts in our washing machine? Synthetic fiber textiles lose around 2,000 tiny fibers with each wash cycle, which neither get caught in the machine's sieve nor in sewage treatment plants. They get directly into the ocean. In addition, there are millions of microplastic particles from tire abrasion, plastic textiles or cosmetics such as peeling, toothpaste, shower gel and contact lens cleaners, which are transported onwards via rivers. And then there are the many plastic packaging that has to be disposed of. The prognoses are bleak. If we do nothing, there will be more plastic in the ocean than fish in 2050. By then, almost every sea bird could have what is often fatal "food" in its stomach.
Recycling isn't everything
Not all plastic is recyclable – or is recycled. According to the ministry, around 45 percent of all plastic waste in Germany is "recycled", i.e. not incinerated. Far too often, design takes precedence over the environment. Admittedly, the black colored detergent bottle, the foil-coated shampoo bottle already look pretty good. But that makes recycling difficult or even prevents it, because the machines cannot recognize and sort the material. Avoiding more and more plastic waste must therefore come first.
Find out the bad ones
Fortunately, we consumers are becoming more and more aware of the issue. If you want to be sure that you are buying plastic-free cosmetics, you have to use the products of a label for controlled natural cosmetics. Otherwise, the following applies: "Many care products contain plastic, either in particle form or in liquid form," says Birgit Corall, owner of the two lines "cobicos" and "Living Nature". "Even if a product is labeled 'microplastic-free', it can still contain liquid plastic," confirms Lotte Tisenkopfa, who with her brand "Mádara" from Riga/Latvia has always been a pioneer in environmentally friendly care and packaging. If you want to search for plastic traces of your cosmetics yourself, it will not be easy. The names of the ingredients that are known as "plastic" are as inexpressible as they are unknown. Here are just a few of them:
Polyquaternium-7
Styrene/acrylate copolymer
Acrylate Copolymer(AC)
Acrylate Crosspolymer(ACS)
Dimethiconol
Methicone
Polyamides (PA,nylon)
Polyacrylate (PA)
Polymethyl methacrylate (PMMA)
Polyquaternium (PQ)
Acrylates cross polymer
Packaging is another great source of plastic waste. Most cosmetic companies still use plastic packaging that cannot be recycled, such as ABS (Acrylonitrile-Butadiene-Styrene Copolymers) or SAN (Styrene-Acrylonitrile Copolymers). Lotte Tisenkopfa: "The recyclable materials include z. B. PET and HDPE. Glass and aluminum are also fine." Plant-based packaging, such as that used by Mádara, is new and produces up to 40 percent less CO2 emissions than conventional tubes over the course of the product's life.
The US company Aveda uses 80% PCR for its bottles (from milk bottles), in the men's line it is even 95%. That means an annual saving of over 300 tons of "virgin" plastic.
Plastic check in your bathroom
Toothbrushes are a huge factor. Only in the US, 850 million are thrown away every year. Bamboo comes first as a plastic substitute. Because it is one of the fastest growing plants in the world. Toothbrushes made of bamboo are plastic-free and degradable from the bristles to the handle to the packaging. Bamboo is also used for hairbrushes, which are not only plastic-free, but also have an antibacterial effect and thus benefit the scalp. Bamboo is also a blessing when it comes to cotton swabs, as the plastic variants too often land on beaches and are swallowed by marine animals. The environmentally friendly eco-tools also include makeup brushes made from recycled aluminum and plastic, wrapped in paper made from 20 percent cotton and 80 percent bamboo. No tree had to be felled for this. Dental floss is usually not just packaged in plastic. The thread consists of nylon or a plastic-silk mix. Alternatives are made from wax and pure silk in a small glass container. Plastic razors can easily be replaced by the classic models made of stainless steel. Not only are they more environmentally friendly, but they also save money because only the blades need to be replaced from time to time. Loofah sponges and body brushes made from bamboo are more durable and later compostable instead of the rub-off gloves made from synthetic fibers. Toilet paper is often offered in an eco version, but sometimes it is in a plastic cover. When buying, pay attention to whether it is recyclable or degradable. Last but not least, instead of the plastic shower curtain, you can hang one made of hemp or thin jute. Both do not emit any toxic VOCs (volatile organic compounds) and can also be easily colored to suit your own taste. Use textile eco-colors.
…and some more
Wet wipes are practical and are often marketed as 'can be washed away'. But because of the plastic fibers it contains, it takes far too long for them to break down. Therefore, they should never end up in the toilet, but in the residual waste. A study in Great Britain showed that wet wipes are the main reason for clogged sewers and more than 90% are responsible for the so-called mountains of fat. These are huge, stuck deposits in the sewage system. If so, then use biodegradable and compostable wipes made from renewable plant extracts without chemicals or perfumes. You also produce zero garbage when you apply your makeup with your hands instead of a sponge. This also has an optical advantage, as Lotte Tisenkopfa explains: "The warmth of the hands helps the product blend into the skin better and the finish looks particularly natural." To brush your teeth, it doesn't have to be the paste from the plastic tube. There are now powders or tablets that you chew up first. Both come packed in sturdy paper bags or in refillable aluminum bottles. It does not contain any binding agents or preservatives. Admittedly – you have to get used to the new consistency first.
photos: rich carey/breslavtsev oleg @shutterstock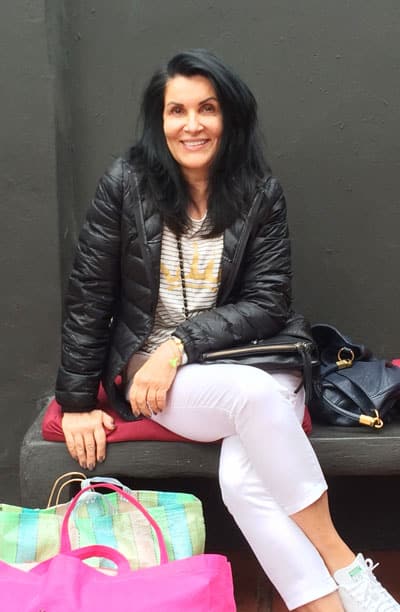 CultureAndCream Author from Munich
To travel during my profession as a beauty journalist was never enough for my. Also my six month on a world trip didn't do it. It always attracts me to other cities, foreign countries, on roadtrips and places I don't know yet. But I am not only interested in "culture" and "cream", I am also fascinated by people who have stories to tell .  Such unique experiences I want to share with you.