Tested for you: Washies Faceline
What we've all learned: What we put on our face in the morning has to be removed in the evening. Because nothing harms the skin more than sending it to bed with make-up. Cleaning wipes and make-up removal products cause waste. If the skin is sensitive, it often reacts with irritation to rubbing it with a cotton pad or facial tissue. A wash pad made of 88 percent of the finest microfibres and 12 percent viscose should enable thorough cleaning – with just water. I wanted to know more about that.
Fluffy and sustainable
When I take the two-tone pad, mine is white and pink, out of the paper packaging, I am amazed at how soft it feels. As recommended, I moisten it with warm water to activate the effect of the special microfibres. I run the white side over my face in circular motions. The daytime dirt shows up on the washie. And the concealer, I don't use foundation, leaves brownish marks. The skin appears to be clean. Test: Post-cleaning with a toner proves it. Now it goes to the eyes. Brow powder and normal mascara can be easily removed without rubbing too much. The next day, I raise the bar a little higher and put washies on my waterproof mascara. I press the pad on my eyes for a few seconds. Little loosens. The cleaning process only works with more intensive rubbing. However, the eye area is now slightly reddened and feels dry and tight. Here I would rather use a special eye makeup remover. After each use, the washies should be washed thoroughly with soap and warm water. I do that too. But I don't want to use them much more than twice and they end up in the washing machine at up to 95 degrees (without fabric softener). As with the classic washcloth, I would be afraid that germs would happily multiply in the damp environment. I'd rather buy myself a weekly ration of washies.
Washies Faceline Pads 3 pieces set, ca. 9,74 Euro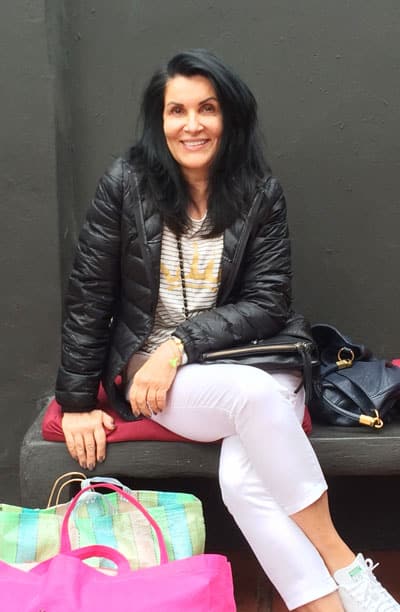 CultureAndCream Author from Munich
To travel during my profession as a beauty journalist was never enough for my. Also my six month on a world trip didn't do it. It always attracts me to other cities, foreign countries, on roadtrips and places I don't know yet. But I am not only interested in "culture" and "cream", I am also fascinated by people who have stories to tell .  Such unique experiences I want to share with you.