Tested for you: Pillow "My Neck" from Hefel
Because I sit at my desk a lot – as I do now – I often struggle with tension in the head, neck and shoulder area. Sleep also suffers. A problem that is due to our modern everyday life and affects many of us. Some time ago, my physiotherapist recommended a special ergonomic pillow to relieve and support my cervical spine while sleeping. It is based on the ergonomic design developed over the years by the South Tyrolean physiotherapist Günther Forer and it was produced by the Austrian bedding expert Hefel. The special pillow has already been awarded by the AGR Campaign for Healthier Backs.
Pillow with wings
Since I've been using the pillow, I've been sleeping better and healthier. It supports and relieves the cervical spine in back sleepers and side sleepers. "My Neck" looks like it has three fingers or wings. And that's exactly the secret. The extended middle section supports the thoracic spine and thereby "opens up" the rib cage. This primarily helps to make breathing easier and more effective, at the same time it stretches the chest muscles, mobilizes the thoracic spine and gently elongates the cervical spine. Actually exactly what my physiotherapist does to me. And then there are the side wings of the pillow, which promote the stability of the head and neck when lying on your back. In the side sleeping position, the two pillow wings correctly position the head and the cervical spine, and the shoulder can sink down ergonomically between a wing and the middle part.
Dream in color
The pillow is of course machine washable at 60 degrees and suitable for the dryer. It consists of 100% cotton and is filled with special fiber balls. For those who like it more colorful while sleeping: there are jersey covers in white, taupe, navy and orange.
"My Neck Kissen" from Hefel, 70x50x12 cm, 129 Euro, Cover each 24,90 Euro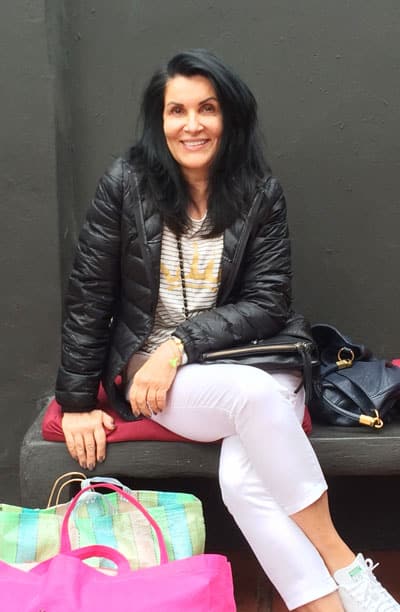 CultureAndCream Author from Munich
To travel during my profession as a beauty journalist was never enough for my. Also my six month on a world trip didn't do it. It always attracts me to other cities, foreign countries, on roadtrips and places I don't know yet. But I am not only interested in "culture" and "cream", I am also fascinated by people who have stories to tell .  Such unique experiences I want to share with you.