Tested for you: Primer "Le Privilège Base Traitante" from Rivoli
I usually don't use foundation because I don't like the feeling that something is "on" my skin, and that's why I don't need a primer. At least that's what I thought so far. But the "Base Traitante" is a 2-in-1 product – tinting and skin care in one. A polyphenolic molecule activates the natural defense mechanisms to protect against UV radiation. As a hyaluronic acid precursor, it promotes the production of hyaluronic acid molecules that are naturally present in our skin. So I start my test.
Is the primer too light or too dark?
After cleaning and day care, I apply the primer for the first time in the morning. The tinted texture looks quite dark in the elegant and heavy cylindrical glass bottle. Too dark for me? But when I pump it on my fingertips, my impression changes into the opposite. The primer might be too light for my more Mediterranean skin. Nevertheless, I distribute it evenly on the face. The light, creamy fluid is easy to spread. The amount withdrawn is sufficient. The Rivoli product is quite economical. Already an advantage considering the price.
Also applied on my face and well distributed, the result appears to me quite light, as if the layer would remain on top of the skin without merging with it. I'm waiting. But after a short time the primer is absorbed and has adapted perfectly to my natural skin tone. Amazing! There is also no such thing as a heavy make-up feeling. To check the optical result better, I stand by the window with the morning sun with a magnifying mirror in my hand to see what the tint looks like in daylight.
Natural and radiant
For me this is a particularly important aspect, because that is the face that I want to present to my environment. The skin should look bare and shine. Even if I don't use a foundation, I still want to flaunt a refined and even complexion. And that is exactly what the primer does. It smooths and immediately gives the complexion a fresher radiance. The skin looks hydrated and comfortably plumped. Bien fait! With regular use, "Le Privilège Base Traitante" should even remove redness and minimize pores.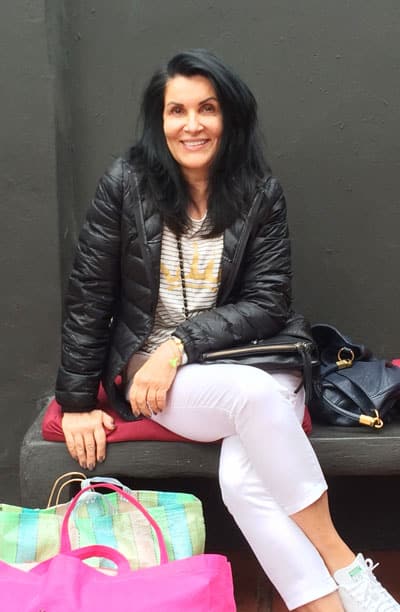 CultureAndCream Author from Munich
To travel during my profession as a beauty journalist was never enough for my. Also my six month on a world trip didn't do it. It always attracts me to other cities, foreign countries, on roadtrips and places I don't know yet. But I am not only interested in "culture" and "cream", I am also fascinated by people who have stories to tell .  Such unique experiences I want to share with you.