Travel alone: The Lightness of Being
Travel alone can be a lot of fun. Not that I don't like traveling with my husband, family or friends. But travelling alone has a special quality. But you have to recognize that first and then practice.
When I was a teenager, traveling with a bunch of peers seemed like a lot of fun, but it was not an accessible option for me. My father wouldn't have allowed it anyway. I also had girlfriends, but no real clique, because father strictly forbade any activities with people of the same age – and especially with boys. I could have been spoiled there, maybe learned something that I did not yet know.
When I finally liberated myself – forcibly and of course without my father's blessing – the time of sworn cliques was a thing of the past. Everybody traveled with his beloved one. I also. To travel alone would have been an inexcusable flaw in the eyes of the others and would have looked like you had no one to travel with. And in truth, not one of us would have dared to travel alone in these times.
My first solo trip
It was many years later, my first marriage was already broken up, that I found out how relaxing and conflict-free it is to travel alone – with only yourself. You don't need to be considerate of anyone, you don't need to compromise, you can do whatever you want. I still remember my first solo trip very well. I went to Verona. I wanted to have dinner in a highly rated restaurant at the end of the famous Piazza delle Erbe. "Are you alone, Signora," asked the waiter in astonishment and looked over my shoulder to see if someone else would follow me after all. When I nodded, I still got one of the elegant white set tables – not the most beautiful, but at least …
The waiter took care of me all evening, probably feeling sorry for the "bella signora" that travelles alone. Whenever his time allowed, he stood by my table and entertained me. That was soon a bit too much for me and I would have loved to have occupied myself with my food, which, by the way, was excellent. And it was also too late to pretend I wouldn't speak Italian. On the other hand, I didn't dare just send him away. He meant it nicely. So I soon asked for the bill, although I would have preferred to stay a little longer and order an espresso. Since this experience I have been taking my precautions for the future if I intend to sit alone at a table again.
Travel alone: the downsides
Of course, traveling alone also has other downsides. I just noticed that on my way to the Fattoria La Vialla near Arezzo in Tuscany recently. The S-Bahn from my home to Munich Airport did not run as usual because maintenance work on the main line had to be carried out exactly on this weekend. Nobody was by my side to take over the organization to assure me that I would be at the gate in time for departure. Later in Florence at the airport, I also had to take care of my luggage myself and also carry it. That is why I only have suitcases with wheels and with smooth-running ones. I also had to organize the taxi to the train station in Florence myself, because none could be found in front of the airport building.
And when I finally got to the Santa Maria Novella train station in Florence, the next challenge was already waiting for me. Since the usual "sciopero" was once again in Italy, this time the Trenitalia service staff was on strike, I had to see for myself how I could get to Arezzo. Normally my husband had been taken care to get rid of all these inconveniences. But as the saying goes, the woman is herself, and it actually works when it has to.
Alone with me
All unpleasant things about this travel alone trip were forgotten after the very warm welcome at the Fattoria La Vialla. After being on my feet for more than ten hours, I didn't have to go out to eat or cook anything – my husband would have expected a tasty meal with a good wine. With like-minded women like my friend Sabine it's something different. She would have joined me. Alone in my cozy Tuscan holiday apartment on the Fattoria I was able to snuggle into bed at 9 o'clock in the evening after a warm shower without anyone asking me if I was sick.
The next morning I was allowed to sleep in as long as I liked. In the afternoon I was able to shop in Arezzo without someone standing by with raised eyebrows (do you really need that?) or bobbing his feet impatiently (when are we finally going to go). In my solo vacation week I was finally able to read all the books I had been planning on for so long. I was able to do yoga in peace without the television in the next room being noisy. I was able to go on excursions in the area with my little Fiat Panda and visit all the museums that interested me. Nobody moaned "another museum, you already know them all".
The days alone with me were full of pleasure and so relaxing that my energy tank is almost overflowing. To travel alone I can only recommend to every woman, even if it seems a bit strange at first to sit alone at a table. For such cases I always have a book in my handbag now, not that a waiter again has to be in need of care, as it was the case in Verona. Nevertheless, I am already looking forward to the next vacation with my husband, even if it will be different. But every now and then I just need my time out and I need to travel alone again.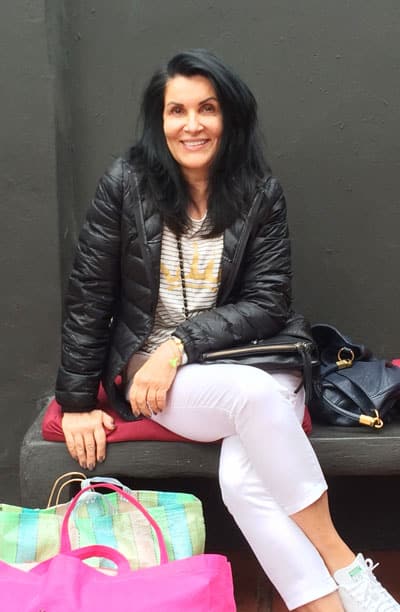 CultureAndCream Author from Munich
To travel during my profession as a beauty journalist was never enough for my. Also my six month on a world trip didn't do it. It always attracts me to other cities, foreign countries, on roadtrips and places I don't know yet. But I am not only interested in "culture" and "cream", I am also fascinated by people who have stories to tell .  Such unique experiences I want to share with you.