Riccardo Simonetti between Glitter and Glamour
A cool guy sporting a lustrous head of hair, make up and quirky accessories
For seven years Riccardo Simonetti has been working as influencer. Running his own blog The Fabulous Life of  Ricci, and with 143.200 followers on Instagram (@riccardosimonetti) under his belt, he is one of most successful on the scene. He wears leo, satin and sequin, and will occasionally don a crown. He also wears make up. In this, Riccardo Simonetti is not alone: more and more men shop for make up. MAC Pro Artist Linie counts 34 percent male customers. They not only buy skincare but also eye-, brow-, and complexion-decoration, the trend echoing across all age groups and genders. And then there are the young aficionados using make up as statement, shopping for more decorative products than many women, in order to present themselves on Instagram. The industry has long reacted. Already in 2016, the US brand CoverGirl elected teenage blogger James Charles as model for their "So Lashy"-campaign. For a shooting, Georgie Greville, Creative Director at Milk Makeup, called model and actor Luka Sabbat to stand in front of the camera, and made him experiment with blue eyeshadow pigments and covercream. Riccardo Simonetti typifies this new target group. He is zeitgeist – he is courageous, adventurous and open-minded. In our interview he explains the phenomenon, how he deals with it personally and business-wise, and how people react to his glamour-look.
What is the reason that we see this new trend towards men wearing make up specifically on Instagram?
The anonymity of the Internet provides a safety-zone that inspires many to try out new things – things they would not have the courage to do in their normal daily routine. Here, the Internet is a perfect platform because it erects a protective wall – as opposed to you being out in the open and on the street. The feedback that comes in via comments and likes validates many to the extent that they develop a career around it and actually live it out in the open. I think that it was that sort of key to experience this freedom that is still very unconventional especially for men.
What does your freedom consist in?
I can be myself without compromise and without having to justify myself. This is something that has accompanied me throughout my life. I grew up in rural Bad Reichenhall, and already as a boy I was interested in fashion and made unconventional public appearances. Back then I always felt that here was a raison d'être, and even then I dreamt of standing in the limelight myself. I was sure it was the only world that would appreciate exactly those traits that I was criticized for on the street. And so it is the ultimate feeling of freedom not to have to apologize for who I am, and for what I am.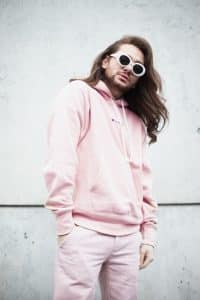 Were you mobbed for your look as a boy?
Yes, there were episodes that happened at school. A kid never feels nice realizing that it is the talk of the town just because it dresses differently. Things went rather far – including physical violence. But wherever you are on this planet, people will react unconventionally to an unconventional boy – that I have seen.
Did you learn anything from that?
It is because of such experiences that I am very involved in trying to achieve acceptance for people even if they are different. I know how it feels to be held accountable every day for being different. I could never enjoy my success if I wouldn't know that the same boy I was 5 years ago can now walk down the street without being insulted on account of his looks.
At what age did you start being different that others?
As soon as I could make my own decisions. At an age of four or five it became clear that I would walk a different path compared to other boys my age. I was very lucky to have a highly tolerant mom who was very fashion-conscious herself and did not take an all too narrow view to my experiments. I was 4 or 5 years old when I first got on stage, and I acted for 15 years. At some point I wanted to wear those beautiful outfits beyond just the stage. Irrespective of how "too much" I was in normal life: on stage everybody loved the way I looked. It was that feeling that I wanted to maintain off-stage.
How did you dress in everyday-life?
That included skirts and dresses, but it was mainly the element of show that appealed to me. I always admired people like Michael Jackson and also Thomas Gottschalk who, incidentally, was my very first interviewee when I started my own radio-show "Riccis Welt" at the age of 14. These were unconventional men who wore great outfits, entertained people, connected families – values I was always most interested in. Fashion is so gender-fluid these days. It is less important what a person wears as long as it looks good on that person. Thomas' approach back in the 1980s and 1990s was groundbreaking for the way men deal with fashion today.
At what age did you start putting on make up?
As a child-actor I came in contact with make-up very early on, and because of that I never had any reservations. Privately, I started to experiment with it during puberty. I always wanted to look like a rock star and so my kajal eye pencil and me were inseparable. Decorative cosmetics came in during my 20's.
What kind of make up are you wearing today?
Predominantly, that I wear make-up in my beard because my beard growth is not very dense. I want my beard to look full and glamorous, and I get a little help from some eye shadow.
Does the new trend for men transverse all age groups?
Most of all, this trend stands for the feeling connected to it. It is a new type of rebellion in particular for men – they can show that they do keep up when it comes to make up. And they can show that they are technically highly versed, as well. It really is about a lot of fun. You're never too old to have fun, whether you are a straight grown-up man or a 15-year-old gay boy. I think all this existed in the past, too – but there was no vent. Now, with the Internet, there is that vent, as well as a platform where they can pickup ideas. They see that they are not alone – that there are others loving this sort of thing. In the 1980's it was common practice for men to put on make-up, and while that may have dwindled a bit over the last years, society today is definitely ready for men carrying make up on their faces.
Where did you pick up which ideas?
I loved Lady Gaga because her make-up transcended borders. She showed that it was not about male or female but simply about an interesting look. She created looks inspired by the past but still very modern. That totally impressed me.
Do you see your visual appearance as a statement?
To me, fashion is a statement speaking for me before I can even open my mouth. If you have a command of that language, you can say much more via your outfit than many people may understand using words. That's why I try to make a statement with what I wear – even if it may be just in my accessorizing.
Standing in front of your wardrobe, how do you decide in the morning?
It's my job to report about my life. My daily task is to create my own reality-show for my social-media- and Instagram-platform. Getting up in the morning, I plan my life like a movie. Choosing my outfit is just like the choice of props on the movie set. I check what's on the program for the day. Does my routine involve a photo shooting or red carpet, or will it consist of more seemingly private things like being around town and experiencing everyday-adventures? I pick according to what the protagonist in my movie should look like.
Is there any product that you carry with you at all times?
In fact, I am huge fan of dry shampoo because my hair curls really strongly. It is incredibly hard work to blow dry it flat. Everyone who has curly hair knows the problem. I have someone who blow dries my hair flat every three days, and the days in between I bridge with dry shampoo. Humidity in the air is my constant enemy – if it confronts me, I have to apply dry shampoo to "get things straight". I have to say I am particularly proud of my hair. My best compliment is when someone says you have great hair. That makes me happy every time.
Are you not afraid of being pigeonholed?
I've been in a pigeonhole my whole life, so I am not afraid of that. I always explain that with my mom. When I sort through stuff in my dressing room and get desperate, I call my mom and ask her for advice. She will say: "you gotta put everything in a drawer". Then me: "that may work if you only have jeans and t-shirts. But where do I put my mermaid tail, my angel wings, and my 77 sequin jackets?" They won't fit into a drawer, or pigeonhole, and neither will I.
How do you deal with negative criticism?
Many people ask me what has changed since I have entered the public eye. However, being as unconventional as I am, and growing up in the country, you do not need the public eye or social media to attract haters. It will be enough to walk down the street. You will get every comment told right to your face. That experience has shaped me much. With this background, reading negative statements about me on Instagram or in the press – I can blank that out fairly well. I have learned to orient myself towards people who mean me well and who will further me. It still hurts if you read some evil statement about yourself – you cut yourself with a knife, it still hurts the hundredth time. But it is ok and even a good thing because it proves that I have feelings. In any case, I try not to let myself be disconcerted by it; rather, I just carry on with a bleeding finger
Photo credit: Simonetti, Floral Deco@Shutterstock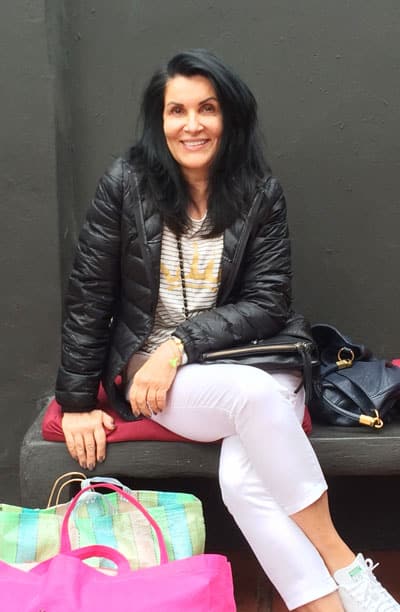 CultureAndCream Author from Munich
To travel during my profession as a beauty journalist was never enough for my. Also my six month on a world trip didn't do it. It always attracts me to other cities, foreign countries, on roadtrips and places I don't know yet. But I am not only interested in "culture" and "cream", I am also fascinated by people who have stories to tell .  Such unique experiences I want to share with you.