Skincare Made to Measure
Customized or bespoke are THE keywords when it comes to something tailored specifically to a person. To explain why tailor-made skin care actually does make sense, Dr. Gerhard Sattler, founder and Medical Director of the Bellari Institute and the Rosenpark Klinik Darmstadt, uses the example of SkinCeuticals CUSTOM D.O.S.E., a machine which produces a personalized skin serum on site.
Does customized skincare make sense even if one doesn't have problem skin?
I think this is a question of personal requirements. Prevention always plays a role in taking care of my skin, even if it is healthy. In this respect, personalized care is also helpful for those consumers who don't have problem skin. After all, it contains not only medicinal substances, but skin nourishing ingredients which give support to the stability and health of the skin. What is special about the new SkinCeuticals product is the quality of how it is prepared. The machine is located here in the salesroom at the Bellari Medical Beauty practice and, in just a few minutes, produces a serum under highly sterile conditions, just as if it came from a laboratory. I find that remarkable and highly professional.
What parameters does the machine measure?
Since every skin has individual needs and problem zones, a precise anamnesis is essential. This is obtained by means of a personal conversation and a tablet-supported skin analysis which take place in advance. Based on the programme's questions, the patient's objectives are established, and problem areas noted and assessed. The SkinScope from SkinCeuticals is also used. By means of a special UV light, this reveals "weak points" in the skin such as hyperpigmentation, couperose, etc., which are not yet visible to the naked eye. The formulation is then determined using a tablet after which CUSTOM D.O.S.E (and this is what makes it special) combines the appropriate ingredients for the patient. Not all active ingredients can be combined, nor can an infinite number be included in one serum. Based on the answers, the system recognizes exactly which ingredient is the correct one, for example to minimize redness. Since each substance can have several properties, this depends exactly on the combination. The system automatically compiles the optimal dosage and mixes the serum individually right in front of the patient.
Who carries out the anamnesis with the patient?
The beauty of the Bellari concept is the combination of professional cosmetics and aesthetic medicine at one location. Our customers and patients receive precise information from our beauticians and doctors as to the skincare best for them, whether it be prophylactic or to improve the appearance of their skin. Medical treatments are always advised and carried out by a doctor who makes an individual recommendation. The patient is then familiarized with the latest possibilities and technologies, such as CUSTOM D.O.S.E.
The individual serum can contain up to 12 active substances. What are these?
The serum has two possible constituents which form its basis and are carriers for the highly concentrated active substances (so-called boosters). Depending on the type of skin, we recommend a hydroalcoholic, viscous base or a light, creamy emulsion base. To this, the respective boosters are added: For exfoliation, these are AHAs (glycolic, lactic and phytic acids), which support the natural exfoliation of the skin and remove dry, pale skin flakes. H+H (Hepes and Hydrovance) refine the complexion and moisturize the skin. LI+M (liquorice root and mulberry extract) have a brightening effect. They promote an even skin appearance and minimize hyperpigmentation as well as dark spots. Another brightener is SYM (SymWhite). PXN or RET is then added to improve the skin: Pro-Xylane™ (PXN) supports the skin's protein matrix and improves firmness. Retinol (RET in 0.1%, 0.3% and 0.5%) provides a smooth complexion, stimulates cell regeneration and improves the appearance of fine lines and wrinkles. Since not every patient can tolerate Retinol, medical advice is extremely important here.
Why is there only one serum and not an entire care line?
Sometimes less is more. The serum is mixed with the exact active ingredients that the skin needs in its current condition, and in a particularly high concentration. Of course, it can be integrated into the usual skincare routine or supplemented with other products. For example, some CUSTOM D.O.S.E. combinations should only be used in the evening. Since the skin also needs care in the morning, the usual products or, if necessary, a new product that is better adapted to the skin can be used.
What is possible in skin analysis today?
Much more than ever before. In the past, dermatologists were only able use their eyes and hands for a skin anamnesis. Of course, there have long been useful analytical devices such as the dermatoscope for the detection of skin cancer. But with the SkinScope and the use of UV light, we can detect skin problems such as hyperpigmentation, freckles, sallow complexion, stubborn dark spots and the first signs of aging such as lines and wrinkles long before they become apparent. The logical consequence is that technologies are developed that provide a tailor-made skincare solution for the patient. For those of us in aesthetic medicine, this is another key element in attaining optimized results.
aesthetic medicine, booster, customized skincare, individual serum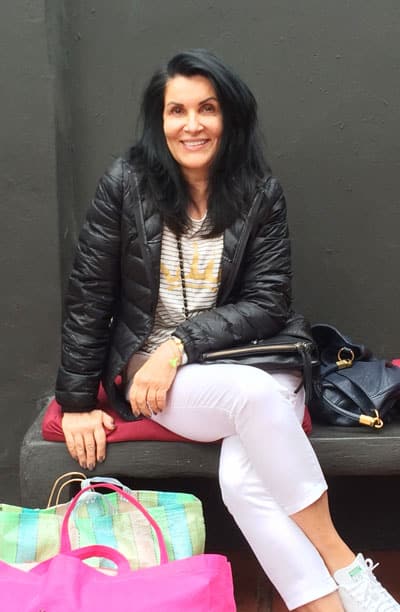 CultureAndCream Author from Munich
To travel during my profession as a beauty journalist was never enough for my. Also my six month on a world trip didn't do it. It always attracts me to other cities, foreign countries, on roadtrips and places I don't know yet. But I am not only interested in "culture" and "cream", I am also fascinated by people who have stories to tell .  Such unique experiences I want to share with you.