Tested for you: Augustinus Bader "The Cream Cleansing Gel"
I have to admit that I am very benevolent to Professor Augustinus Bader. Not only he is one of the globally recognized leaders in stem cell biology. He is just an outstanding personality, a very humane, responsible person as I found out in an interview with him. As head of stem cell research at the University of Leipzig, he spent 30 years focused on perfecting the healing process and uncovered how to reawaken these cells, which go dormant over time due to aging or trauma. He clearly explains to me what makes many skin care products lie, "that you can't add stem cells to your skin, you can only wake up the inactive cells in your body." Professor Bader's mission started with the intention to help burn victims, particularly children with traumatic injuries. In 2008, he formulated a groundbreaking wound gel that heals even third-degree burns without surgery or skin grafts. It works by carrying a set of healing signals to the site of the wound or burn, triggering the damaged skin cells and facilitating perfect healing. This gave him his idea for skin care with the patented TFC8® (Trigger Factor Complex) technology. His approach: what helps damaged skin can only do good skin good.In 2018, he launched a single product – "The Cream" – with the goal to leave the skin smoother and regenerated. It was followed by "The Rich Cream" and a body cream. A complete care line should be out by the end of this year.
Cleansing without feeling tense
All Bader products are based on the Trigger Factor Complex (TFC8®). It consists of natural amino acids, high-quality vitamins and synthesized molecules that also occur in the skin. This guides important nutrients and powerful natural ingredients into the skin cells, creating an optimal environment for the body's natural repair and regeneration processes. And because beautiful skin starts with a thorough cleansing, the first thing I decided to do was "The Cream Cleasing Gel". What comes out of the dispenser in a good dose is a white cream-gel texture. It feels light and fresh on the skin. No fragrances are included. The smell is pleasantly natural, maybe a little "medicinal". Emulsified with water, it does not develop foam, which I like. The eye and waterproof brow make-up can also be easily removed without burning your eyes. And most importantly, normally my skin tends to feel uncomfortable after cleaning, so I can't apply a serum or cream quickly enough. Not with this product. On the contrary. It feels well moisturized and de-stressed. After four weeks of use, the skin surface also appears smoother and smoother. But maybe it is also due to the subsequent care. I apply "The Cream" every morning and evening. The "Rich Cream" version is too rich for me. I keep them for dry winter nights.
Augustinus Bader "The Cream Cleansing Gel", 100 ml, ca. 65 Euro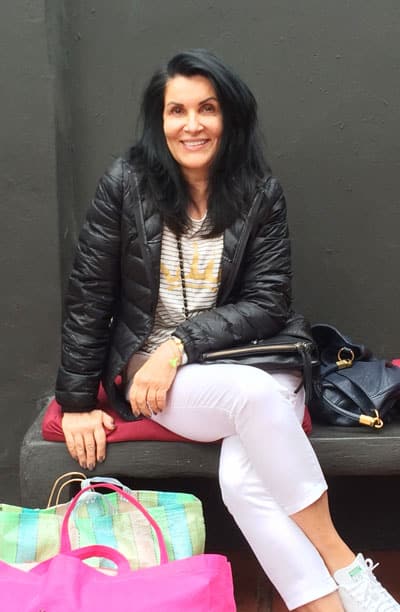 CultureAndCream Author from Munich
To travel during my profession as a beauty journalist was never enough for my. Also my six month on a world trip didn't do it. It always attracts me to other cities, foreign countries, on roadtrips and places I don't know yet. But I am not only interested in "culture" and "cream", I am also fascinated by people who have stories to tell .  Such unique experiences I want to share with you.