Tested for you: "Paradise Dual Palette" from Dear Dahlia
Never heard of the Dual Palette and Dear Dahlia? It is a vegan luxury cosmetic line from Asia. There the dahlia is a symbol of timeless beauty. But not only that. Each product contains the Dahlia Variabilis flower extract in addition to many other certified organic ingredients. This makes the products rich in antioxidants and ensures the skin is supplied with moisture. And it is easy to recognize on the OTC shelves, because Dear Dahlia stands out from all other products with its octagonal packaging in a marble design, which, by the way, stands for the dahlia in its full bloom. 
Multifunctional dual palette
I love products with multiple uses, especially when you are on the go and – hopefully soon again – travel a lot. The "Paradise Dual Palette" is exactly my case, and the color duo "Fortbildden Fig" was made for me. The duo consists of a darker, rosewood-colored balm and a lighter powder in dusky pink for the eyes, cheeks and lips.
The two perfectly coordinated color nuances can be combined in many ways to create new looks. I also like to layer them both. If the cheeks should be less accentuated, I apply the balm first and put a touch of the lighter powder over it. Only on the lips I dab a little powder in the middle of the lower lip to highlight them. Spread it all over, the lips would become too dry. The double-sided mirror in the middle of the box is ideal for a touch-up on the go. At home, however, it is better to use a larger copy of make-up.
"Paradise Dual Palette" by Dear Dahlia, 9 color nuances, 32 US$ each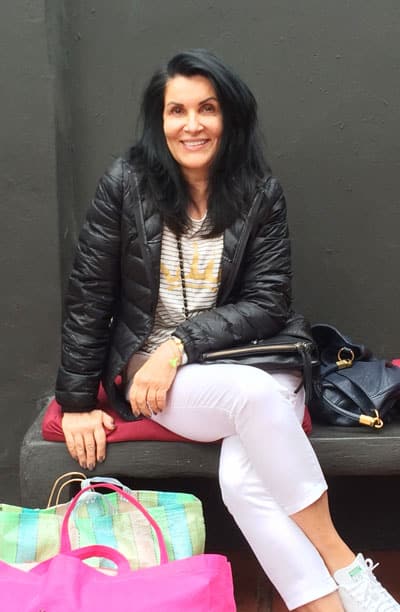 CultureAndCream Author from Munich
To travel during my profession as a beauty journalist was never enough for my. Also my six month on a world trip didn't do it. It always attracts me to other cities, foreign countries, on roadtrips and places I don't know yet. But I am not only interested in "culture" and "cream", I am also fascinated by people who have stories to tell .  Such unique experiences I want to share with you.