Fine Tuning for the Body
Fewer dents, firmer skin and a slimmer silhouette
Minimally invasive body-shaping is the magic formula by which all of this can be achieved. No surgery, no pain, no downtime. Sounds too good to be true, but state-of-the-art technologies such as micro-focused ultrasound or radiofrequency can make it possible. The two methods differ in their depth effect. "In contrast to radiofrequency, micro-focused ultrasound penetrates into deeper tissue layers and provides an immediate as well as a long-term tightening effect without damaging the skin surface. The controlled and specifically applied heat of up to 70 degrees causes fat cells to melt," says Dr. Carmen Cecilia Duma, Rosenpark Klinik. A proper patient selection by the doctor and a reliable diagnosis are therefore particularly important here. One thing one must be aware of: neither of these therapies can be compared with the possibilities offered by liposuction or classical body lifting. Only smaller problem zones can be treated, but these with surprising and satisfactory results.
Micro-focused ultrasound
The ultra-modern ultrasound technology tightens sagging skin areas. At the same time, it improves the structure of the skin and connective tissue and contours the shape. The most rewarding areas of treatment are the décolleté, upper arms, armpits, waist, stomach, thighs and knees. Dr. Duma: "Invisible micro-injuries in the deep tissue layer stimulate the new formation of both collagen and elastin. The skin gradually becomes tighter and firmer thereby creating a natural lifting effect ". The highly focused ultrasound waves are transmitted through the skin directly into the deeper connective tissue via a movable sound and treatment head. There they stimulate the body's own regeneration process and stimulate the formation of new collagen. Fat cells are melted away then flushed out of the body naturally over the course of the next few weeks. The effect of this is that the treated region is shaped and smaller problem zones optimized. The device has different handpieces which allow the specific treatment of various target areas.
Pain free and suitable for everyday use
Although no anesthesia is necessary, an anesthetic cream is applied an hour before the treatment to make it as pleasant as possible for the patient. The daily routine can be resumed Immediately after the therapy and no special aftercare is necessary. The full effect develops over a period of three weeks to six months showing a significantly firmer, fresher skin and slimmer contours. As a rule, one treatment is enough.
Radio frequency and magnetic pulse technology
The innovative Venus Legacy process combines multipolar radio frequency with magnetic pulse technology and a built-in temperature sensor. "The multipolar radiofrequencies penetrate not only one but several layers of tissue where they trigger a thermal reaction. This sets off a regeneration process leading to the formation of new collagen. The skin is tightened, wrinkles and cellulite reduced and fat pads minimised," says Dr. Carmen Cecilia Duma. Increased blood circulation and direct tightening of the skin can be observed immediately after the treatment. The multipolar radiofrequency brings about a thermal reaction in the tissues which stimulates the body's natural healing powers.
Gentle and effective
Sagging skin on the upper arms, abdomen, legs, back and buttocks can be treated. In the facial areal, good results can be achieved on bags under the eyes, double chin, the chin-cheek line, neck and forehead. The procedure is painless and can therefore be performed without anesthetic. Because it is non-invasive, no subsequent downtime is necessary. Dr. Duma: "Results are often visible after only one treatment. For an optimal and longer lasting result, however, we recommend 6 to 8 sessions".
Sponsored by Rosenpark Klinik
Aufmacherfoto: Markus Rock
aesthetic surgery, Bodyforming, non-invasive, radiofrequency, ultrasound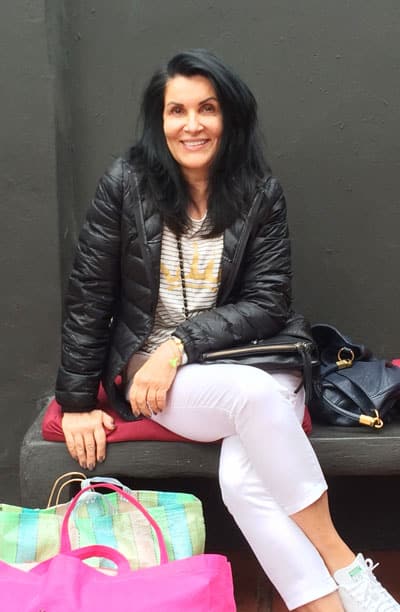 CultureAndCream Author from Munich
To travel during my profession as a beauty journalist was never enough for my. Also my six month on a world trip didn't do it. It always attracts me to other cities, foreign countries, on roadtrips and places I don't know yet. But I am not only interested in "culture" and "cream", I am also fascinated by people who have stories to tell .  Such unique experiences I want to share with you.