The Hair Whisperer from Paris
Celebrity Coiffeur Christophe Robin suprises with his tips
C&C: Your "Volumizing Paste" is a true volume wonder. What is the secret?
Christophe Robin: It took me forever to find a way to give volume to the hair. I didn't want to use too much coating ingredients, because they not only coat the hair but also the scalp. Means you add volume but the scalp can't breathe. So it becomes greasy and the effect is like a soufflé. Also I wanted to fight greasy scalp because it is an issue. I use rose extracts that works like a natural hyaluronic acid. As well we have Rasul clay from Maroc to help the scalp not to get greasy and plus it puts back all of the minerals inside the hair. All together gives the volume.
You recommend to use a hair oil before shampooing?
Conditioner and masks are not my most preferred haircare products. They make the hair heavy and flat. For a mask there is mostly no time. For healthy scalp and hair everybody should make a pre-shampoo treatment with a hair oil, no matter what shampoo you use after. I do it since 25 years in my Paris' salon. Actually the "Lavender Oil" was my first product I developed. You put a little bit of oil on your palms, rub it, put it on your hair and brush it before washing with shampoo. If you want you can apply the oil the evening before and leave it overnight.
What is the biggest mistake women can do to damage their hair?
Using too much shampoo and not rinsing it well enough. In most of the shampoos there are coating ingredients like silicone. The scalp can't breathe and you have to wash it again. The more you wash it the more you make your hair sensitive. If the hair is not rinsed well, there is always product left and the hair gets no shine. Many women also put too much conditioner directly on the scalp. Makes also that the scalp can't breathe. Another bad thing are tools, they are terrible for the hair. But to use a lot of styling products is a trend nowadays. On YouTube you find some tutorials where people are encouraged to use five products on their hair, what is too much. All the ingredients grab on the hair and coat it.
It makes it dry and dirty and it needs a wash again.
How to wash hair properly?
Put a teaspoon of shampoo in your hands. First you concentrate on the roots, you add right away a little bit of water to emulsify the product, then rinse it properly. You can wash the hair once or twice, it depends on the needs.
Dry shampoo is famous now for styling and when there is no time for a hair wash. Is that good or bad?
Dry shampoo is only good for one night. Going to bed with is like going to bed with make up on the face. The skin and the scalp must be able to breathe at night. Therefore it is important to open the windows in the bedroom. Sit down and let your head hang down. In this position you give your scalp a really good massage for four minutes. Especially when someone is stressed the scalp is tense. Normally people do not breathe properly that's why they have a lack of oxygen. Never go to bed with dry shampoo. Even more bad are tinted dry shampoos used for gray coverage. Sometimes women leave it for two weeks in their hair and sleep with it. When they do a coloration on top there is too much pigment and they develop allergies and get reactions. It is not the ammonia causing the allergy, it is the PPDs (P-Phenylendiamine) and the dark pigments.
What can one do to make the hair shine?
Dull hair is a lack of hydration. There is a grandma's trick that really works. It is nothing better than vinegar. You buy it from Maria Novella, Diptyque or even cheaper from Yves Rocher. They have a framboise vinegar which is amazing. First you wash your hair and rinse it properly. Then you fill a bowl with cold water and add may be ten drops of vinegar. You use it for the last rinse on your hair and your scalp. It dissolves all rests of products and all the minerals left from the tap water. It also has an antibacterial effect and refreshes the scalp. Bacteria cause dandruff and vinegar counteracts this.
Are there effective anti-aging measures for the hair?
This is difficult for me to judge. A lot of women had a lot of hair in younger ages and around their 70ies it is thinning. What I see from my clients, it happens often when they do many diets or anesthesia for surgery. What works is Omega 3 as it is contained in fish. I am convinced that the quality of the hair has to do a lot with nutrition. Eat well, breathe well. To enhance the oxygen is good for the hair and the scalp.
What is for you the most important hair care product?
Hair oil. Since hundreds of years it is used. But you need an oil that is not thick like argan or olive oil. This mostly remains on the surface. And when it goes inside it removes the artificial color. That is a good trick if someone has colored his hair too dark. Instead of bleaching the hair, use argan oil and brush it in. After a few hours, the excess color dissapears. A light oil is good for a constant care of hair and scalp.
Which hair care product should never be missed in an inflight cosmetic bag?
I would say baking soda is much better than a dry shampoo. Put some on a good brush and brush the hair for some minutes, you will achieve the same effect as with dry shampoo. It contains npc perfume and other ingredients that are not good for the hair. Soda is also helpful for digestion if the food was not well tolerated. Soda even feels pleasant in bathwater.
For which styling tool is it worthwhile to invest good money?
At first I was skeptical of what the Dyson hair dryer really can. Now I like it a lot because it is not noisy. Also it is lightweight and gives so much shine to the hair. I do know nothing about longterm experiences, but all my stylists like the Dyson. Also important is a good brush with natural bristles. And again vinegar. In our salon we mix 20% vinegar and 80% distilled water how to us it for ironing. We spray all brushes with it. It has an antibacterial effect and gives shine to the hair. A good brush is not cheap. But if you clean it regularly, we use white vinegar for this, it will last a lifetime.
Christophe Robin, hair whisperer, hairexpert, hairsecrets, Paris hairdresser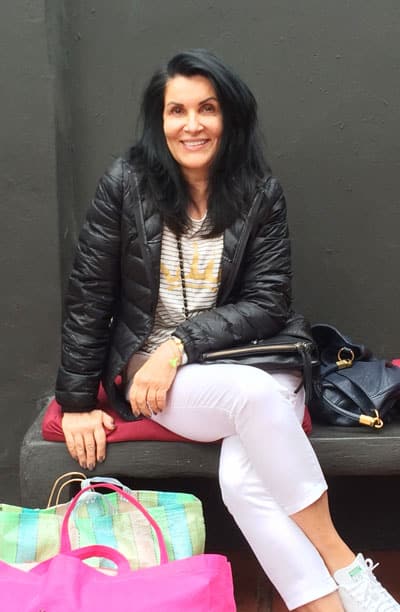 CultureAndCream Author from Munich
To travel during my profession as a beauty journalist was never enough for my. Also my six month on a world trip didn't do it. It always attracts me to other cities, foreign countries, on roadtrips and places I don't know yet. But I am not only interested in "culture" and "cream", I am also fascinated by people who have stories to tell .  Such unique experiences I want to share with you.