Tested for you: New Fragrance "Angel Elixir" from Mugler
Fragrance love. It was exactly 30 years ago. It was my first great perfume love. I still remember exactly the press event when Thierry Mugler presented his perfume "Angel" in Munich's Bavaria Studios and I was allowed to interview him. A fantastic personality, a great designer. Some of his jackets with accentuated shoulders and narrow waist, with which he staged the figure of a woman like no other, I still have in my closet. And then the color, the unmistakable Mugler blue.
Already at the first careful sniff I fell in love with "Angel". It was a novelty in the world of perfumes like "Chanel No. 5" used to be – in terms of its ingredients as well as its appearance. The fragrance in the unmistakable glamorous bottle of an irregular, light blue star shape was the first gourmand composition. It smelled devilishly seductive of praline and patchouli. When the news came last January 23 that Thierry Mugler had passed away in Vincennes, France, I was heartbroken – and wore my black Mugler leather jacket cut like a sculpture that day in his honor.
An iconic fragrance reinvents itself
I was all the more thrilled to hear the news that a new perfume will be launched in March 2023 that catapults the legendary fragrance signature of "Angel" into a whole new dimension: "Angel Elixir". The most explosive star of the Angel galaxy is a transformative, woody-floral perfume that exudes a new, more intense and ultra-modern femininity. Again, ingredients are involved that are addictive: an unprecedented, precious woody gourmand accord. The woody notes are wrapped in a hint of vanilla. Underneath, spicy-milky florals are hidden. It's like a game of light and shade …
"With Angel Elixir, we wanted to express intense, addictive contrasts, just like the Angel woman herself: seductive, captivating and fearless." Anne Flipo & Domitille Michalon-Bertier, the perfumers
Fragrance with a night black aura
Spectacular shapes have always been Mugler's trademark. In "Angel Elixir", the light blue inside the distinctive Angel glass bottle shimmers in deep blue. Like a dark star with a light heart. The faceted, five-pointed star is refillable, in keeping with the brand's environmentally conscious understanding of sustainability. "Angel" was ines of the first perfumes with refill stations in perfumeries.
Hunter Schafer, US model and actress (e.g. "Euphoria") is the new star in the Mugler sky. The 24-year-old from North Carolina impresses in the unique campaign of "Angel Elixir" with a fascinating aura that encourages women to rise above themselves and set out into a new era.
"Working with Hunter Schafer has been a dream. For years I have seen her as an angel: simply beautiful inside and out. She is full of energy, full of positivity. She transmits all of that to those around her … and that's exactly why she's perfect!" Casey Cadwallader, Creative Director Mugler Fashion
"Angel Elixir" from Mugler, Eau de Parfum, 50 ml, £92.00
angel elixir, mugler fragrance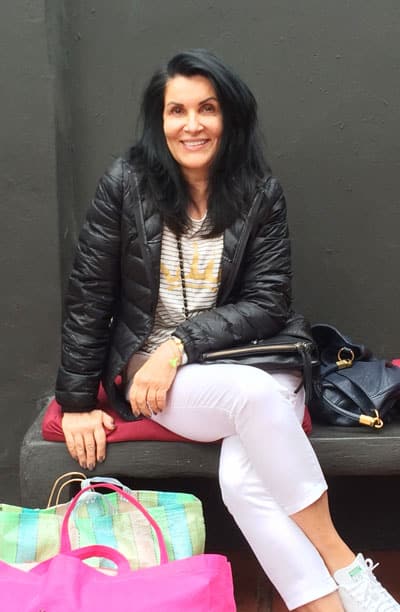 CultureAndCream Author from Munich
To travel during my profession as a beauty journalist was never enough for my. Also my six month on a world trip didn't do it. It always attracts me to other cities, foreign countries, on roadtrips and places I don't know yet. But I am not only interested in "culture" and "cream", I am also fascinated by people who have stories to tell .  Such unique experiences I want to share with you.