Tested for you: Hair Care Set "Nourishing Shampoo and Serum" from Hair Cure
This hair care makes me curious. It already passes the haptic test: the elongated, rounded shampoo bottle lies comfortably in the hand. It's neither too soft nor too hard, so it conveniently delivers the right amount of liquid. The flip lock lid is easy to open and still closes tightly. The slightly brownish-transparent "Ultimate Nourishing Shampoo" smells slightly medicinal. Comfortable for my nose. I only need a little amount for my bob length. The shampoo is easy to distribute and lather in the hair. I like foam. And I like a scalp that feels well cleansed. This hair care does it. Washing out is also easy.
Do I need conditioner after shampooing? Usually yes, because my hair likes to get tangled easily. But I'll try it without it first. In fact, it works well with the "Hair Cure" shampoo. My hair is not knotted a bit. And after blow-drying, it has a lovely volume. I also have the feeling that the blow-drying time is a lot shorter and my hair dries much faster than usual.
System hair care against hair loss
The second step for daily use: The "Ultimate Nourishing Serum" is actually intended to inhibit hair loss or, if used systematically, to promote hair regrowth. I don't have any hair loss, but every year in autumn, when the hair changes after summer, I do a hair treatment to strengthen my hair.
The formulas of both hair care products are based on biomimetic peptides, amino acids and purely plant-based ingredients that are obtained through nanotechnological cold extraction. The active ingredients regenerate the scalp and prevent hair loss. At the same time, they care for the hair from roots to tips, which contributes to healthier and voluminous hair. And who doesn't want that?
Full hair, healthy scalp
From the highly concentrated scalp serum with 16 active nutrients from traditional natural medicine, I should massage in a small amount of the product twice a day. The spray bottle allows to distribute the liquid precisely and easily. The light serum is absorbed through the pores of the scalp and, thanks to the algae it contains, supplies the hair roots with moisture and soothes the scalp.
I take it pretty serious with this hair care, I religiously massage the brownish serum in the morning and evening, especially in the parting area, where women usually begin to thinning hair. The serum also smells pleasantly medicinal and – very important – it is not greasy because it is quickly absorbed by the scalp. The hair stays nice and loose. I even notice a slight cooling effect on the scalp.
My conclusion after six weeks of using shampoo and serum of the hair care set: The hair feels strong and actually even fuller, although I am already blessed with a lush head of hair. After washing or combing out, I find less hair in the basin and brush than usual when the seasons change. What I also noticed pleasantly is that the previously short hairs on the temples have grown out of the baby hair stage much faster.
The "Hair Cure" formula was developed for women and men who suffer from an irritated scalp and weak hair. To prevent this, I will definitely "hair cure" again at the next change of season.
Set "Ultimate Nourishment Shampoo" und "Ultimate Nourishment Serum" from Hair Cure, je 100 ml, ca. 99,75 Euro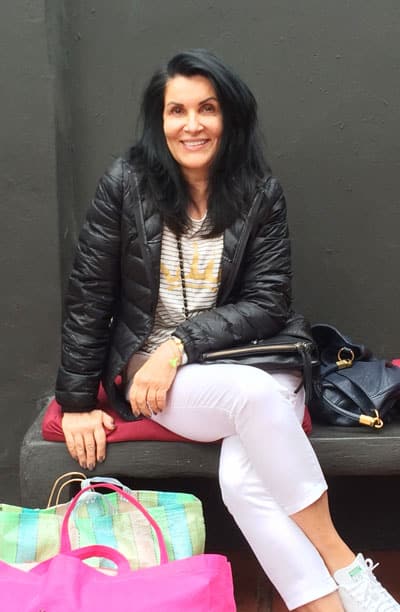 CultureAndCream Author from Munich
To travel during my profession as a beauty journalist was never enough for my. Also my six month on a world trip didn't do it. It always attracts me to other cities, foreign countries, on roadtrips and places I don't know yet. But I am not only interested in "culture" and "cream", I am also fascinated by people who have stories to tell .  Such unique experiences I want to share with you.