Tested for you: Lip Color "Air Matte" from Nars
A well-known international make-up artist once told me during an interview that matt tones make the lips look dead. "Doesn't work at all," he waved off, although I was sitting in front of him with my mouth painted in a matt lip color. Not very charming, man. But shiny days on my lips had long since come to an end after the matt tones had conquered the beauty market. I love matt colors. For my taste they are subtle and elegant, less intrusive than a vinyl glossy layer on the mouth. Just silk matt could sometimes be another option.
Airy, light lip color
Because of my fascination with matting colors, "Powermatte Lip Pigment" from Nars has already found a big fan in me. The texture dries quickly and is smudge-proof. The perfect partner in times of mouth and nose coverage. "Air Matte Lip Color" is even lighter on the lips. Weightless perfection that couldn't be better. Silky polymers and micropowders form a long-lasting formula that is extremely comfortable to wear.
Perfectly even
How can "Air matte" be applied? With the applicator, which is bevelled on one side and can therefore be individually adapted, the color can be easily spread into corners and contours to the mouth. Soft pigments are as light as a feather on the lips. A kind of soft focus effect. They also have a slightly plump effect. Or is it because of the orange-red color "Mad Rush" that my lips seem fuller? In any case, they are perfectly styled. The color is long-lasting, even if it is not as smudge-proof as with "Powermatte". Re-Applying the lip make-up, even without a mirror, is not a problem because the texture is so nice and creamy.
There are ten colors to choose from. "Lips are all about fun. Virtually every color can work on everyone, "says Francois Nars, Founder & Creative Director of the brand. Which one will I try next? The dark "Pin up" or the nudy "All Yours"? In any case, I have to hurry because "Air Matte Lip Color" is a limited edition.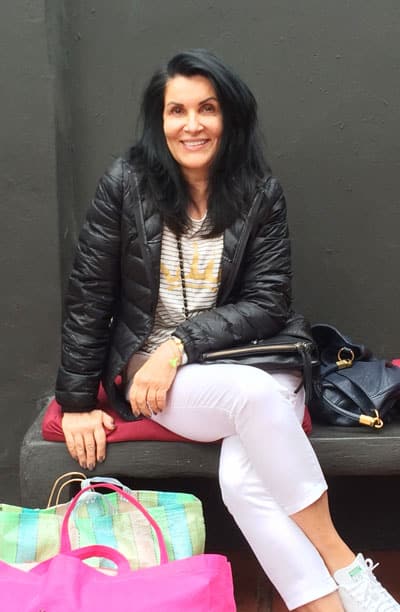 CultureAndCream Author from Munich
To travel during my profession as a beauty journalist was never enough for my. Also my six month on a world trip didn't do it. It always attracts me to other cities, foreign countries, on roadtrips and places I don't know yet. But I am not only interested in "culture" and "cream", I am also fascinated by people who have stories to tell .  Such unique experiences I want to share with you.