Facial: Skin Care At Its Best!
For me, skin care with the right products is essential. It's part of my daily rituals like brushing my teeth. But as consistently and lovingly as you take care of your skin at home, the beautician can achieve even more. This has just been shown to me again visibly and noticeably with a very special facial.
According to a survey done by Statista only 11 percent of German women see regularly once a month a beautician, 52 percent never. American women are a bit better. 23 percent have a facial on a regular base. The "refusers" do not even know what they are missing. I experience it first hand every month. Although I use the same "Doctor Mi!" products at home that the beautician uses at Dr. Miriam Rehbein, it makes a hell of a difference.
My skin is even and has the desired glow. Beautician Marietta is also very happy with what she sees. "Your skin is beautiful," she says. When I asked skeptical whether something could be improved at all, she replied that something could always be achieved. To anticipate the result: Marietta was right. My skin has a very special glow after the 1.5 hour facial, the contours are tighter, even the corners of the mouth are slightly raised. And the positive effect intensifies in the days after. But one after another.
Cherry stone peel and supersonic speed
My facial starts with cleaning. There's not much to get off because I never wear make-up, then the peeling with the crushed cherry stone peel follows. I do this regularly at home because it gives a lot of glow. After that she eliminates blackheads, but there's not much to find either. "Tone.S" is used for disinfection, because the two percent salicylic acid, an oil-soluble beta hydroxy acid, wipes the last of the fat particles from the skin and improves the absorption of active ingredients. This is followed by the Obagi glow peel. Beverly Hills doc Zein Obagi became known for his azure blue peel, which combines three acids. The glow or radiance peel with salicylic acid is visually less spectacular than the blue texture, but it tingles on the skin. It also works in depth, forms new collagen and repairs, minimizes pores.
The JetPeel that comes after that sends a chill down my spine every time. A water-gas mixture hits the skin from small nozzles with supersonic speed and over 700 kilometers per hour. But it's worth it, because the effect is phenomenal. "It works like fitness training for the skin," explains Marietta. The top layer of skin is gently peeled by the aerosol jet, with the result that the complexion is fresher and smoother, and small lines and wrinkles appear to be minimized. In addition, the beautician uses the jet applicator to let three anti-aging serums in different amounts penetrate the skin, which are applied at a distance of one centimeter. The immediate freshness kick builds up within a period of three days after the facial. Depending on how the tissue individually absorbs the active ingredients, this condition can last up to three weeks.
Gold and rose quartz
My anti-aging journey continues. Per needling – yes, it stings, but is bearable – Marietta works a gold ampoule into the skin in the areas where tightening is particularly necessary. On the forehead, in the area of the nasolabial folds. Gold is an exquisite active ingredient in cosmetics. The metal is not only said to have a caring effect, it has an antibacterial effect, is antioxidant and supports the body own production of collagen and thus the anti-aging aspect.
The highlight of the facial that now follows should convince even the last skeptic that the beautician can achieve a lot more than you can yourself at home. It is a lifting massage combined with lymphatic drainage. With a firm grip, Marietta repeatedly strokes the cheek-chin contours, where the unsightly little bags tend to form. She massages the tissue upwards, shaking it. It feels like my face is exposed to a wind tunnel. In between, she uses the rose quartz roller, which has an additional effect on the tissue. Blood circulation and collagen formation are stimulated.
Pure relaxation
While the frog green Doctor Mi! mask is working, I get an extremely relaxing hand and foot massage. The mask contains a special black bee honey ferment (Black Beeome) from Switzerland, which helps to regenerate the skin flora, has a clarifying effect and stimulates microcirculation. By the way, Marietta put on the active ingredient-soaked gloves (with frangipani, a medicinal plant from Ayurveda) and socks (tangerine with vitamin C, pro-vitamin A and selenium) at the beginning of the treatment so that the ingredients could work for as long as possible.
Now it goes into the facial's final phase: The mask is cleaned off and "Red" is applied to my skin, which is used to retinol. It is my favorite product from the line with an 8 percent retinol complex for a balanced pH value, a strong skin barrier. It promotes cell renewal and collagen production. "So that the skin has even more to do and works even more intensively," says Marietta, explaining her choice. Of course, nothing works without UV protection, which is why she finally applies a cream with a protection factor of 50. "I also use it every day," I answer her question about how I feel about sun protection. Then the first look in the mirror: My surprise is real, my facial features seem gently lifted, my skin is glowing. I could get addicted to this treatment and Mariettas hands!
Photos: DoctorMi!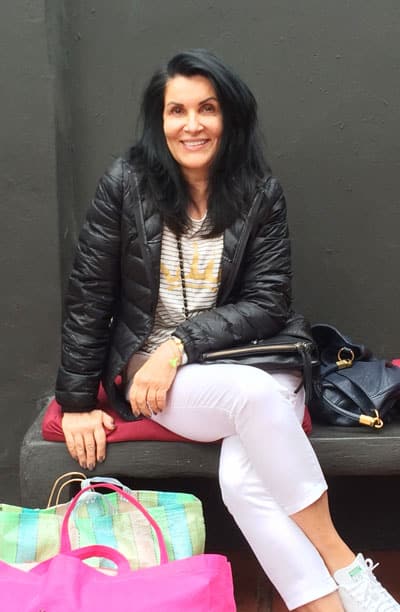 CultureAndCream Author from Munich
To travel during my profession as a beauty journalist was never enough for my. Also my six month on a world trip didn't do it. It always attracts me to other cities, foreign countries, on roadtrips and places I don't know yet. But I am not only interested in "culture" and "cream", I am also fascinated by people who have stories to tell .  Such unique experiences I want to share with you.