Marine biologist – my dream job in Maldives
White sandy beaches, palm trees and turquoise blue water – the paradise on earth and my office. My name is Alexandra and I am the resident marine biologist at Huvafen Fushi (Maldives). A country made of corals is my new home since August 2019. With my colleague Hassan Hamid, a local, we try to make this world and especially Huvafen Fushi's marine environment a bit better.
I was always drawn to the ocean magic maybe due to my childhood at the Baltic Sea. I have been starting scuba diving with the age of 12 years. Traveling to different countries and conducting internships worldwide made me realize how severely our oceans are threatened. Plastic pollution in Maldives and unsustainable fishing in Egypt are just a few examples of currents threats which I have experienced in person and made be stronger to be a part of making a difference. From very little I always had a passion for our oceans but with time and experiences you realize how competitive this field is. With my previous experiences working in the Maldives I have decided to return and start my career. Being a marine biologist is not swimming with dolphins every day, it is hard work and trying to change mindsets and breaking old habits as well educating locals in developing countries. I chose Huvafen Fushi as it is a very small resort island, thus the number of team members is below 300 people. I prefer working with properties which offer exclusive service with the personal touch, meaning you greet the guest by name and connect. Guests and staff members become friends, and unforgettable memories are recreated. Positive feedback and big smiles on guest faces remind me always why I chose to become a marine biologist. I cherish my job as I can freely express my love for the ocean and meet the guests need at the same time. My dream job is truly rewarding in the Maldives.
Working in paradise comes with sacrifices
Working and living in paradise also comes with sacrifices such as European food. I cannot tell you how much I miss home food and cooking. Of course, you make friends in the resort some are closer to you than others. It is important to have a strong character as there will be always challenges. Thus, it is important to have at least one close friend with who you can share everything. As I work in an Islamic country, any kind of caresses frowned upon, thus I do not only miss my mothers cooking talent but also the hugs from my friends. Especially, when you have a bad day I long for a big hug which gives me positivity and security. Working in a resort, is something different than being guest and enjoying the luxury. We have our own little world hidden behind palm trees. Our staff gym has even the view over the ocean. If we are craving a great coffee or a fresh fruit juice we can enjoy it in our newly renovated café and backyard. Staff is having single or shared accommodation with AC and TV depending on their employment level. The staff canteen offers a variety of food however, curries and spicy food dominants, which is sometimes difficult for me as a European. Lucky, I am entitled to have one meal per week at the guest restaurant. I mostly go for breakfast, as I am German and like to celebrate my first meal of the day which gives me power for the day saving the world.
Tasks and goals as a resident marine biologist in Maldives
Here at Huvafen Fushi, the marine team called Oceanpedia consists of Hamid (hxorxukee) and I. We take care of three coral nurseries including the coral frames which were adopted from guests. At the moment, we count 203 frames in our coral frame nursery. Some of the frames are just one month old and some of them count already over 5 years. We use coral species from Acroporidae and Pocilloporidae as those are fast growing and more resilient to increasing water temperature. The guests receive every six months an update picture of their frame. Most guests adopt one as they know that they need to support the idea of giving back to future generations. Sometimes guests also adopt it as an anniversary or birthday present for their partner with the thought of assisting the recovery of our house reef. If we do not explain the wonders of the underwater world to our guests, you can find us below the surface working at one of our nurseries. The deep nursery has five tables where we grow baby corals. Between the tables we have placed ropes which are also used to propagate coral fragments. Additionally, we propagate coral fragments with lines. To date, we count 588 coral fragments on 100 coral lines and 65 fragments on 5 coral ropes. The shallow nursery is home to our nubbins which are small fragments on cement plugs. We need to check weekly on our coral babies and clean them as algae overgrowth quickly. Also monitoring the coral reef health by documenting and killing the Crown-of-thorns sea star, a coral predator feeding on corals harming the ecosystem. Showing team members how to protect and respect their environment is an important part of my conservational work as well. Together we explore the house reef and participate in reef and lagoon cleanings. Our goals are protecting and preserving Huvafen Fushi's marine environment by increasing awareness of the importance preserving this fragile ecosystem among guests and team members. With our coral adoption program we aim to assist the reef health and create special guest experiences.
Photos: Alexandra Hanusch
coral fragments, coral lines, Huvafen Fushi, marine biologist, marine ecosystem, reef health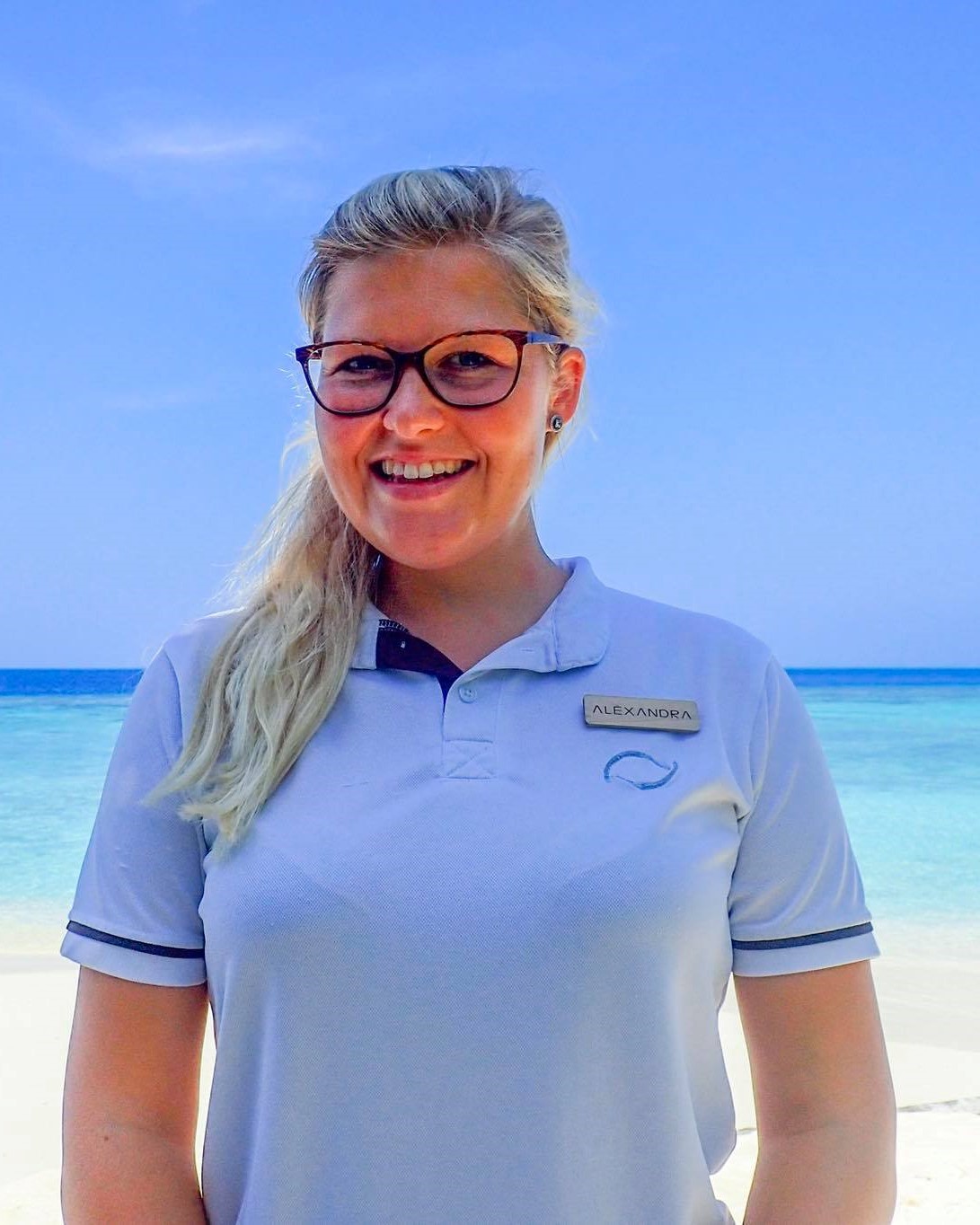 Alexandra grew up with the ocean at Island Usedom/Germany. After accomplishing a bachelor's degree from University of Bremen, she pursued two internships to gain hands-on experiences. Her first destination was COMO Cocoa Island/Maldives, where she assisted the marine biologist with coral propagation and conducted snorkel excursions with guests. The second destination was Samos, Greece with the purpose of studying the local dolphin population as well their behaviour. Afterwards, she took part in the International Erasmus mundus master program in marine biological resources (IMBRSEA) which gave her the opportunity to study at well-known European universities and work more in the field such as in the Mediterranean Sea, Red Sea, and North Sea. Her master thesis was conducted in Zavora/Mozambique and investigated the diversity of the local shark and ray population.