Mirror, Mirror on the wall…
The chin has moved into focus in aesthetic medicine. According to a representative survey, Elyas M'Barek has the most attractive jawline for men and Selena Gomez for women.
The so-called jawline is currently a big trend in social media. It shapes the face and gives it contour. A representative survey carried out on behalf of Allergan Aesthetics among Germans between the ages of 16 and 64 in October 2020 picks up on the current trend. The attractiveness of different chin shapes – distinctive, rounded and pointed – was examined on the basis of three female and three male celebrities. The result: a total of 41.2% of all respondents found Elyas M'Barek's jaw shape very attractive or attractive. With this value, the successful German actor is way ahead of Hollywood star Leonardo DiCaprio, whose chin is rated as attractive by 29%. Dr. Babak Esfahani, specialist in plastic and aesthetic surgery in Cologne, is not surprised by this result: "According to the principles of aesthetics, a face and also the chin-jaw line appear attractive if they have ideal proportions, angles and certain relationships to one another. M'Barek fulfills this principle most of the requested jaw shapes. Leonardo DiCaprio, on the other hand, has a chin that is too narrow in relation to the proportions of his face ". The German actor also more than doubled another Hollywood celebrity: Robert Pattinson. Only 19.8% of all respondents found the rather pointed chin very attractive or attractive. According to the principles of aesthetics, a face and also the chin-jaw line are attractive if they have ideal proportions, angles and certain relationships to one another. This result is surprising, because Pattinson is currently one of the most successful Hollywood actors who will soon play the new "Batman". Dr. Babak Esfahani, Plastic Surgent in Cologne: "Robert Pattinson has a clearly distinctive chin line, but from an aesthetic point of view, his chin is too small and too pointed. Rather unusual for the role. Because all superheroes – and by the way all previous US presidents – have one thing in common: a distinctive chin."
For women, soft comes before striking
While a broad chin is considered attractive for male faces, the picture is different for women: Selena Gomez, whose face is characterized by soft, rounded contours, ranks first among the attractive chin shapes. 41.6% of all respondents rate the singer's chin as very attractive or attractive. In addition, Dr. Esfahani: "With women, the oval face shape with a V-shape in the lower chin area is perceived as feminine and attractive. Not only the perfect finish of the chin plays an important role, but also certain highlights and light reflections on the chin. Selena Gomez meets these criteria. "With her facial features, Gomez also stands out from a real top model: Heidi Klum. 33% of the respondents found the prominent chin of the German super model to be very attractive or attractive and thus assigned it to second place. The survey also shows that the least beautiful thing in women is a pointed chin. Only 26.8% of those surveyed rated the chin and jaw line of Hollywood actress Reese Witherspoon, whose strikingly pointed chin is her trademark, as very attractive or attractive. "From an aesthetic point of view, Heidi Klum's chin is too wide and Reese Witherspoon's chin is too long and rounded vertically," explains Dr. Esfahani the result.
Look at the big picture
Although the jaw shapes the face in a special way, it cannot be viewed separately. "A holistic view of the face is important. Taste and preference can be debated, but there are principles of aesthetics. The chin or the chin line must fit into the overall appearance of the face and adapt – this is the only way that it looks natural, harmonious and therefore attractive, "says Dr. Esfahani. If the respondents are asked to assess their own jaw shape, they are divided: More than half are satisfied or very satisfied with it. However, 44.8% are very dissatisfied, dissatisfied or neither particularly satisfied nor satisfied. There are solutions for them: A defined chin line can be achieved with hyaluronic acid-based facial fillers. In particular, when collagen is broken down in the different parts of the face with increasing age, the initially youthful triangle of chin, cheeks and forehead loses its elasticity and begins to hang, the contour between the neck and jaw line disappears. This process, known in technical jargon as "sagging", creates a tired overall impression on the face. Hyaluronic acid fillers such as JuvédermVoluxTM were specially developed for this area of ​​application. This can be used to restore insufficient volume that has been lost through the natural aging process. Even at a young age you can use it to contour the chin and jaw area. The result: a fresh, natural look, without any surgery.
Source: Allergan Aesthetics. Representative online survey conducted by KANTAR in October 2020, participants n = 1054, men and women in Germany between 16 and 64 years
Fotos: Allergan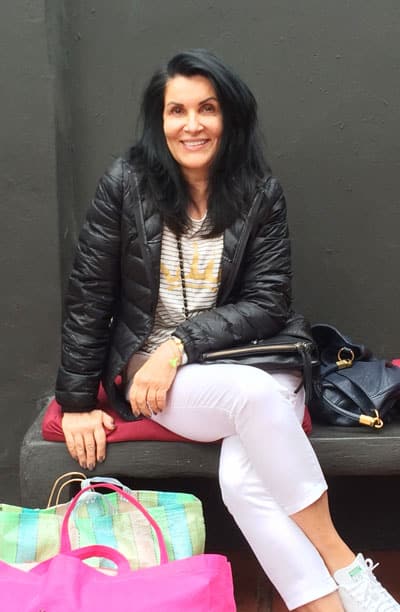 CultureAndCream Author from Munich
To travel during my profession as a beauty journalist was never enough for my. Also my six month on a world trip didn't do it. It always attracts me to other cities, foreign countries, on roadtrips and places I don't know yet. But I am not only interested in "culture" and "cream", I am also fascinated by people who have stories to tell .  Such unique experiences I want to share with you.