Tested for you: Multitasker "Cream Blush" by Tata Harper
Multitasker. I love these products that serve more than one function. The new Cream Blush from Tata Harper is such an all-rounder. You can use it to set the scene for cheeks, lips and eyes. And then it comes in six great shades: Peachy, a delicate golden shimmering peach shade; Naughty, a ruby red; Flirty, a bold berry shade; Spicy, a terracotta rosé; Lovely, a delicate old pink and Lucky, a bronze orange. That makes the choice really, really hard.
Lucky makes me lucky
I have chosen the color Lucky for my multitasker. Why? Not only because the name already puts me in a positive mood. Summer is approaching and with it a beautifully sun-tanned complexion. Since my skin is naturally tinted anyway, I find the bronze-orange exciting.
First, apply the Multitasker Blush on the cheeks. It's weightless and slightly sheer. I use my fingers to do this because I find that it makes the creamy texture blend better. Immediately, my cheeks get a hint of freshness with a satiny, softly shimmering finish. It also leaves the skin feeling nourished. I read up on the ingredients: Antioxidants, vitamins and other nutrients have a nourishing effect, provide the skin with plumping moisture and protect it from environmental influences at the same time.
Multitasker for a complete make-up
For those who want more color on the cheeks, no problem either for the multitastker. The ultra-creamy formula melts so nicely on the skin that it's easy to build up in multiple layers. For me, however, a touch of color is enough at the moment because I like it to look as natural as possible and not "made up".
For the other parts of the face, I use a corresponding brush in each case to distribute the blush as a soft highlighter under the brows and to apply it as color on the lips. In the blink of an eye, I have made up a complete day makeup – with only one product. Fantastic, this multitasker!
A word more about Tata Harper
I have been following the brand for many years. On any beauty shelf where Tata Harper is sold, the bright green packaging of the products immediately catches the eye. Green stands for 100 percent Green Beauty – 100% natural, 100% effective, luxurious natural cosmetics. The concentrated, multi-active formulas contain no fillers or generic pre-made bases, are Ecocert certified, animal-tested and gluten-free. They come in environmentally friendly, recyclable packaging.
Since the beginning, Tata Harper has focused on effective, natural and luxurious products that are nevertheless developed with the latest technology. A brand for demanding customers*. Meanwhile, the green brand has a large fan community, including celebrities such as Gwyneth Paltrow, Christy Turlington and Julianne Moore.
"Cream Blush" from Tata Harper, 4,5 ml doses, US$ 45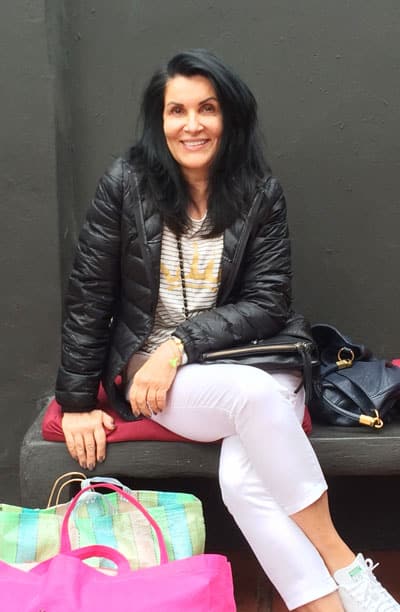 CultureAndCream Author from Munich
To travel during my profession as a beauty journalist was never enough for my. Also my six month on a world trip didn't do it. It always attracts me to other cities, foreign countries, on roadtrips and places I don't know yet. But I am not only interested in "culture" and "cream", I am also fascinated by people who have stories to tell .  Such unique experiences I want to share with you.