Remote in Scotland
Eighteen months without a change of scenery, two alpha dogs in their home office. Constantly in telephone- or video conferences; in meetings all of the time but not a single (business) trip. My wife and I felt like many others in last summer: we went a bit nuts. Some colleagues had shown us how to do it: remote work from other places seemed to work pretty well. So the decision was made: we'll do it too!
Flights to the Canaries or Balearics are out of the question. For a variety of reasons, we are currently trying to avoid flying. And we both have a soft spot for Scotland, having got married there almost 10 years ago. So we try to spend time in this beautiful country at least every two or three years. We like the Scots, their humour, openness and hospitality, love the landscape – and we both love our golf.
By car from Berlin to Scotland
So this plan came up: we'll drive our car from Berlin to Amsterdam (with a stopover at my parents' place in Northrhine-Westphalia), take the ferry to Newcastle and then go off to "Scotland's Golf Coast", to East Lothian, spending four weeks and practising our work/life balance in Scotland.
Our plan worked out. The journey with the giant ferry "King Seaways" was an experience in itself. The ship is designed for 1300 guests, but there were only about 250 passengers on board. The boat is really tidy and well-maintained, the staff super motivated and friendly, also because they were happy that guests were travelling at all. Dinner in the only open restaurant on board was excellent, and the drinks in the bar afterwards were also exceptionally good.
The ferry departs from Ijmuiden near Amsterdam in the late afternoon, and the boat docks in Newcastle at 9:00 the next morning. The standard cabins are clean and functional. I have never arrived at a holiday destination so relaxed and well rested.
Despite the pandemic-related increased administrative procedure at enetering Great Britain, we were off the ship at 10:30 am and headed north along the beautiful English coast. A first stopover in the Harry Potter filming location, the village Alnwick gave us our first Full English Breakfast. Arrived at last! Then another 1.5 hours and we were there: in our cottage near Haddington, called Carfrae Farm.
Our amazing landlords in Scotland, who run an organic farm, had their four cottages, each about 100 years old, freshly renovated and beautifully furnished – we felt right at home. In addition, although we were in the middle of the countryside and saw only forests and fields around us, we still had the feeling that we were not completely cut off from the world: the drive to the next village took only 5 minutes, in 20 minutes we were by the sea and even a trip to the fascinating metropolis of Edinburg takes only 45 minutes by car or an hour by train.
Our Work and Balance Schedule
And so we made ourselves comfortable. We had taken the first week off and the plan was to work full time on three days in the remaining three weeks – if the WiFi connection allows (which it did). We chose Tuesday, Wednesday and Thursday as our "work days" and had pretty long weekends, which we used to play golf or take trips into the surrounding countryside.
My wife worked in the living room, I had chosen the bedroom under the roof as my mobile office. When Chris looked out the window, she saw fields and cows. When I peeked out of the roof window, I could see the sea in the distance, the Forth of Firth, and the lighthouse of North Berwick.
It's amazing what that does to you. Although our workload was usually quite high on the three working days, we still felt relaxed and centred. After all, the long weekend beckoned. And the weather, which seems to discourage some people from going on holiday to the UK, was excellent almost all the time: at the beginning of September, the heat record in Scotland for this month was even measured at 28°C.
Exploring the surrounding area
Therefore on our days off we were often out and about in East Lothian. Visits to Dunbar, Winterfield, Musselburgh, Aberlady and of course the golfer's paradise Gullane are always worthwhile. But our favourite village is North Berwick, right by the sea. Once a year, the offshoot of the legendary Edinburgh Fringe Festival takes place there: Fringe By The Sea.
The centre of North Berwick consists of a beautiful shopping street, 5 minutes from the picturesque harbour. And there, on the harbour, right opposite the Scottish Seabird Centre (also worth a visit) is our favourite restaurant: "The Rocketeer". It serves the finest freshly caught seafood at a fair price and with a spectacular view. But the other coastal towns are also worth a trip: always beautiful harbours, the best golf courses – and of course those pubs!
Scottish pub culture
Public Houses in Scotland are a story in themselves: there really is still a pub culture in East Lothian. The locals meet for a pint or two at the end of the day and you quickly get into conversation, watch football and talk about all sorts of things, get your tips and travel recommendations. Some of these pubs have turned into real gourmet restaurants, and in addition to refined pub food (such as Shepherd's Pie, Fried Prawns or the legendary Sticky Toffee Pudding), we were served really fabulous traditional Italian or modern European dishes in often historical but always cosy pubs.
So our four weeks of Remote Work & Play in East Lothian flew by and we actually had tears in our eyes when we had to leave our "Home Away from Home". But the return journey, this time on the somewhat smaller "Princess Seaways", was tempting and we had even treated ourselves to the largest cabin category "Commodore", with a separate living room, bar and chic bathroom. So even a journey home can be fun.
By the way, we are currently planning our visit to Scotland and East Lothian for 2022. Sláinte!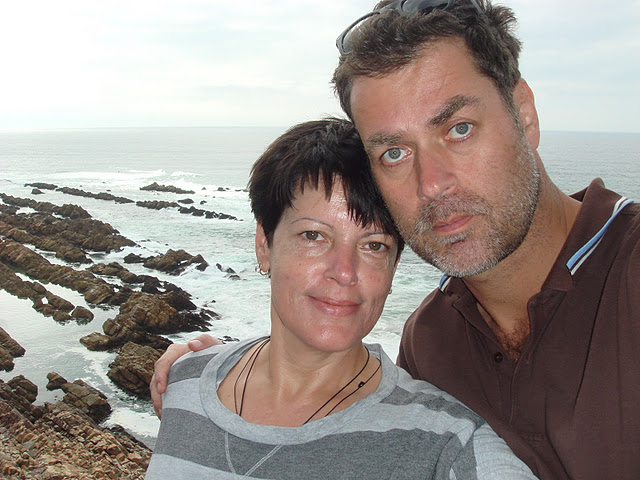 Chris and Carsten Stricker
CultureAndCream authors from Berlin
Chris is the owner of a PR agency and Carsten works in the field of music management. We are both very busy and professonally, everyone is traveling a lot for themselves. In the meantime, we allways take our time on litte trips together, where the golf bgs should not be missing. Once a year we embark on a great multi-week adventure in places of the world that are still missing on our map. Let yourself be surprised!