Skinimalism: Less is the new more!
Minimalism is no longer exclusively understood as an art movement from the 1960s. Concentrating on the essentials has developed into a lifestyle concept that encompasses many areas of life. In the meantime, skin care is also part of it. A trend that is to be welcomed because it is good for your skin and your wallet.
The term Skinimalism was announced as a trend for 2021 by the social media platform Pinterest at the beginning of the year. The trigger for this was that the search queries for topics such as "natural make-up" and "radiant skin in a natural way" appeared more and more frequently. The search term "natural skin" alone has risen by an incredible 400 percent recently, and hashtags such as #skinimalism, "skinpositivity" and "bodypositivity" have caught on on Instagram.
Skinimalism for more natural skin
The idea of skinimalism includes not only focusing on fewer but effective care and make-up products, but also showing your skin as it really looks – not falsified by layers of primer, foundation, contouring powder and blush or through social media filters that cheat away even the smallest pore. Real skin has irregularities, spots and pimples. And you can stand up to it. Everyone knows by now that the perfect skin is a big lie. It just don't exist, even if filters, Photoshop, photo-editing apps, and airbrushed beauty brand campaigns would have us believe.
Alicia Keys "naked" face
It was 2016 that famous American soul and R&B singer Alicia Keys decided to go without makeup. Also on stage. She confessed that she was addicted to make-up. She became the protagonist of the no-makeup and skinimalism movement. To this day, the artist appears in public without make-up. She only uses mascara and kohl at most during her appearances. And yet she is no less successful and is no less loved by her fans. She, too, has probably determined that you shouldn't put on make-up to conform to a beauty standard, but only when you really feel like it.
The corona pandemic has changed a lot, including makeup behavior. According to an international survey by the Statista Global Consumer Survey from June 2021, 41 percent of German women now do without make-up. More than 8,000 women in Germany, Brazil, China, France, Russia, South Korea, Great Britain and the USA were surveyed. In China and South Korea, only 20 percent refuse to apply make-up. When it comes to interest in beauty, on the other hand, Germans bring up the rear with nine percent. The Russians (47%) and the French (39 percent) are at the top. However, the changed beauty behavior is also due to the global lockdowns. In Germany, 51 percent wore less make-up than usual. On an international average, 27 percent of women were less concerned about their appearance. On the other hand face treatments increased significantly during the pandemic: 20 percent of Germans used them more often than before, in Generation Z (post-millennials) it was even 35 percent.
The fact is that too much of any cosmetic harms our skin. If it is covered by different layers of foundation and powder and a Kardashian contouring in different shades, the pores can no longer breathe. Skin irritation and reactions can result. The same goes for an oversized care program. Even the healthiest skin will go limp if you overload it with facial oil, essence, peeling, sheet mask, serum and so on. Because, especially with many layers, the combination of different active ingredients is inevitable. This can then lead to undesirable reactions. You would also have to wait at least 20 minutes per shift. But who does that!
This is how you become a skinimalist
Skinimalism is made up of the words "skin" and "minimalism". This means a well thought-out care routine that consists of a few but effective products. Sustainability and clean beauty come into play here. It is astonishing that the "skip care" trend was born in a country where women often slapped 17 or more layers on their skin in the morning – namely from Korea. The South Korean beauty multi-brand AmorePacific Group gave the impetus. Instead of one product each for brightening, hydrating, exfoliating, detoxing (and the list goes on …), women were encouraged to use products that simultaneously fulfill several benefits. That saves time, effort and money. Not just in care. Make-up allows the skin to shine through – even with small flaws. Usually a BB cream is enough to get the Glow 4.0.
But how do you slim down your beauty routine sensibly and become a skinimalist? First of all, you should reflect on your current skin needs and base the three most important care steps on them – clean, care, protect. If you are aware that there is no product that is good for one part of the skin and not for another, then you don't have to buy two moisturizers – one for the day and one for the night. A single multitasking product is not only good for the skin, but also for the environment by avoiding packaging waste and non-sustainable production methods.
A sophisticated product formula can contain several active ingredients that give the skin exactly what it needs. If, on the other hand, we as consumers try to achieve the same result with several products, it is almost futile. Because some ingredients actively fight each other, others have the opposite effect and still others have far too similar effects and fizzle out. Developing an effective formulation for the skin takes a lot of experience and cannot be achieved with a few clicks on Google.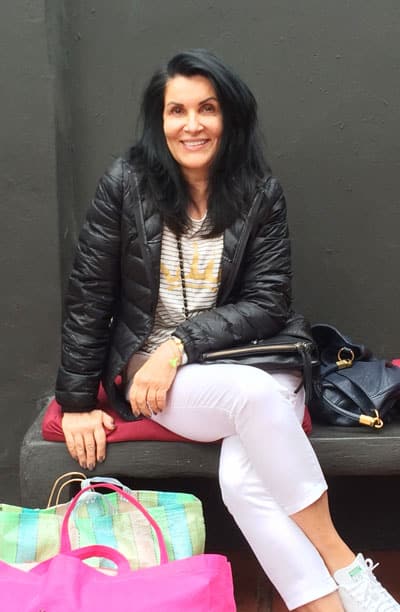 CultureAndCream Author from Munich
To travel during my profession as a beauty journalist was never enough for my. Also my six month on a world trip didn't do it. It always attracts me to other cities, foreign countries, on roadtrips and places I don't know yet. But I am not only interested in "culture" and "cream", I am also fascinated by people who have stories to tell .  Such unique experiences I want to share with you.