Soap – Washing Pieces Made By Hand
Soap creations from the "Münchner Waschkultur" are something very special. Each piece is handmade from high-quality raw materials, is delicately foaming and fragrant.
"We make soap an aesthetic piece of washing culture," says founding couple Sophia and Daniel Wagner. When the two founded "Münchner Waschkultur" in 2019, their goal was to "create beauty" and turn customers into friends. And they've succeeded with new incredibly creative ideas time and time again. The brand has long since become a love brand among soap lovers.
From felt to soap
Sophia Wagner discovered the old traditional craft for herself at the beginning of 2010. Creativity is her passion and runs like a thread through her professional career: After studying at the Academy of Fine Arts in Nuremberg and then working as a graphic designer for several years, she discovered her enthusiasm for the material felt in 2003 and founded her design workshop "ARTZULEBEN by Sophia Wagner" in 2006. In 2009 her blog werkstoff-filz.de went online. For her blog, Sophia then also dealt with soap for the first time and found her true calling.
Today, she lives out her creativity in Wagner's soap and natural cosmetics manufactory in Ismaning. Her employees are all women who are just as product-loving as the founding couple. Sophia is always turning new ideas into soaps for the shower, for hair, for the kitchen, the hands, for shaving, for travelling, practical soap flakes and accessories. Everything but nothing boring can be found here.
Each bar is unique and hand-finished with great attention to detail – with a small heart or a golden crown, some little birds. It's hard to believe, but the "Münchner Waschkultur" range even includes a Munich Weißwurst soap with parsley and sweet mustard. The request came from Sophia Wagner's husband Daniel, a true Bavarian. For the northerners, the counterpart is the "Moin Moin Friesenseife" with seaweed and sea salt. As a small goodie, it is sent with a small ship hand-folded by Sophia.
Esthetic and sustainable
The soaps are always well matured and leave the laboratory in Munich-Ismaning aesthetically and specially packaged. "Soap needs at least six weeks to mature – you don't produce it quickly from one day to the next," explains Wagner. If your favorite piece is sold out, there is no immediate replenishment and you have to be patient. The sensual washing pieces always come in sustainable packaging. Everything happens by hand – from the production to shipping. Only precious raw materials from controlled origin are used for the fine recipes. The soaps are 100% free of animal testing.
There are now 223 creations to choose from. They smell of roses, cherry blossoms, white mango butter, poppy seeds, avocado or lemongrass. Old knowledge meets ever new ideas. Customers like that. In the meantime, between 4,500 and 5,500 pieces are produced per week. That corresponds to 450 to 600 kilos of soap. A huge success, considering that the Wagners started out with 30 kilos of soap per week just a few years ago. 95 percent of the products are sold through the company's own web store, the rest through retail partners. In the grocery store, however, one looks in vain for the soaps of the Münchner Waschkultur.
Hand in Hand
"The environment doesn't suit the brand," says Daniel Wagner, a former morning show and TV comedian who now advises small and medium-sized companies and personalities from the entertainment industry with his marketing company Ad-Its-Best. But first and foremost, as managing director of the soap manufactory, he has had his wife's back from the very beginning.
Sophia says: "In the end, it was he who took up the fight with the authorities. If Daniel hadn't intervened, I probably would have given up at some point after all." She is the creative head of the company. All ideas for new soap creations come from her. And Sophia Wagner never runs out of ideas. The only thing the Ismaninger doesn't like is to be photographed: "I find it hard to look at myself. Not in photos and certainly not in videos. I always look grim. It's just the way it is. It's just my face when I concentrate."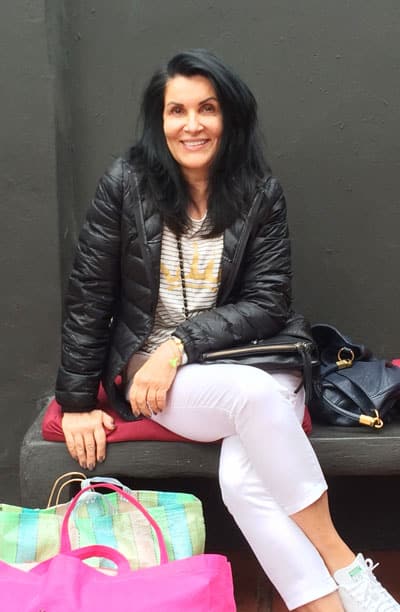 CultureAndCream Author from Munich
To travel during my profession as a beauty journalist was never enough for my. Also my six month on a world trip didn't do it. It always attracts me to other cities, foreign countries, on roadtrips and places I don't know yet. But I am not only interested in "culture" and "cream", I am also fascinated by people who have stories to tell .  Such unique experiences I want to share with you.