Tested for you: "Sunless Tanning Gel" from Reviderm
A gently tanned skin simply puts you in a better mood. And dark types like me just don't look good pale either. But what do you do when summer is around the corner? I prefer to use a tanning gel, also because I don't like using make-up. I have to admit I always try out products that come onto the market with enthusiasm.
Moisturizing tanning gel
The new tanning gel from Reviderm for face and body promises a non-greasy texture with moisturizing active ingredients. I think that's important because many of these products leave the skin feeling uncomfortable dry.
I wear the "Sunless Tanning Gel" in the morning after cleansing my face with my "Tone S" from Doctor Mi! on. S stands for salicylic acid, and this beta hydroxy acid removes dead skin cells and whatever else has to come off the skin. Similar to a peeling, the surface is now smooth and ready for the self-tanner.
First of all, I have to pump about 30 times until the sun-yellow gel comes out of the dispenser. For my taste it is a bit too runny on the fingers, but it is easy to apply. I spread it right up to the eyes, the hairline and around the neck so that there are no edges. Don't forget to wash your hands afterwards, I remember myself, otherwise ugly brown marks will remain there.
Natural tan after three hours
Initially the gel feels a little sticky on the face. A gel property that is not uncommon. But this impression quickly disappears as soon as the self-tanner has been absorbed. Applying the UV protection on top of it also works without any problems. Then I go first to my Saturday shopping round. Let's see when the tanning result is achieved.
After about three hours, a gentle tan covers my face – sun-kissed as it always is said in advertising. In addition, the skin feels well hydrated. No feeling of tension, no greasy sheen. My otherwise slightly oily T-zone is still nice and matte in the afternoon.
The very natural tone of my skin is enough tan for me, but if you want it more intensely, you can repeat the application. The result lasts for four days in spite of my usual care routine, which I of course keep. Another tip: For very light skin, mix the gel with your day care and apply it.
"Sunless Tanning Gel" from Reviderm, 30 ml, 35 Euro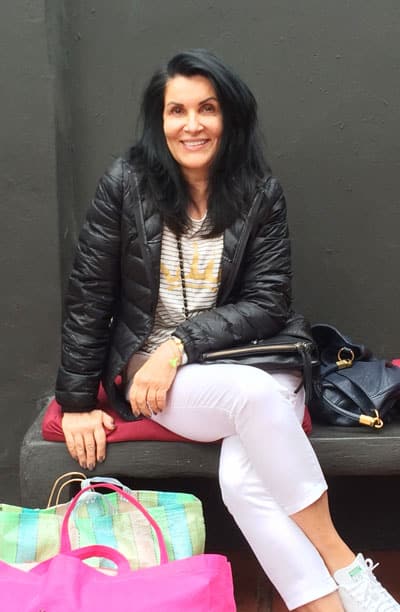 CultureAndCream Author from Munich
To travel during my profession as a beauty journalist was never enough for my. Also my six month on a world trip didn't do it. It always attracts me to other cities, foreign countries, on roadtrips and places I don't know yet. But I am not only interested in "culture" and "cream", I am also fascinated by people who have stories to tell .  Such unique experiences I want to share with you.