Tested for you: Eucerin "Vitamin C Booster"
A few fine lines, especially those above the upper lip, have bothered me for a long time. And vitamin C is known not only to be a powerful antioxidant, but also the key to the synthesis of collagen in skin cells. That's why I came across the "Vitamin C Booster" from Eucerin. It contains 10% pure vitamin C, ten times as much as an orange, but not too much so that it could cause irritation. They start with formulas over 20 percent. The booster also contains short-chain hyaluronic acid, which helps to reduce wrinkles, and licochalcone A, which enhances the antioxidant effect of vitamin C. What I also like is that the vitamin C is only freshly activated when the dispenser is used, as the water-soluble vitamin breaks down under the action of oxygen.
Push the button
Press, shake, freshly mixed onto the skin – that's the instruction. So first I remove the foil from the bottom of the dispenser so that I can activate the pressure mechanism that presses the vitamin C powder into the hyaluronic acid serum. Shake for 10 seconds to mix the two components. Then I squeeze two drops out of the dispenser and apply them over my upper lip. The texture is pretty thin. I have to be careful that nothing drips from my finger. I apply it twice a day. During the day I apply a cream with a light protection filter over it – even now in winter. Vitamin C has the property that it can increase the skin's sensitivity to light. And I don't want to risk pigment spots. The booster should be used up within 21 days to ensure its effectiveness. I also notice that the initially whitish serum turns to yellowish towards the end – a sign that the oxidation process is starting. The first bottle is empty, I can't see any improvement yet. I'll start with the second from the three-pack. After eight weeks, the lines above the upper lip are actually much finer and less visible. Only a deeper one persists …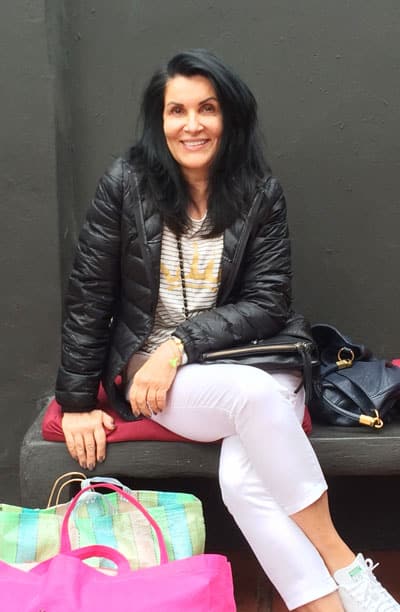 CultureAndCream Author from Munich
To travel during my profession as a beauty journalist was never enough for my. Also my six month on a world trip didn't do it. It always attracts me to other cities, foreign countries, on roadtrips and places I don't know yet. But I am not only interested in "culture" and "cream", I am also fascinated by people who have stories to tell .  Such unique experiences I want to share with you.