Tested for you: Lily of the valley fragrance by Guerlain. The latest: "Muguet"
This Lily of the valley fragrance really does not need a test, because it is an icon and one of the most exclusive creations from the French perfume house Guerlain. More than 110 years ago, this wonderful lily of the valley fragrance was created. Muguet (french) means lily of the valley in English. Every spring, therefore, there is a new edition in May in collaboration with an artist, which makes collectors' hearts beat faster.
114 years Lily of the valley fragrance
In 1908, the Lily of the Valley fragrance was first created by Jacques Guerlain, followed by Jean-Paul Guerlain in 1998. Since 2016, "Muguet" bears the signature of Guerlain's master perfumer, Thierry Wasser. His interpretation is a floral fresh eau de toilette from the freshness of green leaves and twigs with rich floral notes of Arabian jasmine and rose essences.
"There's something so charming about the flower that was once worn by dandies as a boutonnière. It speaks of happiness, of spring, of rebirth…" Thierry Wasser
An exquisite piece of jewelry
At the same time "Muguet" is not only an olfactory jewel. Even those who are not fans of lily of the valley must be charmed by the bee flacon. This year, the limited edition has been transformed into a precious jewel by the Parisian jewelry atelier Truscelli, with which the house of Guerlain has a long association..
A true master of his art, Italian jeweler Francesco Truscelli has crafted this delicate lily of the valley branch into a true jewel. Its tiny bells are set with glittering crystals and the leaves were enameled in bright green. Each ornament is a handmade masterpiece of sophistication and requires several hours of meticulous work. In "Muguet" the highest perfumer's art is combined with the creations of a most talented artist.
Each 145 ml bottle is accompanied by a 20 ml travel size and a noble white leather case. This special edition is limited to 5,000 precious pieces.
MUGUET will be available from 01 April 2022 in selected perfumeries and on Guerlain for 600 € erhältlich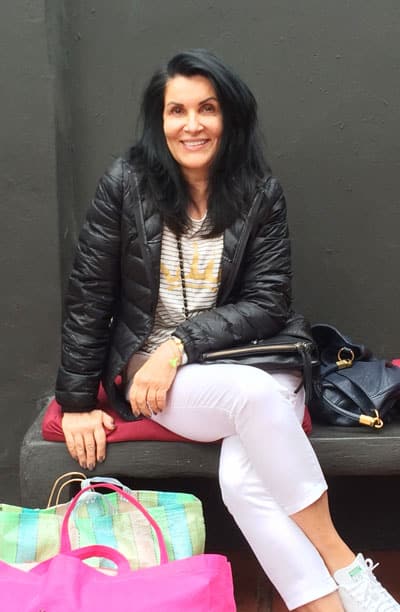 CultureAndCream Author from Munich
To travel during my profession as a beauty journalist was never enough for my. Also my six month on a world trip didn't do it. It always attracts me to other cities, foreign countries, on roadtrips and places I don't know yet. But I am not only interested in "culture" and "cream", I am also fascinated by people who have stories to tell .  Such unique experiences I want to share with you.