Tested for you: Color Stick "Nudies All Over Face Matte" from Nudestix
Color stick as a multitasking tool. I love practical beauty utensils that perform several tasks at once. That's exactly what the Nudies from Nudestix do. At first glance, the handy twist pens look like a normal blush stick. But they can do more. They can be applied to cheeks, but also to lips and eyelids. So they are real multifunctional talents. Packed are all color sticks from Nudestix, whether Face Matte, Face Bloom or Face Glow, in a pretty little black box -naturally matte – with a handy mirror in the lid.
Color stick for blush & glow
The handling is child's play. While one end of the stick is equipped with the vegan color stick, at the other end sits a short, dense makeup brush – almost like a mini Kabuki – for perfect distribution of the color. So I twist the color stick out of the sleeve a bit and apply it to the highest point of my cheekbones. I also give it a kick under the hairline and on the tip of the chin to sculpt the face a bit. If you want the nose to appear even narrower, you also apply a little color along the bridge of the nose.
Blend carefully
It is important to blend the color with the brush so that no edges remain visible. I find this works best with circular movements. Especially at the hairline and chin, there should only be a hint of color. From the temples, I smudge the blush to under the brow arches, which intensifies the look. Super at the matte Nudies is that the color not only appears beautiful matte when applied, it also remains so throughout the day.
Three good reasons,
why I really like the Nudies in the shade "Naughty N' Spice":
because it is so beautifully matte
because it is a multitasking balm
because it is practical for on the go with the integrated brush
"Nudies All Over Face Matte" in Naughty N' Spice from Nudestix, US$ 35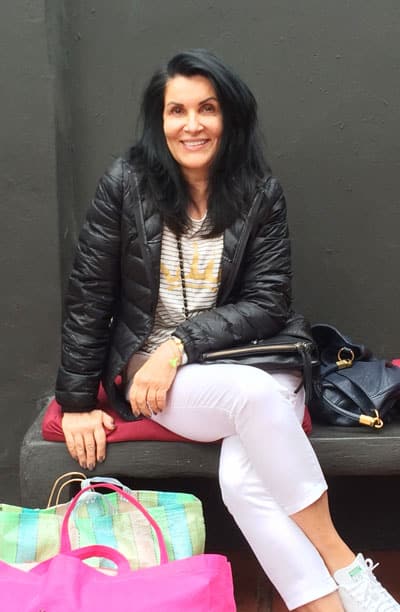 CultureAndCream Author from Munich
To travel during my profession as a beauty journalist was never enough for my. Also my six month on a world trip didn't do it. It always attracts me to other cities, foreign countries, on roadtrips and places I don't know yet. But I am not only interested in "culture" and "cream", I am also fascinated by people who have stories to tell .  Such unique experiences I want to share with you.