Stubborn Fat Deposits – Get Rid Of Them!
There are zones on the body where small fat deposits are particularly resistant. They just don't want to disappear despite strict and regular workouts and a healthy diet. Philipp Triemer, MD, specialist in Aesthetic Cosmetic Medicine, explains which areas are particularly affected and how to get rid of excess fat.
Small fat deposits can be extremely frustrating. "Even though it is often suggested, sport and a healthy diet are often not enough to shape the body in a targeted way," explains Philipp Triemer. "We can work on our overall weight. In addition, sport can make certain areas look more muscular and thus more toned and defined. Both are definitely useful. But exactly where our organism breaks down the fat is something we unfortunately have little influence over."
Such stubborn deposits can be treated with cryolipolysis, i.e. with cold – without any surgical intervention. There is also a new, time-saving method. Whereas previously each body zone had to be treated individually, the new generation of CoolSculpting devices does it more effectively and in half the time. This is because "Elite" has two independent treatment arms, each of which now has flatter and C-shaped applications that conform even more closely to the body's natural contours. This means even better tissue contact. The tissue is sucked in more evenly, which means that comparatively more fat cells can be treated.
Example: fat pads on the back
Sleeveless dresses with back cleavage not only put the arms in the light of the viewer, but also any rolls on the back. "Many women are already bothered by tight tops when the back fat shows as unsightly rolls. The effect is intensified by the bra, which cuts into the fat pads," says Philipp Triemer.
It's no wonder that back fat removal is a sought-after treatment: "CoolSculpting can be used to target the area of lateral back fat and achieve a defined silhouette." The treated fat cells are gradually broken down by the body without leaving any residue. Initial results can be seen after about six weeks, and final results then finally after about three months. Thanks to the two treatment arms at "Elite", both sides, right and left of the back, can now be treated simultaneously. This saves the patient time and money.
Example: inner thighs
Fat pads on the inner thighs are often not only a visual problem, but also extremely annoying when the insides rub against each other. This zone also affects women in particular. While fat tends to accumulate in the abdominal area in men, women are naturally predisposed to store more fat cells in the buttocks and legs.
Nobody has to worry about strong thighs, as Kim Kardashian, Beyoncé & Co. confidently show. After all, they carry us through life. "But especially in summer, many women find these pads on the inner thighs uncomfortable, as they can become sore from friction."
No wonder, then, that treatment of the inner thighs is frequently requested. These fat deposits can also be specifically removed with cryolipolysis. This involves controlled exposure to cold, which removes the stubborn fat without surgical intervention and generally with little downtime. By the way, during the painless treatment you can relax perfectly, read or listen to music.
Example: double chin
Most situations in which one becomes aware of an existing or developing double chin are video calls, selfies or when looking in the mirror unadorned. A common cause of a double chin is genetic predisposition. In addition, there is the natural aging process, in which the connective tissue weakens and the skin sags. The fatty tissue in the face sags downward and blurs the jawline. A double chin already develops.
Says Triemer, "A double chin is quite natural, yet it bothers many people. Many patients find that the blurred jawline gives them a sluggish expression." For this, too, there is a special cold applicator that adapts precisely to this narrow area of the body. As with all CoolSculpting treatments, a gel pad and special Freeze Detect and CoolControl technology protect the skin from frostbite and provide permanent control of the cooling process. Whereas double chins often required two sessions in the past, one application may now be sufficient, depending on the initial medical finding.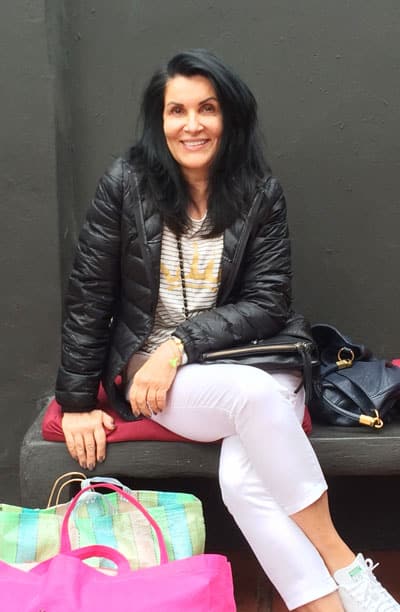 CultureAndCream Author from Munich
To travel during my profession as a beauty journalist was never enough for my. Also my six month on a world trip didn't do it. It always attracts me to other cities, foreign countries, on roadtrips and places I don't know yet. But I am not only interested in "culture" and "cream", I am also fascinated by people who have stories to tell .  Such unique experiences I want to share with you.