Tested for you: Body cream "Magic Body" from Charlotte Tilbury
She is just magic! Anyone who has ever seen Charlotte Tilbury live will confirm it: The red-haired Englishwoman is a true bundle of energy, a whirlwind. Wherever she appears, she owns the stage and the attention of everyone present. Charlotte Tilbury is a name to know in the beauty world. She has worked as a makeup artist for all the major magazines and has done makeup on numerous famous faces – from Kate Moss to Kim Kardashian. Charlotte's own make-up and skincare line is now just as well-known. She likes to call her interviewees Darling. Unsurprisingly, that's also the way she addresses customers in her online store.
Charlotte Tilbury Beauty's signature product and best-selling item is "Charlotte's Magic Cream" for the face, which Charlotte says works like "magic on the skin" – and this instantly. It has taken ten years for her to now work with skincare experts and leading laboratories to launch a rich body cream with the same moisturizing and radiance-enhancing properties like the "Magic Cream".
"DARLINGS, THIS IS MAGIC SKIN FOR EVERY BODY!" -Charlotte Tilbury
"Magic Body" is said to be a body care innovation of eight ingredients designed to firm as well as define the body so that the skin appears visibly and noticeably smoother and firmer. Tilbury explains her matrix of eight "magic" active ingredients, which are also contained in the "Magic Cream", as follows: It is a research-based compilation of highly effective skin care substances such as hyaluronic acid, vitamins C and E, aloe vera, frangipani extracts, camellia oil, rosehip oil and shea butter.
Added to this is the innovative Algaktiv Uplift technology with the power of plant-based active ingredients, which is clinically proven to visibly and noticeably tighten, define and firm the skin. A well-known ingredient in skin and especially body care is caffeine. The energizing booster ingredient helps to vitalize the skin and is also said to reduce the signs of cellulite.
My test of the "Magic Body Cream"
"Charlotte's Magic Body Cream" comes out of the tube white and rich. It is strongly perfumed, so not for purists. I like the scent and also the consistency of the cream. It absorbs well and gives the skin a nice glow without being greasy. In fact, the skin looks well nourished and moisturized, which lasts all day and gives a pleasant feeling – not least thanks to plant oils and shea butter.
I use the cream for the entire body, massaging it into the problem areas particularly intensively, as Charlotte also recommends. Unfortunately, I do not have the pleasure of getting to know her "magic massage technique". When clicking on her website, the note appears:
"Sorry darling, I have no idea what happened here! I take eight suitcases full of makeup to work – hopefully you can forgive me for misplacing a page there! Charlotte xx
Pinching and pressing
No problem, Charlotte Darling, I simply apply the combination of kneading, stroking, pinching and pressing that is usually recommended. My skin looks beautiful with the "Magic Body Cream", but I can't see an uplifting effect.
I also find the company's claims about the cream's effectiveness a bit full-bodied: Increases moisture content in just 28 seconds. Skin feels 40 percent plumper and looks tightened. Cellulite appears reduced by 60 percent. Stretch marks appear reduced by 57 percent. – The test collective over eight weeks consisted of just 35 people!
"Charlotte's Magic Body Cream" from Charlotte Tilbury, 200 ml, US$ 65
body cream, Körpercreme, magic body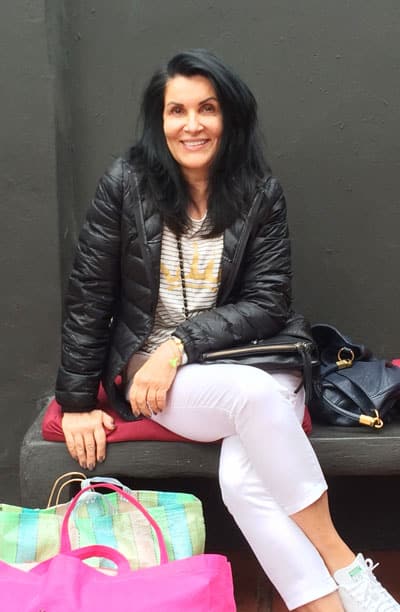 CultureAndCream Author from Munich
To travel during my profession as a beauty journalist was never enough for my. Also my six month on a world trip didn't do it. It always attracts me to other cities, foreign countries, on roadtrips and places I don't know yet. But I am not only interested in "culture" and "cream", I am also fascinated by people who have stories to tell .  Such unique experiences I want to share with you.