Tested for you: Eye Massage with "SmartGoggles" from Therabody
Futuristic high-tech eye massage glasses with a wide range of applications: Restful sleep. Relieve eye strain. Relieve headaches. Relieve facial tension. Reduce stress. Or simply relax physically and mentally. All this and more is in the portfolio of the intelligent eye mask with SmartSense Technology with three customizable modes.
"Smart" eye massage
How does SmartSense Technology work? It combines a biometric heart rate sensor with vibration, heat and massage to control SmartRelax mode, which physically lowers the heart rate and helps reduce stress and anxiety. Heart rate is measured by a built-in sensor on the inside of the massage goggles. This allows the parameters to be individually adjusted to the person who wants to relax with it.
A total of three programs are available for relaxing: Focus, SmartRelax and Sleep. They differ in the type of preset massage, vibration and heat levels. For example, the temples are relaxed, the forehead or the cheeks are loosened. Heat and vibration can also be adjusted to one's own needs via the control buttons in three stages each. After 15 minutes, the massage glasses switch themselves off.
Relaxation for the senses
Visually, Therabody's Smart Goggles remind me a bit of oversized sleeping goggles. They are adjusted to the size of your head with an elastic strap. You can't move much with them, but you're supposed to relax. And the best way to do that is to lie on your back and do nothing. As soon as the massage goggles are switched on, they massage the upper half of the face by filling and emptying the air chambers as well as additional vibrations. At the touch of a button, it can additionally generate heat.
Best with music
Music supports the relaxation experience and also helps to block out the massage goggles' own noise, which emits air noises and a slight hum when the chambers are filled. In one test, the volume was rated at 47 decibels. A multi-sensory sound therapy "TheraMind" is available for the Smart Googles in a corresponding app, which is best listened to via headphones.
Practical especially when traveling and for storage is the flexibility of the massage glasses. They can be folded in the middle at a prepared bend and stowed in the accompanying black fabric case. Packed in this way, they do not get dusty if they are not used for a long time.
Oh, and you should definitely remove your makeup before putting on your smart goggles. The inner surface, which rests against the face, is made of smooth protein leather, which is easy to clean. It's less easy on the front, also made of protein leather, and on the elastic cotton drawstring, which you also can't remove.
My conclusion
A nice gadget if you like massages. Especially pleasant after a long day in front of the screen and when the head hums slightly. I prefer to use it in the evening. It promotes relaxation. With music I can switch off well and then also fall asleep better. However, not with glasses, because as soon as you leave the supine position, the glasses with 420 g weight and due to its size (210 mm x 120 mm) and compactness slips down easily or presses uncomfortably.
Smart Googles from Therabody incl. case and USB-A to USB-C charging cable, 147 £
goggles, massage, Massage-Brille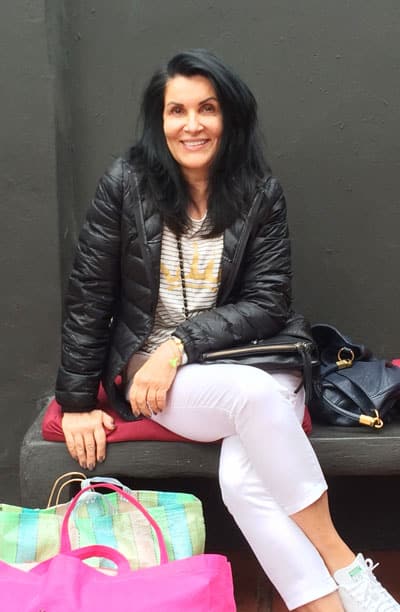 CultureAndCream Author from Munich
To travel during my profession as a beauty journalist was never enough for my. Also my six month on a world trip didn't do it. It always attracts me to other cities, foreign countries, on roadtrips and places I don't know yet. But I am not only interested in "culture" and "cream", I am also fascinated by people who have stories to tell .  Such unique experiences I want to share with you.