Tested for you: Natural lipstick from marie w.
With natural lipsticks, I am always somewhat reluctant to buy. They usually lack color brilliance and intensity, especially with red tones. Therefore, I was curious how the new color "Rosentango" by Marie W. looks on my lips.
A few more words about marie w. The founder behind is Maria Wißler. She describes herself as a quality fanatic and pioneer when it comes to plants, animals and cosmetics. 22 years of pioneering work for natural cosmetics lie behind her. After "green" studies, she founded the first mail-order natural cosmetics business. Her principles are still valid for her today: care with plant extracts, preferably from organic cultivation, free from synthetic preservatives and petroleum chemicals. Her raw materials, such as organic shea royale from Uganda or organic argan oil from Morocco, come from fair trade sources. In this way, she supports women's projects in the respective countries.
When it comes to her lipsticks, Marie Wißler is also committed to sustainable business, protection of the environment, nature and climate, and fair and social production conditions. The natural lipsticks contain only a few, but highly pure ingredients. Real gold, for example, and precious, hand-pressed organic vegetable oil from African fair trade women's projects. The pencils are packaged in an environmentally friendly manner in sleeves made of the renewable raw materials wood and paper. The brochure is printed with mineral oil-free inks. A combination of highly pure iron oxides, as found in the earth, is used for the colors of the pencils.noxide verwendet, wie sie in der Erde vorkommen.
Natural lipsticks with real gold
But back to "Tangorose". The first thing that strikes me is that the application is easy. The pencil is designed so that I do not need a contour pencil, which I usually use. So I trace the mouth contour with the pen tip and then paint the entire surface of the lips with color. I'm surprised at how intense the red tone turns out.
It also feels feather-light on the lip skin and is perfectly blended with the natural tint after 1-2 minutes. The gold content in the texture gives a matte shine without being obtrusive. It also creates a pleasantly cool feeling on the lips and, together with the nourishing plant oils, acts as a moisturizer.
The natural lipstick also passes the durability test with flying colors. It's long-lasting and stays where it should be, namely on the lips. It neither settles in the lip wrinkles, nor on cups, glasses or the cheeks rather friends.
marie w. Natural lipstick with real gold, 2.5 g, approx. 29 Euro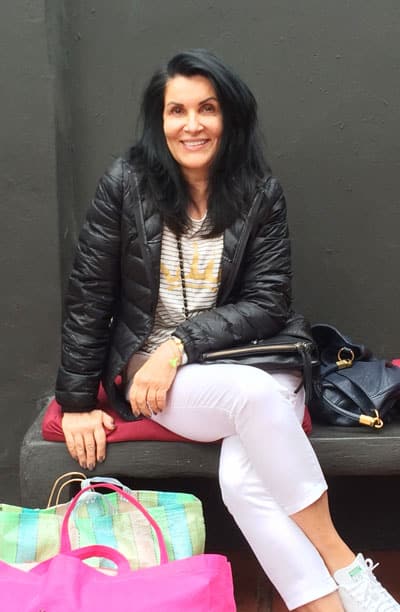 CultureAndCream Author from Munich
To travel during my profession as a beauty journalist was never enough for my. Also my six month on a world trip didn't do it. It always attracts me to other cities, foreign countries, on roadtrips and places I don't know yet. But I am not only interested in "culture" and "cream", I am also fascinated by people who have stories to tell .  Such unique experiences I want to share with you.