Does A Gender-Neutral Lipstick Really Exist?
Beauty brands that offer gender-neutral makeup are mushrooming. Gender freedom may make sense in other areas, but isn't a bit excessive when it comes to makeup? The question arises, what distinguishes a lipstick for women from a lipstick for each sex? Does that make sense or is it all just marketing again?
When it comes to defining gender, fine distinctions are made today. We no longer simply speak of women and men, but are cis-women and cis-men. These are those who identify as "male" or "female" with the gender recorded on their birth certificate and clearly say of themselves "I am a woman" or "I am a man."
"Cis-", by the way, comes from Latin and in this context means, this side, within, inside, and is thus the opposite of trans-, on the other side, over, across. In addition to these cis people, there are trans male/trans man (trans man, born a woman, now a man) and trans female/trans woman (trans woman, born a man, now a woman), also gender queer/gender non-conforming (gender neutral, without gender role) and finally different identities.
Cosmetics was long female occupied
You have to admit that all PR campaigns and commercials released by cosmetic companies in the last decades have been female-centric. The target group clearly defined: Woman between 18 and 36 years, good income and in the background a husband (it was always a husband!), whose beauty shopping, she did at the same time.
At the same time, the use of makeup is in no way traditionally female. In fact, men were the first users of cosmetics. As early as 4000 B.C., rulers and members of the nobility in ancient Egypt painted their faces with dramatic black cat's eyes, because they used them to demonstrate their prosperity and also believed that they were closer to the gods in this way. Romans practiced manicures with pig's blood, and the British smeared themselves with blue paint as a deterrent.
From the 20th century onwards, the use of make-up was considered transgressive for men. Nevertheless, even in this period there were notable exceptions, true icons like David Bowie or Prince, who underlined their uniqueness through make-up. In 2003, the first make-up collection for men was launched.
Enfant terrible Jean Paul Gaultier then launched his "Le Mâle Tout Beau Tout Propre" collection consisting of moisturizer, bronzing powder, lip gloss, nail polish, brow and eyelash care, concealer and eyeliner. Metrosexuality was the name given to this change in gender perception. At the time, Gaultier explicitly emphasized in an interview with the German Handelsblatt that his cosmetics were not intended for gays, but for business men: "It's like a successful photo shoot. Men's cosmetics are good when you can't see them."
Unisex became gender-neutral
In 2015, Harry and Peter Brant, the model sons of supermodel Stephanie Seymour and millionaire Peter Brant, teamed up with MAC to launch a makeup line with three unisex products: Brow Finisher, Cream Colour Base and a Conceal and Correct Palette. Since 2018, men's beauty has been available from various luxury brands such as Marc Jacobs, Tom Ford, Chanel and Givenchy, some with matching online beauty tutorials. And the two U.S. power brands CoverGirl and Anastasia Beverly Hills launched cis-men champagnes back in 2016. New beauty brands such as Panacea, Fluide, and Jecca Makeup are also focusing on gender neutrality and have expanded their target groups beyond cis-women.
Accordingly, what used to be called unisex is now gender-neutral, because a makeup product can and always could be used by anyone, regardless of which gender they felt they belonged to. After all, an eye shadow color doesn't change when used by a man, and even a glossy lipstick doesn't suddenly become matte.
Even with a perfume, the clear gender assignment has had its day. It is much more a question of whether the ingredients appeal to one's own nose. Men's fragrances, women's fragrances, summer and winter fragrances – these were pure marketing inventions, limited to our cultural sphere anyway. If you think about the differences between countries, things have always looked different. Heavy and floral notes, which were predominantly worn by men in the Orient, were considered typically feminine here. For a long time, vetiver was considered a typically masculine fragrance, but why? Meanwhile, there are also so-called women's perfumes with vetiver.
Non-discriminatory products
It's understandable that a gender non-conforming person feels more comfortable buying makeup products or consulting in a perfumery if the object of his or her interest is not marked out for cis women. Jacob Tobia, American author and transgender activist who modeled for a campaign by the gender-free beauty brand Fluide-with stubble beard and red lips to long, artfully wavy glitter hair-admits, "Forget about growing up, shopping for typical women's products still intimidates me. Every time I go into a Sephora store to buy a lipstick, I have to give myself a little pep talk."g aufmuntern."
Conclusion: A gender-free lipstick is neither about the consistency nor the color. The product remains the same. The desire for gender neutrality in beauty is more about belonging and feeling safe. Non-discriminatory beauty products may be a better description than gender-neutral makeup. But in the end, it's all just marketing again. Because everyone can and should be allowed to buy what they like.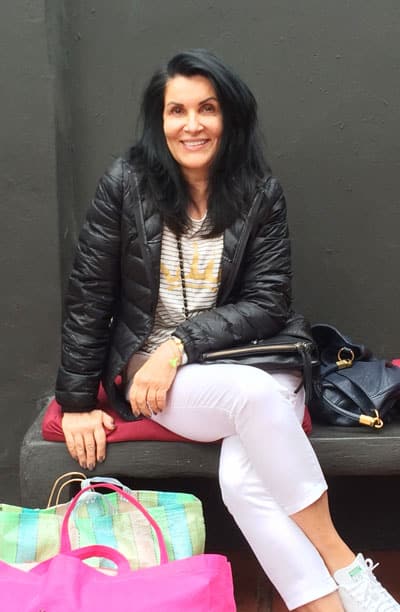 CultureAndCream Author from Munich
To travel during my profession as a beauty journalist was never enough for my. Also my six month on a world trip didn't do it. It always attracts me to other cities, foreign countries, on roadtrips and places I don't know yet. But I am not only interested in "culture" and "cream", I am also fascinated by people who have stories to tell .  Such unique experiences I want to share with you.