Slip on and workout – always and everywhere
EasyMotionSkin is the next generation EMS training. An almost wireless, blue bodysuit, an iPhone and the app are all you need. You train at home or on the go. It couldn't be more convenient and effective.
These workout numbers made me curious: 93% of the muscles are trained at the same time and in a way that is gentle on the joints, 33% increase in strength and 35% more endurance in 6 weeks and in addition a 3 x higher calorie consumption than with conventional training. And all this at just 2 times 20 minutes a week. I wanted to know more about it and tested the EasyMotionSkin suit at home for 10 weeks. EMS, i.e. electrical muscle stimulation, helps to build muscle, stimulates the metabolism and increases endurance. At the same time, the figure is optimized. No wonder! The better the muscle-fat ratio, the slimmer the silhouette.
An avatar as a pre-gymnast
To train with the blue, elastic special suit (made of an antibacterial high-tech fiber, machine washable at 30 degrees) of EasyMotionSkin you need an iOS device to load the app that is used to train. The connection to iPhone or tablet works via Bluetooth. A small avatar does the exercises on the monitor. The two short cables that you carry on your body allow maximum freedom of movement. They connect the stimulation unit, called the Powerbox, which is in a small pocket on the right hip, to the suit. You can train for around 12 hours until the battery needs to be recharged. The silicone dry electrodes are integrated into the important muscle zones inside the suit. As usual with EMS, you don't need functional underwear or moistening. I only wear panties underneath. The knee-length suit is tight, but comfortable on the body. The electrical voltages applied to the skin irritate nerves and muscles, causing a contraction of the stimulated muscles. You can choose frequency, strength, break length and various training effects for strength, endurance and muscle tone. Every muscle group can be stimulated in a targeted manner. In this way, you can individually increase the training effect during sporting activities such as cycling. I actually tested the suit in all sorts of situations: Nordic walking, TRX workout, cycling and walking, and even shopping, cooking and vacuuming. It is actually the smallest gym in the world that can (almost) be used anywhere and at any time. Only with yoga it was rather counterproductive because muscle vibrations and meditation simply don't go together. You can choose from 30 possible programs. My favorites: Power, Advanced, Fat Burning and Metabolism/Cellulite.
How does muscle stimulation feel?
Since there are very low electrical impulses that act on the muscles, there are no hard current surges. But it can still poke, almost sting, if you turn up the frequency too high right from the start. Especially at the beginning it makes sense to start slowly. Between O (you don't feel anything) and 100 (chills) I reached a maximum of 70 in body zones with large muscles such as the stomach, legs, buttocks after several weeks. A frequency at which the muscles are already contracting clearly. I never exceeded 30 on my arms and chest because I couldn't even use the app on my cell phone because of the tremors. Because you can control the intensity so precisely and individually, I didn't find the training uncomfortable for a second. It is important that the body is always well warmed up and moisturized. So drink plenty of water throughout the day, plus a large glass before training. A deep moisturization of the tissue ensures that the electrodes can make full contact with the skin and thus with the muscle. If this transfer does not take place on the entire electrode surface, but only on small parts, the voltage concentrates precisely on it and causes an unpleasant stinging on the skin. But that also stops immediately when all parts of the body are warm enough.
My personal training success
I have more than achieved my primary goal: My muscles on my upper arms and thighs are much more defined. A pretty six-pack is indicated on the belly. You can tell that the system trains the outer, but above all the deep muscles, which are very difficult to achieve with pure strength training. In fact, I hardly saw any results like this after years of working in the gym. EMS not only improved figure and tissue. I have a lot more strength and endurance. 300 sit-ups in a row are no problem. I can keep up with kilometers of running effortlessly. I am in great shape all round. And with a comparatively little effort. 2 x 20 minutes a week are recommended. Admittedly, I slipped into my "little gym" every other day and often used the maximum training session of 40 minutes. But after all, my gym was closed, and I'm usually active at least three times a week for about two hours. All in all, an enormous saving of time. I also liked the independence of the training. You can train whenever you feel like it or have a time slot – without lengthy arrival and departure.
The EasyMotionSkin concept
The suit was co-developed by cardiac surgent Prof. Dr. Fritzsche is the chief physician of the Sana Heart Center in Cottbus. He has monitored more than 2,000 training sessions on patients with cardiac muscle weakness and has published the astonishing results in medical journals. The suit (almost 3000 euros) is sold through consultants after a precise briefing in one of the EasyMotionSkin studios. I had a "loaner" for my 10-week test because everything had to close studios during Covid-19. I was given instructions on the system and EMS training by telephone from my consultant Frank Scholz, who is a qualified sports teacher. Of course, you can also do a trial training before buying or just buy the blue bodysuit (without power box) and get fit only in the studio with a trainer. Training in the studio offers a variety of options such as dynamic EMS training and the combination with classic training processes. Workout with the Studio App is even more effective. It is only used under the supervision of trained specialist staff and allows a 30% higher performance potential. Tailor-made training – at home or in the club studio.
EasyMotionSkin, EMS training, EMS-Training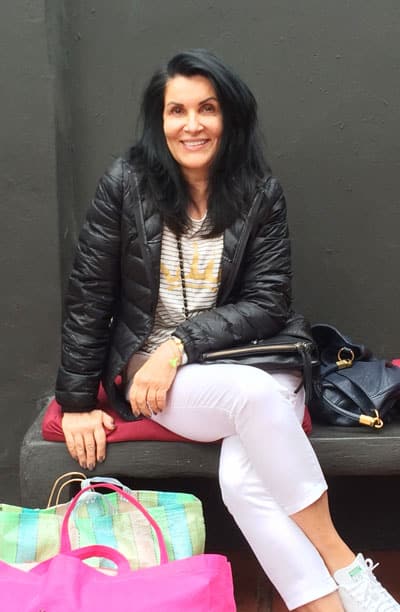 CultureAndCream Author from Munich
To travel during my profession as a beauty journalist was never enough for my. Also my six month on a world trip didn't do it. It always attracts me to other cities, foreign countries, on roadtrips and places I don't know yet. But I am not only interested in "culture" and "cream", I am also fascinated by people who have stories to tell .  Such unique experiences I want to share with you.