Tested for you: "Tanning Spray" from Revitasun
Tanning spray is in season again with me. The summer with its super sunny days is over. But I like to have a lightly toned complexion at all times without having to use makeup. A spray tan also helps me prolong my summer tan, which I got despite using SPF 50 every day. Why I prefer a spray over a cream when it comes to self-tanner? When applying a tanning product, there is always the risk that the hands get brown traces. With a spray, the fine mist spreads on the skin as if by itself and does not need to be massaged in.
The active ingredient of the tanning spray
The fact that a self-tanner makes the skin surface brown is due to a single active ingredient, and it is the same for all products in this category. It is called dihydroxyacetone (DHA). It reacts with the proteins and amino acids of the epidermis, also known as the epidermis, to produce a visible tan. The DHA or dihydroxyacetone is of synthetic origin, but can also be obtained from sugar beet or sugar cane.
The "tanning spray" from Revitasun caught my attention because it already shows its effect after 30 seconds. In addition, there are practical accessories such as a tanning glove or a Kabuki brush, so that you no longer have to get your hands "dirty" at all when applying.
Here we go. My skin is already carefully cleaned and also already dry. The spray is to shake well before use. Done! Then I spray the Braunmacher with even movement on the small black cosmetic glove. Actually, it is not a real glove, because it is just big enough to fit the index and middle finger. But that's enough. The liquid can be distributed easily and streak-free on the face. Even in the difficult corners such as the nostrils and in the eye area, he does his job easily.
The Kabuki Brush works similarly well. It can also be used in other ways, for example to apply bronzing powder or makeup. However, if you want to use the tanning spray on the body, it is better to choose the Tanning Glove. It can be used to tan larger areas such as arms and legs without leaving streaks. The Microfibre Materiel absorbs the tanning spray perfectly and evenly dosed and releases it to the skin during application. If you are in a hurry, you can use a hair dryer to help the spray dry faster.
Tanned and groomed at the same time
The tanning spray shows what it can do after just 30 seconds. The initially light tint becomes even more intense in the following hours. There is neither a yellow cast nor an unpleasant odor, which is often experienced with tanning products. At the same time, the skin is intensively cared for. Aloe vera soothes and provides plenty of moisture. It also stimulates cell growth and refines pores. The medicinal herb root ginseng contains important minerals, fights free radicals and has an antibacterial effect.
Nevertheless, I let the spray dry well on my skin first and then apply my usual UV protection over it – summer and winter. Because who still has not internalized it: self-tanners do not protect against the sun. They are a deceptive package in that they produce a tan that simulates the skin's natural UV protection, but they have no protective effect against the damaging rays.
Do not forget to clean
For a more intense tanning result, you can apply the spray daily. Once reapplied, the effect lasts about five to six days for me. Tip: I clean the spray head thoroughly after each application. It is very easy to pull off and then rinse with warm water. Otherwise, residues of the product accumulate in it and clog it over time. And it will no longer look appetizing. The tanning glove is machine washable at 30 degrees.
Tanning Spray from Revitasun, 150 ml, ca. 40 Euro, Tanning Glove, 9,90 Euro, Flat Kabuki Brush, 19,90 Euro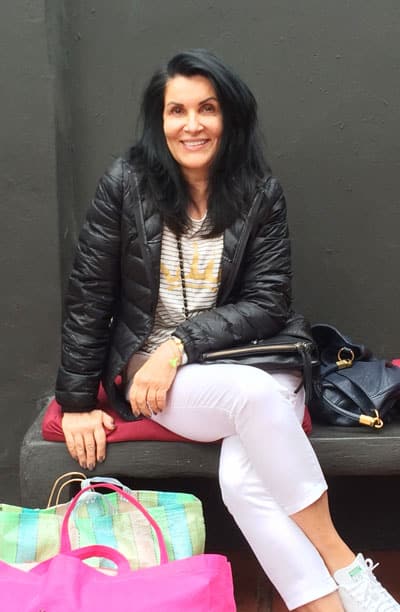 CultureAndCream Author from Munich
To travel during my profession as a beauty journalist was never enough for my. Also my six month on a world trip didn't do it. It always attracts me to other cities, foreign countries, on roadtrips and places I don't know yet. But I am not only interested in "culture" and "cream", I am also fascinated by people who have stories to tell .  Such unique experiences I want to share with you.