Tested for you: "Finger Food Handbalm" from A4 Cosmetics
I'm actually not a big fan of finger food because I don't like sticky or greasy hands when I eat. But I could become one of this finger food because it doesn't stick or grease. The initially oily feeling when applying the hand balm, which is due to the argan oil (vegetable and eco-certified), disappears quickly and leaves a pleasantly silky feeling on the skin. Another interesting ingredient is called HyWhite. It is supposed to reduce the production of melanin, which counteracts the unpleasant pigment spots. In addition, it is not so easy to wash off and therefore forms a sustainable protective layer for the skin. Three active ingredients ensure that the skin is moisturized: Eco-certified, high-molecular hyaluronic acid and 10-fold concentrated aloe vera, which also has anti-inflammatory properties. The third in the group is eco-certified betaine from sugar beet. A positive side aspect: with these ingredients from all over the world, the clean beauty brand promotes women's cooperatives in Morocco, Peru, Burkina Faso and Ghana.
Self massage
In any case, I have been applying the "finger food" several times a day after every Corona hand wash for a few weeks now, and my skin on my hands feels soft and well-nourished. You don't need a lot of texture either. A hazelnut-sized portion on the back of your hand is enough. When I have enough time, I combine the creaming with a short, relaxing hand massage: First loosen the palm of the other hand with your thumb by making circular movements. Especially the ball of the thumb, which is often particularly stressed by using the cell phone. Then massage the individual fingers from the tip to the knuckles and gently pull them. Finally, bend your right ring finger towards the palm. Apply pressure for seven seconds where it touches the palm of your hand. Repeat the process three times, then do the same on the other hand. Just give it a try. Maybe it is just as good for you as it is for me when your hands are tense again!
A4 Cosmetics "Finger Food Handbalm", 50 ml, 35 €
Key visual: fotografierende@pexels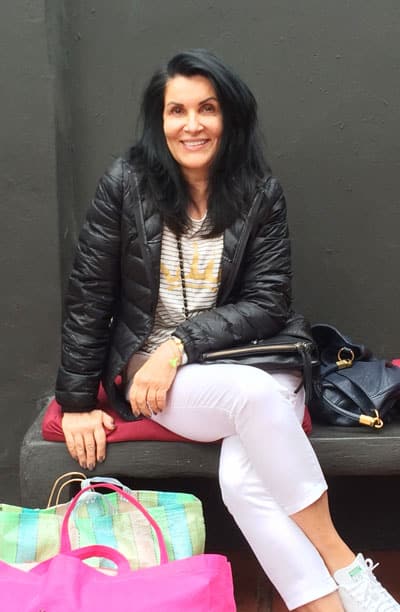 CultureAndCream Author from Munich
To travel during my profession as a beauty journalist was never enough for my. Also my six month on a world trip didn't do it. It always attracts me to other cities, foreign countries, on roadtrips and places I don't know yet. But I am not only interested in "culture" and "cream", I am also fascinated by people who have stories to tell .  Such unique experiences I want to share with you.