My X-mas Beauty Tip: "The Atelier of Dreams" by Dior
The limited Christmas collection "The Atelier of Dreams" by Christian Dior Parfums is indeed a beauty dream. Creative director Peter Philips has already worked his magic on the visuals: a delicate engraving depicting the emblematic facade of the House of Dior in Paris adorns eyeshadows and lipsticks. The colors are sensationally festive. On eyes and nails it may shimmer this year in gold and silver. I have opted for the gold variant.
"Atelier Doré" for golden eyes
The iconic 5 Couleurs Couture palette in "Atelier Doré" features four velvety, matte and satin brown shades arranged around a warm gold. This allows the entire eye to be enveloped in radiant gold. For contrast, I apply the matte brown shade along the upper lid and at the outer corners of the eye. But the palette allows for plenty of other variations.
With such a strong eye makeup, I personally prefer not to use a lip color that is too flashy. I like "Rose d'Hiver", a warm rosewood shade. So that it lasts particularly long and the mouth is beautifully defined, I use a contour pencil in the same color. With it, I not only trace the contours, but also paint the surface of the lips with it.
Sophistication for the nails
I also treat the nails to a little more extravagance than usual. For my festive manicure, I first use the radiant red "Poppy". With such an intense color, the base coat underneath is not to be neglected. When applying polish, I always first apply a very thin layer of color polish in the middle of the nail and then on the sides. Then follows a more generous layer so that the color gets more depth.
As a highlight, I use the top coat "Bouton d'Or" with golden and silver reflections, which cover the nails with a sparkling glittering veil. Instead of red, of course, you can choose any other nail polish color. For a discreet glitter veil, apply the TopCoat directly to the natural nails or the base coat.
"The Atelier of Dreams": 5 Couleurs Couture "469 Atelier Doré", 65 US$; 074 Diorific Lipstick "074 Rose d'Hiver", 40 US$; Dior Vernis "862 Poppy", 29 US$; Dior Vernis Top Coat "001 Bouton d'Or", 29 US$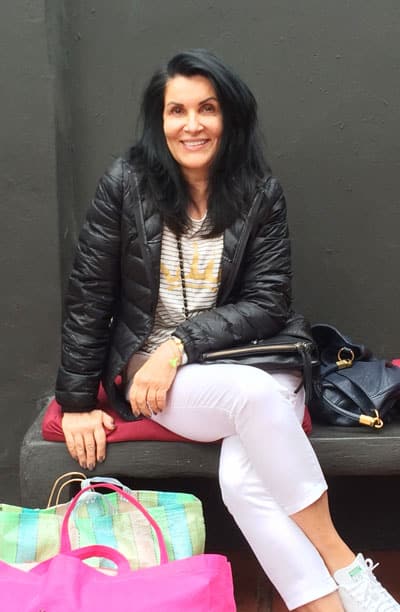 CultureAndCream Author from Munich
To travel during my profession as a beauty journalist was never enough for my. Also my six month on a world trip didn't do it. It always attracts me to other cities, foreign countries, on roadtrips and places I don't know yet. But I am not only interested in "culture" and "cream", I am also fascinated by people who have stories to tell .  Such unique experiences I want to share with you.