The (Palazzo) Fiuggi Concept
You have never heard of Fiuggi? Yet the Fiuggi thermal springs, located about 80 kilometers southeast of Rome, are among the oldest in Italy. Even Michelangelo and Pope Boniface VIII praised the mineral-poor, natural spring water. The palazzo, with its eight-hectare park on a hill overlooking the ancient city, has been a luxurious retreat for royalty and other celebrities since 1913. Since May 2021, one of the best medical spas can be found there.
Nowhere else but Palazzo Fiuggi I would accept a raw radicchio salad, even if there were a few pieces of apple and a few nuts hidden in it. I would immediately call for the dressing. But here… I think of the healthy bitters and eat up dutifully. And indeed, it tastes good once you get used to the bitterness.
All the dishes, served at individual tables in the hotel's stylish restaurant, are tailored to each guest's needs and chosen health program: "Immune Boot" to strengthen the immune system, "Complete Life Rewind" for regeneration, "Deep Detox" or "Optimal Weight." I opted for four trial days to get to know the program.
Gourmet food from a star chef
For each program, three-star chef Heinz Beck, a German who has chosen to live in Rome, has worked with Professor David Della Morte, Medical Director of the house, to create a nutritional concept that is healthy, balanced and varied. Although the daily ration is only about 1700 to 1900 kcal, no one has to go hungry. On the contrary. Sometimes it was even too much for me.
Every dish is delicious and Heinz Beck also cooks for the eye. Everything is perfectly composed in terms of color and lovingly arranged on plates or in bowls. Indulgence at the highest level. The individual menu changes daily and consists of three to four courses. Dessert included – as exquisite as "Orange tapioca with chocolate" or "Apricot gelatine with all'ondata milk ice cream". Only the wine and the café espresso have to be dispensed with. There is only tea or water from the Fiuggi spa, but plenty of it.
A vision becomes reality
The vision of Lorenzo Giannuzzi, who had already been general manager of the former Palazzo Hotel from 1988 to 1992 when it was still called Palazzo della Fonte, was to bring new glory and splendor to the somewhat aging magnificent building. Giannuzzi, head of the sister hotel Forte Village in Sardinia, gave the hotel a makeover without destroying its nostalgic flair and led it to its new purpose: to create a profound, innovative wellness-medical retreat. And he has succeeded in an exemplary manner. The rooms and suites are spacious and modern-luxurious. There's a library, the elegant Quattro Continenti restaurant, and a tea bar with terrace. But other grand hotels have that to offer, too.
Reset more frequently
What sets Palazzo Fiuggi apart is its holistic medical concept with sophisticated nutrition and fitness plans for each guest. Its founder Lorenzo Giannuzzi says: "The Palazzo Fiuggi and the medical concept I have developed with an international team of experts are the result of years of research and experience. The goal is to fully restore the health and well-being of our guests by strengthening the immune system and cellular regeneration of body and mind. At Palazzo Fiuggi, our guests will find the right place to do a reset and live a longer life that is also better lived."
Customized treatments
Each package includes medical check-ups with a renowned team of doctors, who have the latest diagnostic tools at their disposal, from MRT to infrared technology and bioresonance measurement. Customized wellness treatments take place in the state-of-the-art, light-filled 6,000-square-foot spa with 42 treatment rooms, hamam and three Thalasso pools, which are enriched with brine and magnesium, respectively. The outdoor pool is Olympic-sized and was the largest in Europe at the time. Yoga classes are offered daily with excellent instruction, and there is sound meditation in the evenings with singing bowls. For more action, there is also the hotel's own tennis court and a golf course nearby.
Ballroom workout
The daily workout takes place in the hotel's former ballroom, the Salone delle Feste. With its 400 square meters and the latest cutting edge equipment such as an "Icaros" flight simulator, it's more of a movement lab than an ordinary gym. You can train everything from coordination, muscle strength, flexibility, balance to cardiovascular performance. A trainer is always on hand. And there's another special feature: even in equipment like the "WaterRower" and the dumbbells, Fiuggi water flows, bubbling from the spring at just 12.4 degrees Celsius.
photos (2) by Tyson Sadlo @ Herd Represented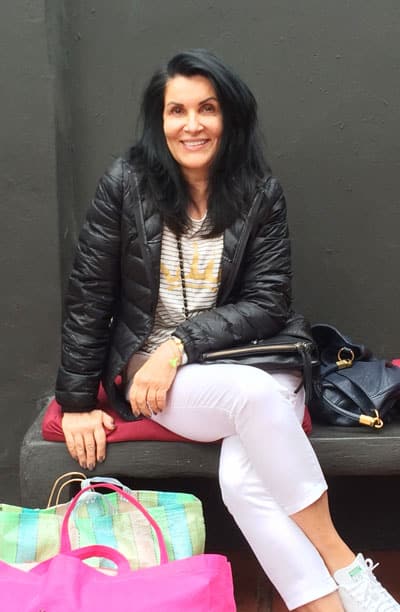 CultureAndCream Author from Munich
To travel during my profession as a beauty journalist was never enough for my. Also my six month on a world trip didn't do it. It always attracts me to other cities, foreign countries, on roadtrips and places I don't know yet. But I am not only interested in "culture" and "cream", I am also fascinated by people who have stories to tell .  Such unique experiences I want to share with you.