Being Made Up by a Professional…
A session with Pixi make-up artist Amanda Bell in London
For many years one of THE beauty addresses in the English capital has been The Pixi Flagship Store, 22A Foubert's Place, in the bustling Soho district. With lively Carnaby street and Liberty, the most beautiful department store for me, just around the corner, Pixi's London Flagship Store is a true Beauty Oasis. The correct name, by the way, should be Pixi by Petra. Accomplished make-up artist Petra Brand set herself the goal of creating skin products with highly effective and soothing herbal ingredients and the result was the Pixi brand. The soul of the company, however, is Amanda Bell, global make-up artist and Pixi ambassador. A fascinating personality with a sparkling, rather un-English temperament, she can boast more than 20 years of professional experience in the beauty sector. As an author, award-winning product designer and make-up artist she is never short of ideas as to how to bring out the beauty in every woman. Amanda has worked with the world's most famous models and photographers. Friendly and down-to-earth, she chats to me about her fascination with cats while, with practiced hands, she erases the fatigue from my face and applies exactly the right shade of red to my lips. Our interview is conducted afterwards on the roof terrace of a Vegan café around the corner:
Amanda, what are your five most important professional tricks?
Less is more. Use as natural a foundation as possible, one you feel good with. Use concealers in areas that need a little more coverage. This gives the complexion a flawless look. The base must look like a second skin. If you feel that your make-up is fading too quickly, use a fixing spray instead of a lot of powder. Personally, I like transparent powder, which I apply with a brush over the base. This doesn't cover more or add additional colour, it just perfects the look. A final tip: Always apply make-up in a similar lighting situation to the one you will be in later on. It's not advisable to apply your make-up in the morning under artificial light in the bathroom since the result will never look good in daylight.
I'm looking for a new foundation so where is it best to test the colour?
The skin tone of your hand is never the same as that of your face, so the texture can be tested on the back of your hand, but never the colour. A new foundation should always be tried out on your un-made up face. Apply a stripe to the neck along the jaw line, for example. It is always a little paler there because it gets less sun. The right shade of foundation is the one that blends with the face and neck.
You have a special way of making up the eyelashes, right?
I always use an eyelash curler, that's very important. You can use it to drastically minimize your eye make-up. My special trick is to curl the lashes twice before applying mascara: First I take the hairs close to the edge of the lashes between the curlers, then I open them again and press them down a second time in the middle of the lashes. This looks more natural and gives a more feathery effect than if they were just curled stiffly upwards at the roots.
Which make-up product should one never economise on?
With the foundation. We may not all be loyal to one single brand of lipstick, eye shadow or even mascara, but once we've found a foundation that gets the most out of our skin, we should stick with it. It's much nicer to hear the compliment "your skin looks beautiful' than "which make-up are you wearing?" I would say that investing in a good skin care product, foundation and concealer is absolutely worth it.
Are there rules as to who can best wear which colors?
If a colour doesn't suit you at all, it has to do with the skin's undertone. A distinction is made between warm, neutral or cool complexions. What does that mean? If, for example, the skin has a warm undertone, it will never look natural with cool colours. The complexion will have an artificial look because has no cool components. If you use a Siena or Apricot, however, they will really blend with the skin and accentuate its warm radiance. Otherwise, if you feel comfortable with a colour, you should happily continue to use it. However, if you have the feeling that the colour is wearing you rather than the other way around, you should take a closer look at your undertone. Here's a trick that can help: if, for example, a cool eye shadow shade has been used with a warm under-toned skin and it somehow doesn't look right, a warm-toned gloss can be applied over it. That will work!
And how do I determine my undertone?
In summer, a warm skin tone will always have a hint of gold and olive, while in winter it will look rather pale and somewhat dull. A cool skin type with a rosy undertone loves the winter and looks vibrant and fantastic. The quickest way to determine your undertone is to use a piece of fabric in cream or white: cream colours go tone-in-tone with warm skin and show no contrast. White, on the other hand, brings it to life. Where pure white doesn't complement a cool skin type in the least, cream tones lend it warmth and radiance. Neutral skin types can wear both. Another place for determining one's undertone is the inside of the wrists: If the veins look blue, you have a cool undertone. If the skin is more yellowish, your veins will appear green.
Photos: @aleyahsolomonphotographer Insta: @aleyahs | @aleyahsolomonphoto
Amanda Bell, Make-up Artist, Pixi, profi tricks, skin undertones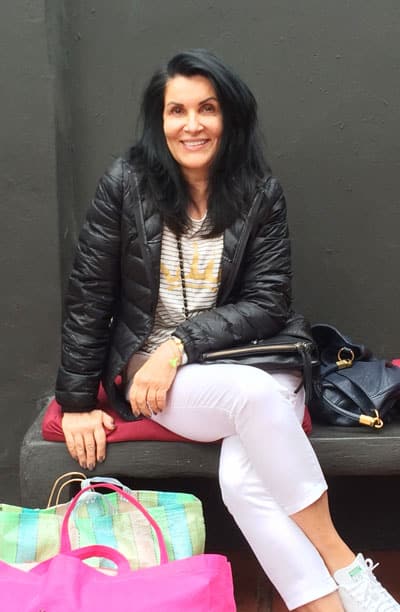 CultureAndCream Author from Munich
To travel during my profession as a beauty journalist was never enough for my. Also my six month on a world trip didn't do it. It always attracts me to other cities, foreign countries, on roadtrips and places I don't know yet. But I am not only interested in "culture" and "cream", I am also fascinated by people who have stories to tell .  Such unique experiences I want to share with you.