Tested for you: "Sunkissed Bronzing Cream" from Nars
"Laguna" is the name of my new love affair. It's a creamy bronzer. Since I've been using it, I've often been asked how fresh and relaxed I look. To be honest, I have a bit of a guilty conscience because I was faithful to my pressed sun powder I used for years. He just belonged to me and to summer like the sun to the sea. It never caused any problems either – no streaks, no crumbs on the skin.
Powder is so easy to apply, even if you don't use foundation like me. Actually, I could never imagine replacing it with a cream version because it was too sticky, too shiny. At least that's what I thought until I got to know "Sunkissed Bronzing Cream". Sorry, dear sun powder, our affair is over!
Bronzing Cream with cream-to-powder texture
The velvety soft bronzing cream made breaking my loyalty incredibly easy. Well, every cheater probably blames it on the other part. In any case, the light cream-to-powder texture merges seamlessly with the skin and leaves a smooth complexion with a matte finish. Just the way I like it. And also the color is marvellous: "Laguna", the light-medium brown fits my dark skin type perfectly. Optionally there is also a medium brown named "Casino".
For the application I use an angled brush with synthetic fibers. It has the perfect shape for blending the cream and reworking it more often if the effect should be a little more intense. To clean the brush, I take a dollop of shampoo and massage it gently into the hair with my fingers until the shampoo foams. If you use a brush, always rinse well with water after cleaning so that no cream residues get stuck. I will probably stay true to my new bronzer cream the whole summer. Its delicate note of French-Polynesian Monoï de Tahiti oils smells too seductively of vacation, sun and sea.
"Sunkissed Bronzing Cream" from Nars, 19 g, $38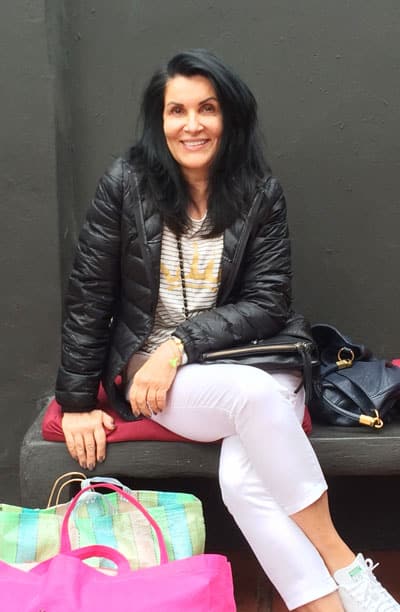 CultureAndCream Author from Munich
To travel during my profession as a beauty journalist was never enough for my. Also my six month on a world trip didn't do it. It always attracts me to other cities, foreign countries, on roadtrips and places I don't know yet. But I am not only interested in "culture" and "cream", I am also fascinated by people who have stories to tell .  Such unique experiences I want to share with you.