Tested for you: The genius concealer "Nudefix" from Nudestix
I'm always looking for the perfect concealer for my naturally dark skin. Several have worked to cover small bumps on the face, but not under the eyes. The color was either too light or too dark. I'm tired of mixing different shades – too impatient. Sometimes I would like to pull a bag over my head, as in the photo. Now, I've finally hit the right note.
"Nudefix" by Nudestix sounds funny – kind of like Idefix, Asterix's watchdog. But the Canadian company is a really serious, responsible one. All their make-up products are parabens-free, clean, cruelty free, and eco-friendly. Founder Jenny Frankel gained over 20 years of experience in the beauty industry in product development and process engineering until she launched her own brand. She brought her two daughters Ally and Taylor also on the beauty boat. So much for the background.
Concealer in the black box
I already find the packaging of the concealer very appealing. It is delivered in a simple, black metal box. The texture that I carefully squeeze out of the tube is a flexible powder gel. This means that it remains flexible on the skin, does not dry out and makes the complexion look as if it was not made up. The concealer glides directly onto the skin, its texture is so light. In doing so, it visually smoothes small wrinkles, reduces dark circles and creates a long-lasting polymer-free film.
Natural ingredients like sweet berry reduce redness, irritation and inflammation. Natural gentle AHA (Alpha Hydroxy Acid) evens out skin tone. Burdock root extract balances the skin microbiome that keeps the skin healthy by protecting it from harmful bacteria. Hyaluronic acid moisturizes the skin, plumps it up and acts as an antioxidant.
Apply concealer correctly
The manufacturer recommends applying "Nudefix" with the accompanying applicator, fingers or a brush. I do it like this: With the applicator I dab three to four points from the inner corner of the eye along the teardrop line. Then I blend the cover cream outwards with a special concealer brush. It is compact and rounded at the front. If necessary, I can intensify the opacity with another layer. Sometimes – especially during pollen season – I have a small, reddened, dark spot on the outer corner of my eyes. Then I also apply some concealer there with the brush and blend the color upwards towards the eyebrow. This not only conceals, but looks like a little lifting, and you immediately look younger and more alert.
Nudefix" from Nudestix, 10 ml, US$ 28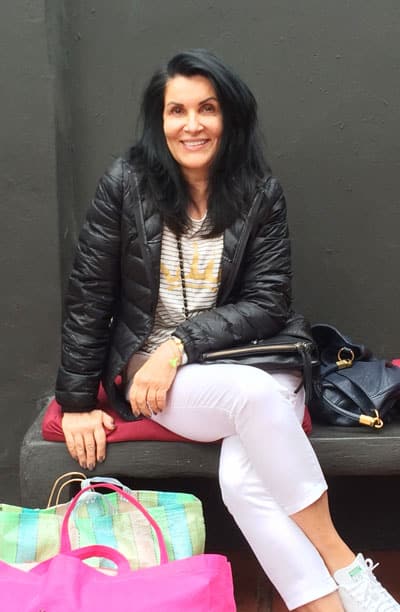 CultureAndCream Author from Munich
To travel during my profession as a beauty journalist was never enough for my. Also my six month on a world trip didn't do it. It always attracts me to other cities, foreign countries, on roadtrips and places I don't know yet. But I am not only interested in "culture" and "cream", I am also fascinated by people who have stories to tell .  Such unique experiences I want to share with you.