DIY Gel Nails: Vegan and Gentle
With the long lockdown, you have almost forgotten what it was like when you could still keep your manicure appointment regularly and get your nails painted by a professional. In the meantime, I've tried a few things at home on nail varnish – more or less durable – on foils – better than I thought. Ultimately, I was won over by a DIY method for gel nails from France.
The "Green Flash" nail polishes are clean. They consist of 84 percent organic raw materials such as sugar cane, cassava and cotton. In addition, are 9-free. This means that they do without nine ingredients that can have a harmful effect on the body. In addition to the three substances with the greatest health risk – formaldehyde, methylbenzene, dibutyl phthalate – these are toluene, formaldehyde resin, camphor, xylenes, parabens, triphenyl phosphate and animal by-products. The complete Pro-Set contains everything you need for DIY gel nails: a 36 watt LED lamp with 21 small lamps in the inner arch, an acetone-free nail polish remover, a base coat, a top coat and a colored varnish, which I could choose from a wide range of over 30 colors. My favorite: "khaki".
Gentle on my nails
No filing, no maltreatment of the natural nail as it used to be necessary for my gel nails, which I had done by a professional for years. For this system you only have to degrease the nail surface beforehand with an acetone-free varnish remover. If necessary, file the nails into shape beforehand. I have already connected the bridge-shaped lamp with the enclosed power cable. The LED display is on "00". The device can be programmed to 99, 60, 30 seconds and shows the countdown on its display. As a right-handed woman, I start with my left hand and apply a thin layer of base coat. Then I place my hand under the lamp so that all my fingers – including my thumb, very important! – be captured by the light. 60 seconds. Then do the same with the right hand. Now that both hands have been "primed", it's time to paint. It has to be spread very thinly in two layers and dried under the lamp for one minute in between. The color I have choses is a very nice khaki, not too muddy, not too green. The brush size is just right, so that you can pull the color well over the nail without having to apply too often. No risk of producing stripes! Finally, the top coat is cured under the lamp for two minutes. That's it! To check whether the varnish is dry, I gently press it to my lips. He needs another minute under the lamp, I found out, but after that the manicure is perfect. Less than 20 minutes for two immaculately painted hands. Not bad!
How resilient is the semi-permanent gel?
Manucurist's "Green Flash" should last up to 10 days. But how resilient is the paint in everyday life? I put him to a real endurance test with scrubbing pans and pots after a cooking happening – without rubber gloves, of course. Then I look curiously at my nails, stroke the surfaces. Everything is still perfect. And then I also take on a plant that I have long wanted to repot. Hands in the earth, earth under the nails. The greenery has a new home, my dirty paws have to go under the tap. Liquid soap and a nail brush are used to scrub until everything is clean again. Amazing! Not a single scratch on my nails. The shine has not suffered either. I am more than happy.
The remover must be acetone-free
Even on the 10th day, my gel nails hardly suffered. The tips are minimally repulsed and the shine has diminished a little. But since my natural nail grows quickly, there are clear gaps on the nail bed, so I start to remove the varnish with an acetone-free remover on a cotton pad. I am also curious to see what condition the natural nail is in. You have to rub a bit, but that's no different with normal paint with a top coat. The natural nail, which now appears completely clean, looks healthy. The system convinced me. I will soon be trying out the DIY gel polish for my feet too. Seems perfect for the summer. What you have to pay attention to: Except for the acetone-free nail polish remover, all ingredients must be used from the same series, since the formulas for the base, top and color are coordinated. The "Green Flash" nail polish also only catalyzes under the lamp, so it cannot used alone. In order to enjoy the gel varnishes for as long as possible, they should be kept in a cool and light-protected place. I store them in the fridge!
Fotos: Green Flash (6), privat (2)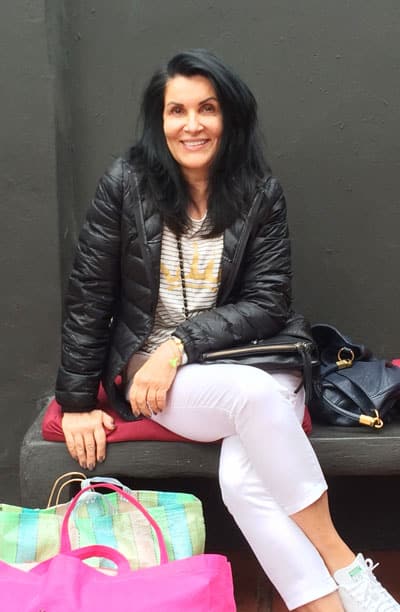 CultureAndCream Author from Munich
To travel during my profession as a beauty journalist was never enough for my. Also my six month on a world trip didn't do it. It always attracts me to other cities, foreign countries, on roadtrips and places I don't know yet. But I am not only interested in "culture" and "cream", I am also fascinated by people who have stories to tell .  Such unique experiences I want to share with you.